When is The Bachelorette finale and how to watch the beloved reality TV dating show
The first part of The Bachelorette finale will be followed by the After The Final Rose episode, each segment premiering on ABC on September 13.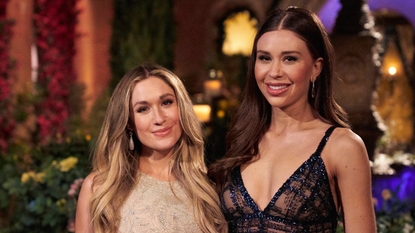 (Image credit: ABC)
It's been a long ride, but we're almost at the end of this fairly odd season 19 of The Bachelorette.
This season was truly unlike the rest, with audience members getting attached to not one but two bachelorettes: Gabby Windey and Rachel Recchia.
Lest you think having two protagonists guaranteed a longer season than usual, think again: usually, the ABC franchise lasts ten weeks per season. This time around, you can expect it to run 11 weeks long, for a total of 10 episodes and two specials. That's just one more week than usual.
When is The Bachelorette finale?
The first of two Fantasy Suite episodes premiered on Labor Day and the second one aired the night after, officially switching The Bachelorette air days to Tuesdays. (new episodes originally aired on Mondays.)
Audience members will be able to watch the first part of the finale and the After the Final Rose episode, a two-hour-long production, on Tuesday, September 13. A week later, on September 20, ABC will air the second portion of both the finale and the After the Final Rose episode. The evening will last three hours.
Don't despair about the end of the season, though: Bachelor in Paradise is already scheduled to premiere just a week after The Bachelorette finale airs. Set your calendars for September 27.
How to watch The Bachelorette finale
The best way to catch the final episodes of The Bachelorette is to tune into ABC on Tuesdays at 8pm EST. You can also head to ABC's website and watch the show live on the Internet or head to the website on Wednesdays to stream all already-aired episodes of the season.
Another option would be to stream all episodes from the current and past seasons on Hulu.
Who is The Bachelorette this season?
For the first time ever, this season of The Bachelorette featured two women vying for the love of a number of men.
Gabby Windey, one of the two co-stars, first appeared on season 26 of The Bachelor, which starred Clayton Echard. That season, she was the co runner-up with finalist Rachel Recchia... who is the other bachelorette on season 19 of the show. Gabby is 31 years old and Rachel is 26 years old.
As of now, there are four guys left on the show: Aven Jones, Tyler Norris, Zach Shallcross and Tino Franco.
Anna Rahmanan is a New York-based writer and editor who covers culture, entertainment, food, fashion and travel news. Anna's words have appeared on Time Out New York, the Huffington Post, Fortune, Forbes, Us Weekly, Bon Appetit and Brooklyn Magazine, among other outlets.