Who did The Bachelorette pick and how did 2022 season end?
Gabby and Rachel, co-stars on The Bachelorette, finished off their season very differently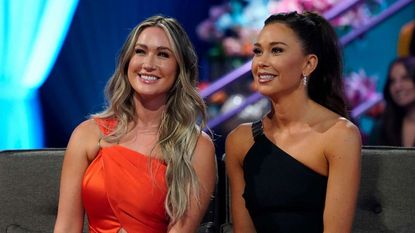 (Image credit: ABC)
Last night, part two of The Bachelorette finale aired so fans now officially know which suitor each one of the two bachelorettes picked.
All eyes were on The Bachelorette finale as 31-year-old Gabby Windey and 26-year-old Rachel Recchia, this season's unprecedented two bachelorettes, made their final suitor picks official.
As seems to always be the case on the reality TV dating show, there was a lot of drama involved as the season wrapped up.
Let's start with Rachel, whom fans knew picked 32-year-old Tino Franco as her final suitor.
WHO DID BACHELORETTE RACHEL PICK ON THE FINALE?
"I feel like you truly are my perfect match," Rachel said to Tino on the episode. "You are the only one here. It's you. I've been so excited to tell you."
Tino, who actually received the first impression rose a few weeks back, expressed his extreme excitement in response to Rachel's words, even saying, "I would literally bet everything I have and everything I am that me and Rachel are forever."
After Rachel professed her love for Tino on proposal day, the two kissed and the suitor also got candid about his feelings.
"You're the most beautiful woman in the world," he said. "Your compassion, your wit, your charm, your intelligence make me fall in love with you more and more every time I see you. Every time we're together you make me feel like the center of your universe and I'm here today to make sure you'll be the center of mine. This crazy love is going to look too good to be true to some people, but it's as real as it can be and quite frankly, the only person I care about understanding that is standing right in front of me right now. I want to dedicate the rest of my life to making you feel cherished and loved, the way you deserve. I'm so hopelessly in love with you. You're the woman of my dreams and there's only one more question to ask."
Tino then got down on one knee and proposed to Rachel, at which point she responded, "I will [marry you], yes! A million times!"
After fans got emotional watching that stupendous proposal, things got a bit weird. During the After the Final Rose live special, Rachel actually revealed that Tino kissed a girl after the two got engaged.
"I slowly was pulling on that string and revealing more and more. It really didn't work out, he cheated on me," Rachel said to the show's host, Jesse Palmer. "It's just heartbreaking. This is the person I thought I was gonna spend the rest of my life with and start a family with."
Audience members got to see Rachel seek her co-star Gabby's advice after Tino first made his confession. Gabby suggested Rachel move on from her then fiancé.
Tino eventually made an appearance on the After the Final Rose episode. "I messed up," he said to Rachel. "I kissed another girl but, the second I did, I knew I belonged with you. There was a girl before this show, never went on a date, didn't do anything before... show ends, nothing really comes of it. We run into each other at a bar, we have a lot of catching up to do. Then we had the premiere week where I called you and there was some stuff that I heard that week that you told me that I drew down in my journal because it hurt so much."
The thoughts that Rachel allegedly shared with Tino included her doubts about the relationship working. The bachelorette denied saying those things.
The two continued to argue on set until Tino walked away and broke down in front of producers, asking them to tell Rachel to simply break up with him.
"I was under the impression we were pretty much done," Tino said to Rachel after walking back on stage. "But then we started on the right trajectory. You started seeing therapy. You did amazing. You did everything I asked. So as it went on, you know, I kind of just tried to forgive myself, bury it, just not get in your hair over something so tiny."
The duo walked off stage together once more, arguing while the cameras were filming. Rachel eventually took her ring off saying, "I'm done. This is such a big deal for me. I wanted to do this one time."
Although Tino tried to apologize, it was clear to audience members that the two would not see eye-to-eye any time soon.
As the conversation came to a close, Jesse explained that Rachel's ex Aven showed up on set demanding to see her.
"I was just wondering if you wanted to get out of here and catch up," Aven said to the bachelorette after being allowed on stage.
"I would love nothing more," Rachel responded before the two walked out together.
WHO DID BACHELORETTE GABBY PICK IN THE FINALE?
Things went a bit more smoothly for Rachel's co-bachelorette Gabby.
In the final episode, fans were made aware that Gabby's final suitor, 29-year-old Erich Schwer, was a bit reluctant to propose - a fact that he never hid from the bachelorette.
That point didn't seem to change Gabby's feelings. "You remind me of a love that I've only ever known in my dreams," Gabby said to Erich during one of the final scenes. "You've loved me before I knew how to love me. I love you, and I want to love you as long as you'll let me."
In response, the final suitor said, "You deserve somebody who's going to give you 100 percent. I want to be that person for you. When I met you, I immediately was 100 percent myself. At that time, I didn't know it, but I had met my soulmate."
At that point, Erich got down on one knee and proposed to an excited Gabby who readily accepted.
Fast forward to the After the Final Rose episode and Jesse welcomed Erich on stage. The happy couple then got candid about their relationship, with Erich specifically addressing his change of heart in terms of deciding to propose.
"I wanted us to be on the same page," said Erich. "I just wanted this so badly. I wanted the happy ending."
Alas, Jesse rightfully addressed the elephant in the room: rumors about Erich breaking up with his girlfriend just to join the show.
"I met this girl about a month before this all started," Erich explained to a rapt audience when asked about the matter. "I realized it was not a connection long-term, and it was about the same time that the show had reached out. I handled it poorly, 100 percent. I led her on, and I want to own that... It was a mistake that I made on my part."
At that point, Jesse pulled up some "damning text messages" that could potentially prove that Erich was in it to gain notoriety.
Gabby intervened, revealing that Erich had actually told her about the messages before they were leaked to the public and the two decided to move on from the matter as a couple.
"It's been hard, but when you say yes to spending your life with someone, it's not going to be easy - especially in the public eye," Gabby said on the air.
WHO WILL BE THE NEXT BACHELOR?
At the end of the After the Final Rose special, host Jesse introduced next season's bachelor: Zach Shallcross, who was actually a familiar face as Rachel's second runner-up.
What's more, fans were able to give out the first impression rose for the next season via Twitter. The rose went to a woman named Brianna, whom we'll see more of when the next season of The Bachelor premieres on ABC on January 23, 2023.
Sign up to our free daily email for the latest royal and entertainment news, interesting opinion, expert advice on styling and beauty trends, and no-nonsense guides to the health and wellness questions you want answered.
Anna Rahmanan is a New York-based writer and editor who covers culture, entertainment, food, fashion and travel news. Anna's words have appeared on Time Out New York, the Huffington Post, Fortune, Forbes, Us Weekly, Bon Appetit and Brooklyn Magazine, among other outlets.