Valentine's horoscope 2022—your star sign's romantic forecast for Valentine's Day
Valentine's horoscope 2022 says that your star sign's romantic forecast may be looking sunny but some signs may have storms ahead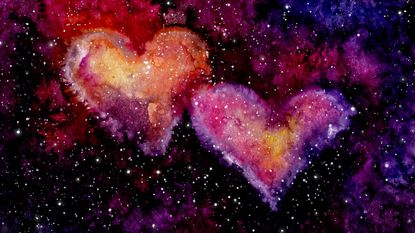 (Image credit: Nebula Cordata/Getty Images)
woman&home newsletter
Sign up to our free daily email for the latest royal and entertainment news, interesting opinion, expert advice on styling and beauty trends, and no-nonsense guides to the health and wellness questions you want answered.
Thank you for signing up to . You will receive a verification email shortly.
There was a problem. Please refresh the page and try again.
February 14 is a date that can bring big feelings. Whether you're a romantic or not, you'll probably be wondering what the Valentine's Day horoscope for your zodiac sign is saying this year.
The February new moon 2022 was in Aquarius and this called us all to look at the bigger picture. Perhaps for you the bigger picture is what you hope to achieve from your love horoscope 2022.
Perhaps Venus in retrograde 2022 knocked you for six, or maybe opened a whole new avenue—making space for romance to begin or an established relationship to have a boost.
In astrology, the moon is one of the greatest predictors of the daily energetic weather since it is the fastest-moving celestial body in the sky. It interacts with other planets the most, which in turn blends energies, and allows us to translate what type of vibe we can expect for the day. This is why using a moon calendar to mark your diaries for new moons, full moons, and lunar eclipses can be incredibly beneficial.
We know Valentine's Day always takes place during Aquarius season, making it the perfect time for leaning into our social side and thinking about others, but what are the other planets up to?
---
On Valentine's Day, the moon will start off in Cancer and eventually move into Leo. Sounds cute, right? The moon is at home in Cancer, where it feels comfortable and at ease to operate and achieve moon-like things such as comfort, security, nurturing, and, well, love.
The moon will make two intense aspects right as it's leaving Cancer, it will form an opposition with Pluto, the planet of death, rebirth, and transformation, and then an opposition with Mercury, the planet of communication. But don't worry guys, this isn't one of the four Mercury retrogrades hitting us this year!
Moon-Pluto aspects can bring up buried feelings, issues of power struggles, jealousy, and paranoia. The moon shines its bright light on our shadow side. We need to be on the lookout for power dynamics that feel off.
This energy can feel triggering. When the moon faces off with Mercury, this is a period of expression. We're communicating from the heart. This can be an intense aspect, but also very healing. We are speaking our truth.
OK, now for the good news: It gets better! The moon will enter jovial Leo and there is a mood shift. The moon in Leo invites us to play, tap into our inner childhood joy, and encourage our inner romantic.
February full moon 2022 in Leo asks us to open our hearts to love and release any blocks. According to your love horoscope 2022, this may be an issue that has been holding your sign back.
This is an opportunity to transmute the triggers and pain that may have come up earlier in the day. By listening to your heart's desires and staying authentically true to yourself, you have the power to change your day.
As this Leo moon, a full Snow Moon, falls so near to Valentine's—here's hoping you're going into the annual celebration of all things love with a great attitude.
Venus and Mars, each considered love planets in astrology, are forming a conjunction in Capricorn. They are inching closer and closer to one another.
The conjunction, or meet up at the same exact spot in the sky, occurs on Feb 16, so the romance will keep building. When Venus and Mars blend together, creativity and romance abound.
There is a meeting of our heart's desires and our drive to go after those desires. In Capricorn, this energy asks us to think long-term. We want sustainability and a plan. Who do you see in your life 10 years from now?
Read on for your rising, sun, and moon signs for a complete picture of what to expect for your astrological birth chart on Valentine's Day.
Valentine's Horoscope 2022
Aries
The red-hot Venus-Mars meet-up is taking place in your 10th house of public image, reputation, and legacy. Aries, there is no better time than the present to publicly shower your beloved with PDA or an Insta post full of heart-warming sentiments. If you're single, all eyes may be on you. You're sizzling and this is a wonderful time to put yourself out there. Why not try a first date on Valentine's Day? What do you have to lose?
Taurus
It might be time to get something off your chest, Taurus. The moon-Pluto face-off activates your 3rd house of communication. You can be slow to share your feelings and emotions, but something's been buried underneath the surface and it's time to address it. Repressing your feelings doesn't help anyone. If you want to confront a situationship, now's the time to move forward with a label or leave it behind in the dust.
Gemini
It's time to let others in, Gemini. Vulnerability and intimacy can feel like a challenge for you, so you prefer to keep it surface level. How can your relationships grow when you're only willing to talk reality TV or the latest article you read? The Venus-Mars alignment lands in your 8th house of shadow work, fears, vulnerability, and, in modern astrology, sex. Sharing another side of yourself could lead to a steamy rendezvous.
Cancer
It's time to stand up for your needs, Cancer. The moon starts off in your sign, and opposes Pluto and Mercury, encouraging you to speak about what's been bothering you in your partnerships. This configuration highlights your relationship axis and asks you to recalibrate this area of your life. It's likely the power has shifted within the dynamic. Your needs matter, and it's OK for you to have expectations for others. You deserve it all and more.
Leo
All eyes on you, Leo! Are you surprised? With the moon in showstopping Leo, this is a planetary reminder to spend time focusing on yourself. Sure, you can be a little too self-involved from time to time, but you are also one of the most generous signs in the zodiac! This is a cosmic green light to spend time nurturing yourself or letting others spoil you the way royalty expects to be treated. Get your nails done, get a couple's massage, or just make sure you're spending time doing something that is meaningful for you.
Virgo
Things are heating up, Virgo. The electrifying Venus-Mars meet-up is taking place in your 5th house of romance, creativity, play, sex, and fertility. That's right if you're not interested in conceiving, now is a wonderful time to be extra careful between the sheets. This energy is bursting with creativity and romance. You can use it personally to unleash your inner artist, or with someone else to create some real-life fireworks.
Libra
It may be time to step outside the friendzone, Libra. With the moon in Leo moving through your 11th house of groups, friendship, and hopes and dreams, this is a wonderful time to spend the day with loved ones. If your friend has been trying to set you up with someone, listen to them! This is an opportunity to meet someone through a connection. If you're partnered, you may spend Valentine's Day with a group of friends. Getting out of the house and being social is key!
Scorpio
You may not even want to leave the house today, Scorpio! With Venus and Mars co-mingling in your 4th house of home, it may be hard to drag you out of the bedroom. Today's energy is all about treating your home as a romantic getaway–whether you spend your time alone or with someone else. You're craving a little extra privacy and could use some rest. Feeling comfortable will allow you to unwind.
Sagittarius
You might find yourself feeling a little more emotional, Sagittarius. The moon moves through your 8th house of your psyche and shadows, reminding you that confronting past pain can help you leap forward on your path. If you've been holding onto any feelings for someone, now is the time to share and confront them. Your authenticity and vulnerability will bring about healing. You may even be surprised how the other person opens up. This is an opportunity to merge and grow closer.
Capricorn
Today you're a showstopper, Capricorn. If you're not partnered, you may feel like you're receiving a little extra attention. If you're interested in dating, once you put the effort in today, rewards will follow. Venus and Mars are hanging out together in your 1st house of self and identity. Who you are is alluring and drawing others' attention. This is a wonderful day to claim your confidence and step into your power.
Aquarius
Once the moon moves into Leo, you've got partnership on your mind, Aquarius. If you've got a sweetheart (or a few) this energy is pleasant for spending time together connecting and envisioning your futures together. If you're single, this moon placement is a perfect time to manifest your dream partner and double-check they're spot on with Aquarius compatibility. Make a list of qualities that person has and embody the feeling of what it's like to be in their presence. Leave the rest to the magic as it unfolds.
Pisces
Are you feeling caught up in a love triangle (again), Pisces? If your love life is feeling a little complicated, now is the time to speak from your heart. The moon in Cancer's opposition to Pluto and Mercury activates your 5th house of romance, sex, and play. Address any feelings of jealousy or unhealthy patterns that have been coming up. On the other hand, this is a fiery aspect that makes for some good sex. Use its energy wisely!
Stephanie Campos-Powell is a Mexican-American astrologer, modern mystic, writer, editor, and serious cat lover. She's got four obnoxious planets in Leo and thanks the stars every day for her grounding Virgo moon. Reading celebrity birth charts just puts the wind in her sails, and so does Zumba. In her spare time, you can find her helping others step into their power with the help of magic, spellwork, astrology and various healing modalities. And creating passive-aggressive astrology memes about her loved ones.