Titanic's 25th-anniversary poster sparks questions about Kate Winslet's *interesting* hair style
Is Kate Winslet's hair straight? Is it curly? Did she get half a perm on board the ship? The internet has questions...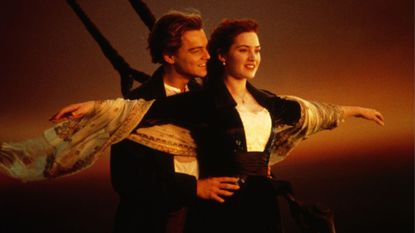 (Image credit: Alamy)
woman&home newsletter
Sign up to our free daily email for the latest royal and entertainment news, interesting opinion, expert advice on styling and beauty trends, and no-nonsense guides to the health and wellness questions you want answered.
Thank you for signing up to . You will receive a verification email shortly.
There was a problem. Please refresh the page and try again.
Ahead of the 25th-anniversary release of blockbuster film Titanic, fans are unexpectedly raising questions about one small detail on the poster: Kate Winslet's hairstyle.
Titanic is a classic movie that practically everyone has seen. And really, what's not to love? The cast (a dreamy young Leo DiCaprio and the always-elegant Kate Winslet), the visuals, the history, the emotion... it has all of the makings of a classic. So it's no wonder that the 25th-anniversary release of the film is sparking conversation amongst people of all ages.
But folks have found a small detail about the 25th-anniversary release that has suddenly become a huge topic of conversation on the internet: Just what is up with Kate Winslet's hair on the poster?
really stressing me out how kate winslet has two different hair styles here pic.twitter.com/Na4SuqX2SuJanuary 10, 2023
See more
"(It's) really stressing me out how kate winslet has two different hair styles here," one user on Twitter said.
On the poster, Kate Winslet and Leonardo DiCaprio pose in a tender embrace - and if you look closer, it's evident that she rocks a curly hairstyle on one side, and straight on the other.
"I really can not understand Kate's hair here," someone else tweeted with an accompanying laughing emoji.
One Twitter user offered an explanation. "She was getting a perm then the iceberg hit?" they tweeted.
But, some people, despite their confusion, are offering fairly logical suggestions as to why Kate's hair may be styled this way for the poster. Some say that Rose's hair has been like this all along, and that the confusion about the multiple styles is an overreaction.
"I don't get why her hair is so confusing to people. Did you not see the movie?" someone tweeted. Another person pointed out that they thought the original poster had the same hairstyle. "It's always been like that, it's just more noticeable now," they said.
Other fans are giving some additional analysis, claiming that they believe Rose's hair is two different textures to symbolize the two different sides of her personality: that of which she has with her uptight family, and then how she acts when with Jack.
"The whole point of her hair is because she was supposed to be a poised and refined elite woman but inside she was a carefree and wild soul. It's supposed to demonstrate that she had both sides and the movie is about her choosing between these 2 sides… Please watch the movie!" someone tweeted in response to the poster.
Titanic, directed by James Cameron, was nominated for 11 Academy Awards prior to its release in 1997, and grossed about $2.2 billion at the box office. The 25th-anniversary remastered version, which will be shown in 3D in select theaters, is set to hit the silver screen on February10.
Kate, who recently revealed her all-time favorite role (sadly it's not Rose), hasn't commented on the hairstyle yet - but we're hoping she'll make a cheeky joke about it soon. You never know, it could be the newest hairstyle trend of 2023!
Madeline Merinuk is woman&home's US lifestyle news writer. She covers celebrity, entertainment, fashion, and beauty news but is also obsessed with internet trends - you can find her reciting trending TikTok sounds out loud at any given time.
After winning multiple student journalism awards for her investigative work, she graduated from Hofstra University in 2021 with a B.A. in Journalism. After graduating, she worked at today.com, the digital site for the Today Show, where she wrote pop culture news and interviewed big-name personalities like Emily Ratajkowski, Haley Lu Richardson, Emma Corrin, and more.
Her personal interests, in no particular order, are: cheese, Joni Mitchell, reading, hot yoga, traveling, having multiple chapsticks in every handbag at all times, and dancing to ABBA songs as if she were in the Mamma Mia movies.