Reason 5,371 Kate Winslet is our favorite celebrity as she sweetly reassures child journalist during first ever interview
Kate Winslet, who stars in Avatar: The Way of Water, gave a child journalist the best first interview experience with her contagious kindness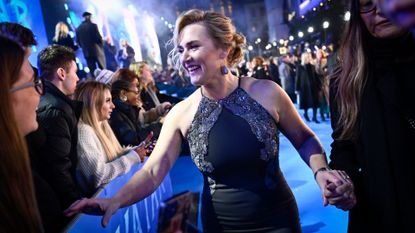 (Image credit: Getty Images)
woman&home newsletter
Sign up to our free daily email for the latest royal and entertainment news, interesting opinion, expert advice on styling and beauty trends, and no-nonsense guides to the health and wellness questions you want answered.
Thank you for signing up to . You will receive a verification email shortly.
There was a problem. Please refresh the page and try again.
Kate Winslet proves once again that simply being nice can go a long way after giving a reassuring pep talk to a young girl who was interviewing the celeb during an Avatar press event.
As one could imagine, interviewing a celebrity (especially someone as legendary as Kate Winslet) is nerve-racking. Martha, a young journalist from Germany who was present at a press event for the newly-released Avatar movie, Avatar: The Way of Water, certainly felt those nerves as she began her first celebrity interview with none other than Kate herself.
In a video of the interview, Martha and Kate are sat across from each other in typical interview fashion. Before the interview commenced, she timidly said to Kate (who just wowed in the show I Am Ruth) "It's my first time."
Kate replied, "It's your first time?" The Oscar-winning actress then sweetly encouraged Martha to not be scared by offering her some inspirational words of wisdom.
"OK, well guess what? When we do this interview, it's going to be the most amazing interview ever. And do you know why? Because we've decided that it's going to be," she said, leaning in closer to Martha.
"So, we've decided right now, me and you, that this is going to be a really fantastic interview. You can ask me anything that you want, and you don't have to be scared," Kate urged. "Everything is going to be amazing. OK? You've got this. OK, let's do it!"
The interview went so well that Martha was even able to snap a selfie with Kate before they parted ways.
After the interview, ZDF, the German media outlet Martha was reporting for, praised Kate on their social media for being so down-to-earth and kind to their young journalist.
The remarkable kindness Kate showed Martha struck a chord with many too - particularly those in the media industry who are often engaging in the same sort of work. Senior entertainment reporter, Liv Marks, who has also interviewed Kate before, tweeted about the sweet encounter, saying that kindness like this can go "such a long way."
Kate Winslet reassuring this young girl that her interview will be amazing is the most precious thing I've ever seen pic.twitter.com/sm0D5FWWsMJanuary 9, 2023
See more
"Kate Winslet reassuring this young girl that her interview will be amazing is the most precious thing I've ever seen," she tweeted. "Junkets can be really nerve wracking. Words of encouragement and kindness like this can go such a long way. I've been lucky enough to interview this lady and she's as real as they get. Incredibly thoughtful and genuine."
Kate who recently revealed her all-time favorite role, has starred in numerous popular movies, including the likes of The Holiday, Titanic, and others, and has always been known in the Hollywood sphere for her generous and amicable nature - and this interaction was certainly no exception. Fans of the Oscar winner even gathered to share their collective praise for Kate's kindness.
"There were already plenty of reasons to love Kate Winslet. Now there's one more," someone tweeted.
Someone else tweeted, "I will save this and watch this for the rest of my life when I need reassurance from my queen." We're certainly going to follow suit.
Madeline Merinuk is woman&home's US lifestyle news writer. She covers celebrity, entertainment, fashion, and beauty news but is also obsessed with internet trends - you can find her reciting trending TikTok sounds out loud at any given time.
After winning multiple student journalism awards for her investigative work, she graduated from Hofstra University in 2021 with a B.A. in Journalism. After graduating, she worked at today.com, the digital site for the Today Show, where she wrote pop culture news and interviewed big-name personalities like Emily Ratajkowski, Haley Lu Richardson, Emma Corrin, and more.
Her personal interests, in no particular order, are: cheese, Joni Mitchell, reading, hot yoga, traveling, having multiple chapsticks in every handbag at all times, and dancing to ABBA songs as if she were in the Mamma Mia movies.