Here's how to jump on the latest TikTok trend and try to find your soulmate using moon phases
Is finding out your moon phase soulmate the secret to true romantic harmony? As the trend gains popularity, we explain how to find yours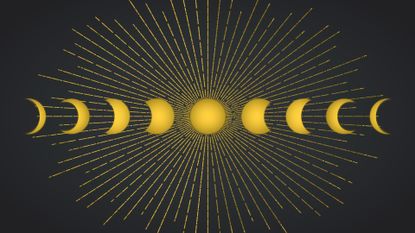 (Image credit: LeoPride/Getty Images)
The realms of compatibility have once again expanded, as it transpires your moon phase soulmate might just be the element you've been ignoring.
If you're the type of person that looks to the Moon Calendar 2023 for guidance, there's a good chance that this compatibility test is your kind of thing. The moon phase soulmate test is currently trending on TikTok - so what does it mean and how do you find out yours?
Synastry is the fine art of comparing a person's astrology birth chart to discover how their planets interact with a potential romantic partner. There's nothing new about this cosmic craft, it's just now becoming more popular than ever.
Just take a look at hit reality TV series like Written In The Stars, a dating show that sees singles matched by expert astrologers according to their natal charts. Or even have a peep at a dating app and you'll see that mentioning one's zodiac sign compatibility is almost as common as referencing 'pineapple on pizza.'
Perhaps your moon phase soulmate is the answer to finding the right person for you. Conversely, maybe incompatibility in this area may reflect negative feelings you have towards someone you're already with. After all, your Moon sign is an indicator, in your astrology birth chart, of your deepest desires and needs.
How do you find your moon phase soulmate?
The idea behind the moon phase soulmate concept is that the stages in the lunar cycle where you and your partner, or potential partner, were born should fit together.
There are eight distinct phases in the lunar cycle each month, and four of them occur roughly a week apart. Per Space.com (opens in new tab), these phases are New Moon, Waxing Crescent, First Quarter (or half-full), Waxing Gibbous, Full Moon, Waning Gibbous, Last Quarter (half-full on other side) and Waning Crescent.
There are many free online resources that will help anyone curious find out which moon phase they were born under. For this challenge, we'd use Moon Phases (opens in new tab) which is super easy to use.
All you need to provide is the date and location of your birth. Once you've discovered the moon phase that both you and your potential soul mate were born under, screenshot the image of the moon phase. You can then create the viral video on TikTok (instructions on that below). If the images of your moon phases 'fit' together in the video to create a full moon, then you're soul mates - at least, according to the trend.
It's important to point out that the moon phase soulmate theory has absolutely zero scientific backing - but many still believe it holds true. And the videos look good.
How people are sharing their Moon Phase soulmate results on TikTok
Once you've got your moon phases, and the screenshots of them, you can merge them together on TikTok to see your compatibility.
Use a moon phase calculator to discover the phase you and your perspective match were born under.
Screenshot the images of the relevant phases and crop them to the same size so they're easy to compare.
Download a video editing app, such as CapCut (opens in new tab).
Copy a CapCut template that's already been used on TikTok and hit "CapCut try this template," followed by, "use template in CapCut." Once you've navigated back to CapCut, you select, "use template."
Then, you add the two images that you screengrabbed earlier on and this is when you can add text if you so desire. If they fit together to form a full moon, you're soul mates!
Finally, you hit, "add sound in TikTok," export your video to your TikTok account and share your moon phase soulmate compatibility with the world!
Aoife is Junior News Editor at woman&home.
She's an Irish journalist and writer with a background in creative writing, comedy, and TV production.
Formerly Aoife was a contributing writer at Bustle and her words can be found in the Metro, Huffpost, Delicious, Imperica, EVOKE and her poetry features in the Queer Life, Queer Love anthology.
Outside of work you might bump into her at a garden center, charity shop, yoga studio, lifting heavy weights, or (most likely) supping/eating some sort of delicious drink/meal.