Serena Williams reveals that she's pregnant with her second child at the 2023 Met Gala
BRB, getting tissues - and not just because of her stunning red carpet look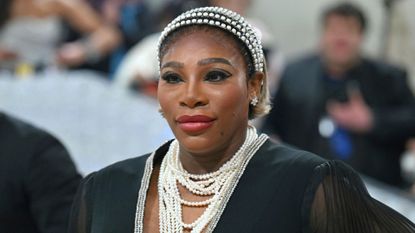 (Image credit: Getty Images)
Serena Williams joyfully announced her second pregnancy at the 2023 Met Gala and her Instagram caption revealing her new pregnancy journey is the sweetest thing.
Tennis star Serena Williams made headlines at this year's Met Gala after using the iconic event to reveal that she is expecting her second child with her tech entrepreneur husband Alexis Ohanian. The 23-time Grand Slam champion welcomed her first child, daughter Olympia, in 2017.
The sporting superstar wore an outfit inspired by the 2023 Met Gala theme, paying homage to the late fashion designer Karl Lagerfeld with the rest of this year's Met Gala best dressed attendees.
But it wasn't Serena's stunning ensemble that turned heads as the superstar arrived at the Met in New York on Monday night. Rather it was the growing baby bump that the star cradled on the red carpet.
The mom confirmed her happy news on Instagram, captioning a picture of herself and Alexis in their Met Gala attire: "Was so excited when Anna Wintour invited the 3 of us to the Met Gala."
Her Instagram comments, of course, were flooded with congratulations and other happy messages, both about her pregnancy and her red carpet look.
"What a reveal 🤩 Congratulations from your AO family!" the official Instagram account for the Australian Open commented.
"I had to look three times!!! 3x a charm!! Congratulations!!!" another fan commented.
"Our new addition, there's three of us here," Williams told Vogue correspondent La La Anthony on the red carpet. "I'm good, I'm feeling good now, I can breathe. I'm not hiding!"
As for Serena's outfit, the star wore a Gucci dress adorned with romantic, art-deco detailing. The black gown featured a body-hugging silhouette, complete with mesh sleeves and some white tulle at the bottom to accentuate the mermaid-style cut of the dress.
To finish the look she wore a fabulous, multi-stringed pearl necklace that covered her décolletage and a chic, pearl-clad headband with her hair tied back in a slick bun.
Pearls were a popular accessory at the 2023 Met Gala because they were such an iconic part of Karl Lagerfeld's collections for Chanel. Anne Hathaway wore a dress held together with pearl safety pins, while Penélope Cruz's vintage Chanel bridal dress featured pearl buttons and detailing.
Madeline Merinuk is woman&home's US lifestyle news writer. She covers celebrity, entertainment, fashion, and beauty news but is also obsessed with internet trends - you can find her reciting trending TikTok sounds out loud at any given time.
After winning multiple student journalism awards for her investigative work, she graduated from Hofstra University in 2021 with a B.A. in Journalism. After graduating, she worked at today.com, the digital site for the Today Show, where she wrote pop culture news and interviewed big-name personalities like Emily Ratajkowski, Haley Lu Richardson, Emma Corrin, and more.
Her personal interests, in no particular order, are: cheese, Joni Mitchell, reading, hot yoga, traveling, having multiple chapsticks in every handbag at all times, and dancing to ABBA songs as if she were in the Mamma Mia movies.