Sarah Paulson wore a custom Prada cast on her broken arm and it was the real star of the Golden Globes
Sarah Paulson gave her broken arm a designer makeover with a Prada cast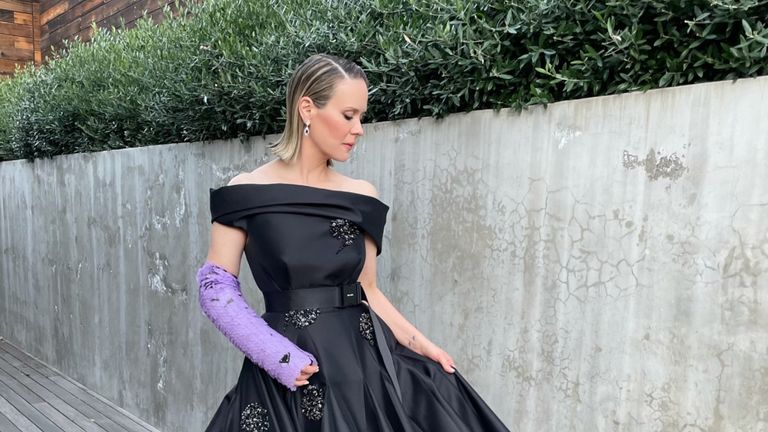 (Image credit: Handout / Getty Images)
Sarah Paulson might be the star of the hit Netflix series Ratched, but her broken arm was the star of the Golden Globe awards. Sara wore a glamorous Prada dress for the big event, but it was her matching custom-made Prada arm cast that has everyone talking.
Usually, when you break your arm, you're stuck wearing a hideous cast that gets grimy almost instantly and often has all of your friend's signatures on - but not if you are Sarah Paulson. If you're anything like the star of Ratched, then you get a custom-made Prada cast that matches your dress and is suitable attire for the Golden Globes.
Celebrity stylist Kara Welch dressed Sarah in a black off-the-shoulder, belted, embroidered Prada dress with dangling silver earrings, slicked-back hair - oh, and a bright purple arm cast. Kara posted Sarah's designer look on Instagram with the caption, "When you're Lady Paulson, you get a custom Prada cast to go with your custom Prada dress."
Read more from woman&home:
• Best pillow for a comfortable, pain-free night's sleep
• Best scented candles for a warm and cozy home this winter
• Best kindles for digital book lovers - we help you decide which one to buy
Fans adored this outfit and shared their support on social media. One fan commented, "BREAK AN ARM BUT MAKE IT FASHION." Another fan hilariously said, "we said break a leg, not an arm bestie." Many celebrities took to Instagram to compliment the look, including designer Marc Jacobs who simply commented, "perfection."
Sarah Paulson was nominated for Best Actress in a drama series. Other nominees included Jodie Comer for her performance in Killing Eve, Laura Linney in Ozark, Olivia Colman in The Crown, and Emma Corrin, who also was nominated for her performance in The Crown and won the award.
Many fans were disappointed that Sarah did not win, but agreed that she was in a tough category against many amazing actresses. Sarah looked fabulous and was the perfect nominee as she danced and cheered for Emma Corrin when The Crown actress won the award.
Before the awards ceremony, Sarah posted an image of her arm wrapped in gauze with various ice packs on top with the caption, "So this happened." It's not been confirmed how the actress has injured her arm or whether her arm is broken or not.