Salma Hayek's bikini picture breaks the Internet for all the right reasons
Actress Salma Hayek basically rushes in summer in new glamorous bikini photos on social media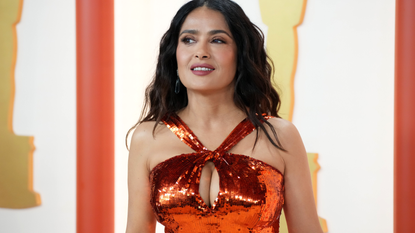 (Image credit: Jeff Kravitz / Contributor)
It's always a good day when actress Salma Hayek embraces all of her beauty and posts fabulous photos of herself around the world on her social media profile.
After stunning in a bold, sequin dress at the Oscars this past March, the 56-year-old Mexican/American star has been raising it a notch further, showing off her amazing figure and always on-point style choices on Instagram - including this past week, when she uploaded a series of photos of herself in a yellow bikini smack-dab in the middle of a peaceful ocean. I
t's clearly summer already somewhere around the globe.
Salma captioned the post in both English and Spanish ("Every time I need to feel renewed I jump into the ocean 🌊") and fans immediately took to the platform to comment on her look and her words.
"Some say she looks great for her age, no she looks great for any age," one follower noted matter-of-factly.
"You're aging in reverse @salmahayek 😍," someone else commented.
"One of the 8 WONDERS OF THE WORLD 🌎 !!! Selma!!!," a third fam wrote enthusiastically.
Clearly, Salma is a bathing suit pro. Less than a year ago, the mother of one posted a video of herself dancing in a bikini on a sailboat, capturing the sort of summer mood we'd all like to indulge in.
As a general statement, positivity and inspiration are themes that Salma explores all throughout her social media accounts and live appearances.
Just a month ago, for example, the star shared the happiness trick that she swears by. While on the Kelly Clarkson Show to discuss her role in the final installment of the Magic Mike franchise, Salma offered an easy tip to change one's mood when feeling down.
"I've got to say - girls, when you're sad, or you feel like you have no strength, close the door, put on some music, and dance like nobody's watching!," she said on the program. "I love movement. It gives you power."
The show's host, Kelly, quickly chimed in to reveal that she, too, dances like nobody is watching when feeling down.
Salma recently also shared some advice for mothers who feel trapped in their lives.
"When you have kids, that's a commitment for life," Salma, whose daughter Valentina Paloma Pinault is 15 years old, said to Marie Claire UK. "They need you. I thought that was going to mean I stopped working, and I was OK with that. But shockingly, I've never worked more. When I was available, I wasn't getting all these offers! It's when I'm prepared to give it up – because age is also a factor – that somehow it works out."
She specifically urged mothers to live in the present and accept themselves for who they really are.
"It's about being in the present and being alive," she said to the outlet. "When you're present you forget certain things; I'm not thinking about how old I am when I wake up. I don't even look in the mirror. Though, sometimes when I do look in the mirror I go, 'Oh Jesus', or I'll think 'How come I'm always tired?' and I'll remember, 'Ah, I'm older now'. When it dawns on me, I make the effort to connect with life again. I'm just amazed that at my age I'm still working and having the best moment of my career. At this point I'm just grateful."
Who even needs self-help books and therapy when you've got Salma Hayek's awesome and uplifting Instagram account to keep you happy and in check?
Anna Rahmanan is a New York-based writer and editor who covers culture, entertainment, food, fashion and travel news. Anna's words have appeared on Time Out New York, the Huffington Post, Fortune, Forbes, Us Weekly, Bon Appetit and Brooklyn Magazine, among other outlets.