Salma Hayek keeps things red hot in jaw-dropping gown just weeks after admitting she got 'everything' about aging wrong
Salma Hayek is a contender for the best dressed at the Oscars 2023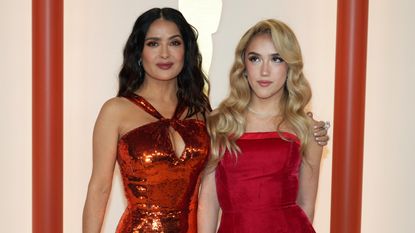 (Image credit: Jeff Kravitz/FilmMagic)
Salma Hayek might not be up for any awards at the Oscars 2023, but she nearly stole the whole show when she appeared on stage to present.
There might be a champagne carpet this year - a "soothing" color - but Salma decided things needed a bit more liveliness.
Taking to the stage alongside Antonio Banderas, Salma lit up the stage with her burnt orange, coppery looking sequin gown which amplified her famous curves.
With her signature smoky eye makeup and loose, curled hair, Salma kept true to her tried-and-tested looks, but that didn't lessen the impact.
Known for her love of shades of red and amber – a bold, confident color – Salma wore a racy, scarlet look late last year.
The custom Gucci gown had a key-hole neckline, fitted bodice and elegant shimmering floor-skimming tassels. She accessorized the burnt-orange gown with an understated but chic gold clutch. The sophisticated look was a far cry from the grungier "bikercore" leather and fishnet outfit she wore at the Brit Awards earlier this year - but was equally as impactful.
Earlier this year, Salma opened up about what aging meant for her, and how she'd been wrong about "everything" when it came to preconceived notions.
The Magic Mike: The Last Dance star told Glamour (opens in new tab) in February this year, "I thought getting older meant I wasn't going to work; I'm working. I thought getting older maybe meant that you're not in love anymore; I'm in love."
Adding that "everything" about aging is different from what she expected, she said, "I don't feel that I lost my flexibility or my agility or even my strength. I do have to say that I have found it beautiful, getting older with someone."
The person she is referring to growing old with is her husband, French billionaire François-Henri Pinault, whom she married in 2009.
If Salma's age-defying Oscars appearance has you frantically searching for her skincare routine, you might be surprised to hear she actually credits NOT washing her face for looking younger.
In an interview with GQ (opens in new tab), the star claimed, "My grandmother taught me to never wash my face in the morning. It's not disgusting guys."
She then explained that the logic behind this is to protect the oils that your skin produces while you sleep, and not just immediately wash them off. "What happens at night is your skin produces all the oils that your skin needs to look youthful. It regenerates. So, wash your skin really well at night but don't wash the hard work off your skin in the morning."
As well as her personal life flourishing, Salma opened up about the change in working life for actresses once they get older.
"In terms of Hollywood, yeah, it's changing. I was told that, as an actress, you kind of stop working around 30. Imagine? I did really feel it at the time, and it's unfair. If I had said instead to myself, 'Don't worry, your best professional moments are going to be in your 50s,' I would have been devastated: 'Oh my God, do I have to wait that long?' But it'll happen."
Jack Slater is not the Last Action Hero, but that's what comes up first when you Google him. Preferring a much more sedentary life, Jack gets his thrills by covering news, entertainment, celebrity, film and culture for woman&home, and other digital publications.
Having written for various print and online publications—ranging from national syndicates to niche magazines—Jack has written about nearly everything there is to write about, covering LGBTQ+ news, celebrity features, TV and film scoops, reviewing the latest theatre shows lighting up London's West End and the most pressing of SEO based stories.