Hollywood's most glamorous night of the year has drawn to a close, and the Oscars are over for another year.
While the 95th Academy Awards were a decidedly more muted affair than last year (maybe in part thanks to the Academy's newly-appointed crisis team) it was a significant night, dominated by Everything Everywhere All at Once which took home a grand total of seven awards.
Keep on scrolling to see the highlights, the lowlights and all the talking points from the evening.
Refresh
What time does the Oscars start?
The Oscars kicks off at 8pm ET/5pm PT. That's 12am in the UK for any early birds (or night owls) who want to follow the action.
ABC will start its pre-show coverage at 1:30 pm ET/10:30 am PT, with its red carpet coverage starting from 6:30pm ET / 3:30pm PT. Other networks will start showing coverage at slightly different times, for example, in the UK, Sky Showcase will start its red carpet coverage from 11pm (7pm ET) to midnight.
How can I watch the Oscars?
You can tune into the action on ABC (opens in new tab), with pre-show coverage starting from 1:30pm ET and the ceremony from 8pm. Cable subscribers can watch it on their TV or via the ABC website or app.
Other streaming services are airing the show too, such as Hulu Live TV (opens in new tab), YouTube TV (opens in new tab), FuboTV (opens in new tab) and The Roku Channel (opens in new tab).
UK viewers can tune into Sky's temporary Sky Cinema Oscars channel which is broadcasting the event from 1am with red carpet coverage starting earlier. All of Sky's coverage can also be streamed via NOW with a NOW Sky Cinema Pass (opens in new tab) Alternatively, you can make use of the NOW seven-day free trial.
Find out more on our dedicated guide on how to watch the Oscars from anywhere in the world.
What's inside the Oscars goodie bag?
Remember the sheer glee of getting a goodie bag from a party when you were a kid? The Oscars goodie bag is pretty much that but on a massive scale, with nominees being gifted bags that are reportedly worth a cool $125k. Find out what's inside this year's Oscars gift bag - from complimentary liposuction treatments (it is Hollywood after all) to luxurious Italian getaways.
Jamie Lee Curtis stuns in champagne-colored gown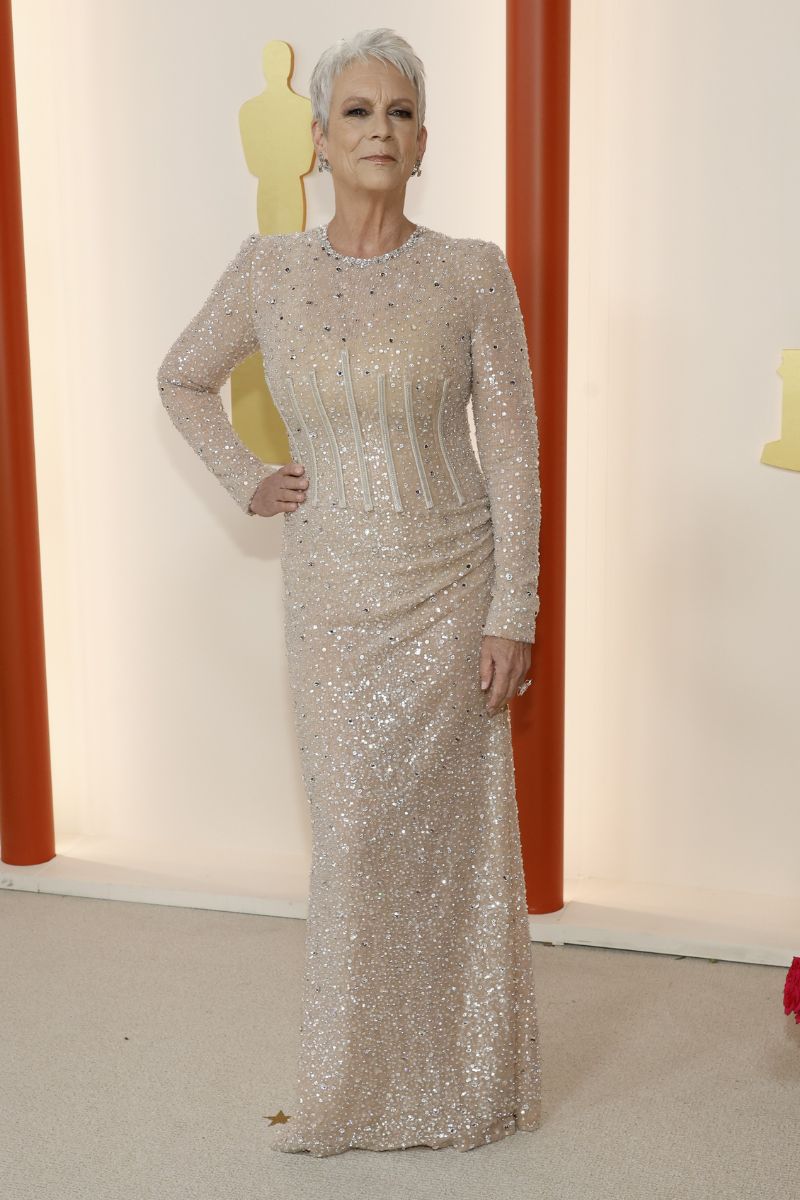 The Best Supporting Actress nominee has arrived and is positively dazzling in a beaded Dolce and Gabbana gown. The actor tweeted yesterday that "their carpet is going to match my drapes," and we now understand what she meant as her dress does perfectly match the newly-introduced champagne carpet.
Still, we think that actually draws attention to the exquisite beading on her floor-length gown. We'll go into more detail on that later.
Apparently, at the @TheAcademy Oscars, their carpet is going to match my drapes. pic.twitter.com/4hCBXnvz6HMarch 11, 2023
See more
Why is the Oscars red carpet not red?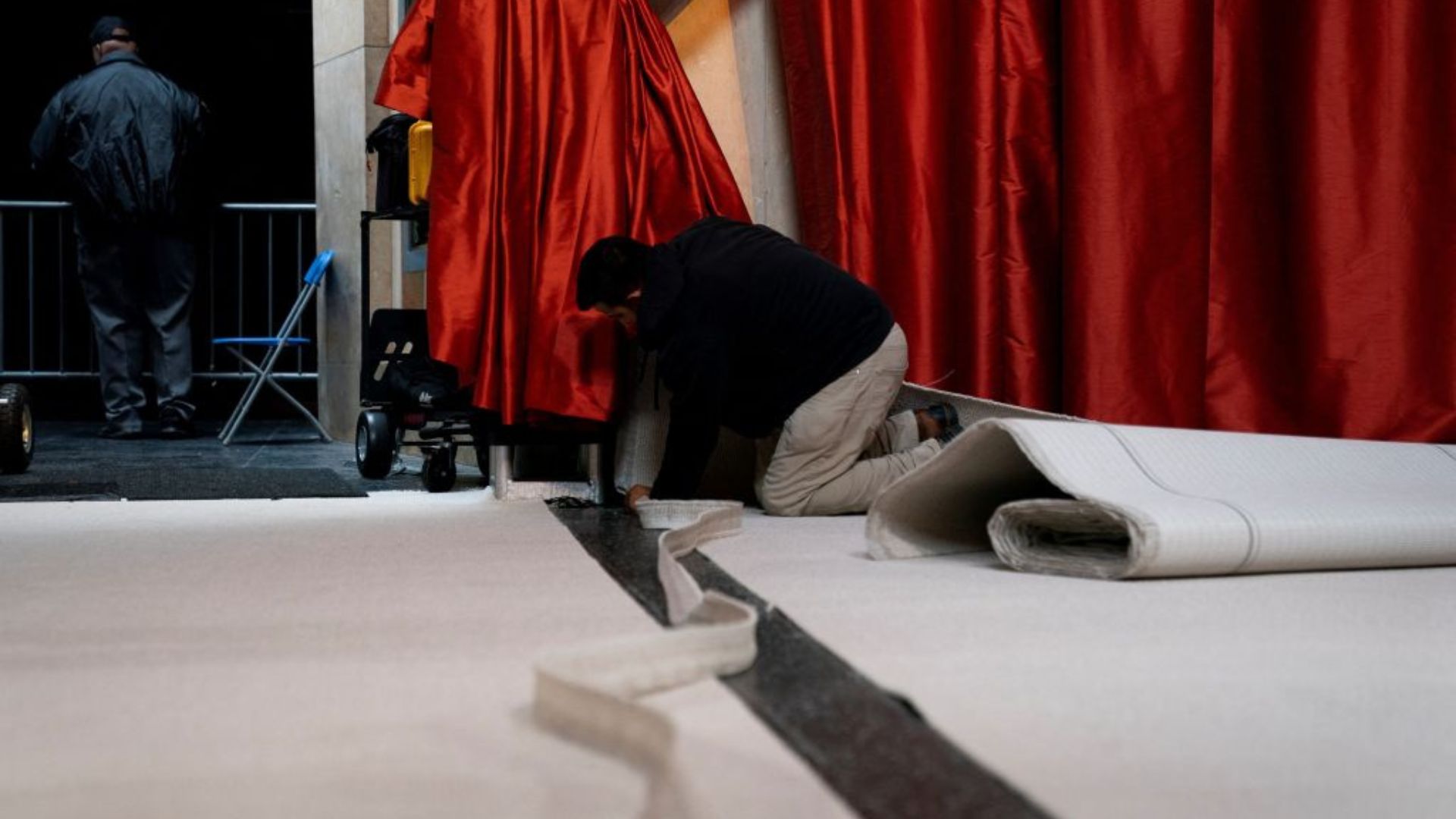 For the first time since 1961, this year's iconic red carpet isn't actually red. Instead, Hollywood's finest will walk down a champagne-colored carpet. But why?
Host Jimmy Kimmel posed one explanation when revealing the carpet on Wednesday. "I think the decision to go with a champagne carpet rather than a red carpet shows how confident we are that no blood will be shed," he joked.
Per Hollywood Reporter, (opens in new tab) the decision to use the "soothing" and "mellow" tone was a practical one, so that the carpet could easily work for the day-to-night event and not clash with the orange tent that is erected over the carpet to shield the guests from sun or rain.
For the Oscars production team, which chose the champagne color, the priority was a light, "soothing" color that would not clash with the orange tent that will be erected over the carpet to shield attendees from the sun and potential rain.
"We had to first come up with the tent and what color that would be," red carpet creative consultant Lisa Love told Hollywood Reporter.
"In order to block the light, that had to be a darker color. You've seen it as a sienna or saffron-colored sienna, which connotes the color of sunset. Where do you see the sunset best? From the sandy beaches with a glass of champagne in your hand. This is about getting ready for the golden hour that follows the show."
Sandra Oh, Malala Yousafzai, Mindy Kaling and Eva Longoria lead the red carpet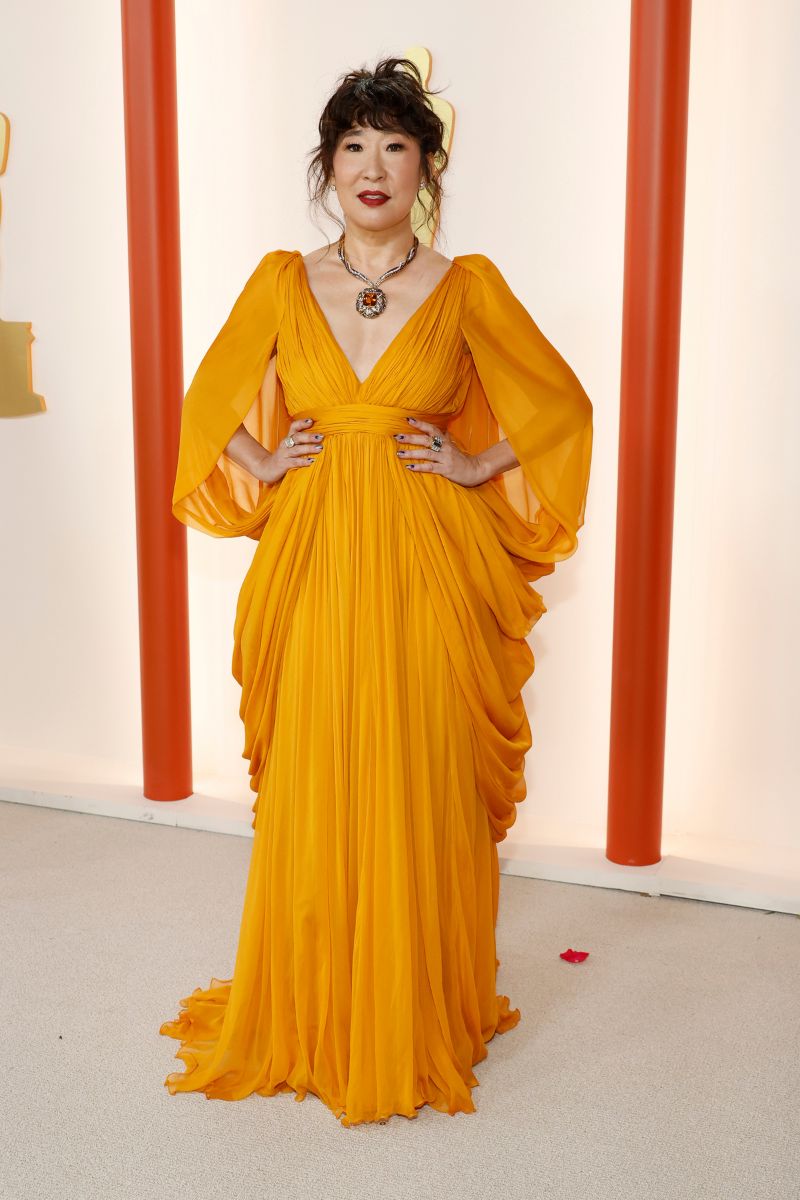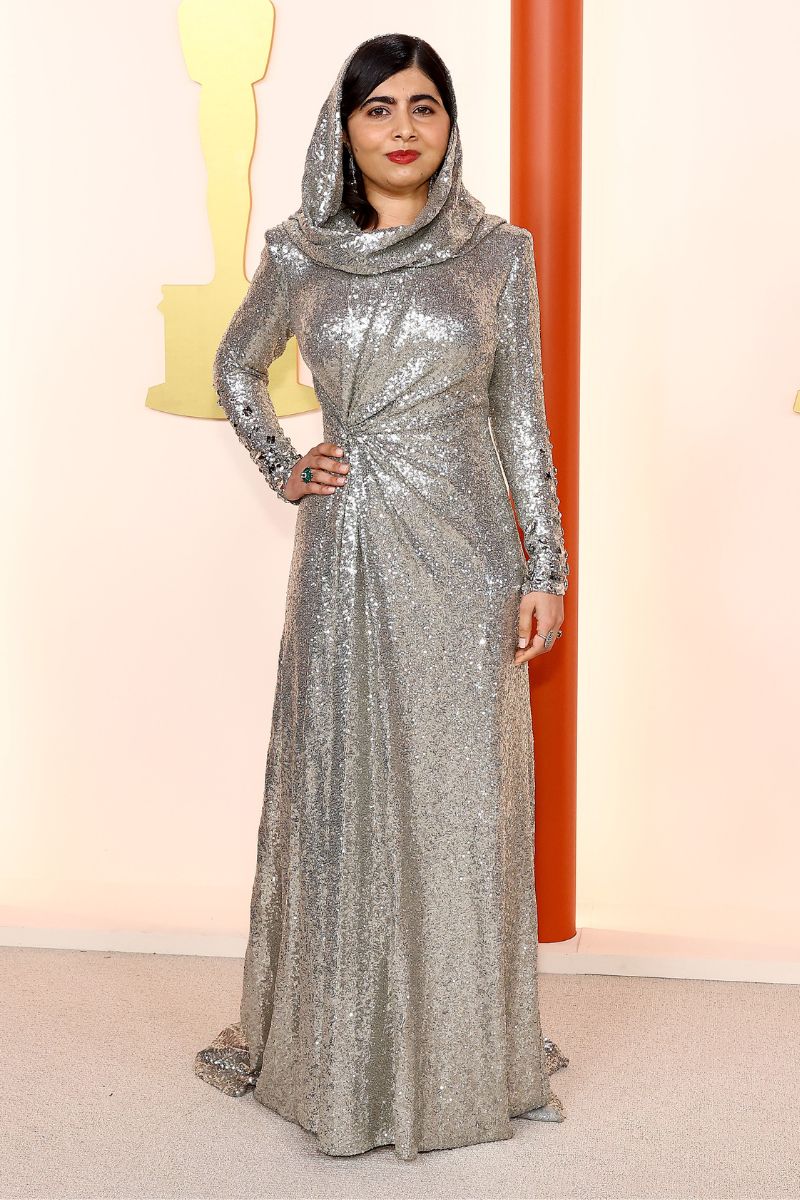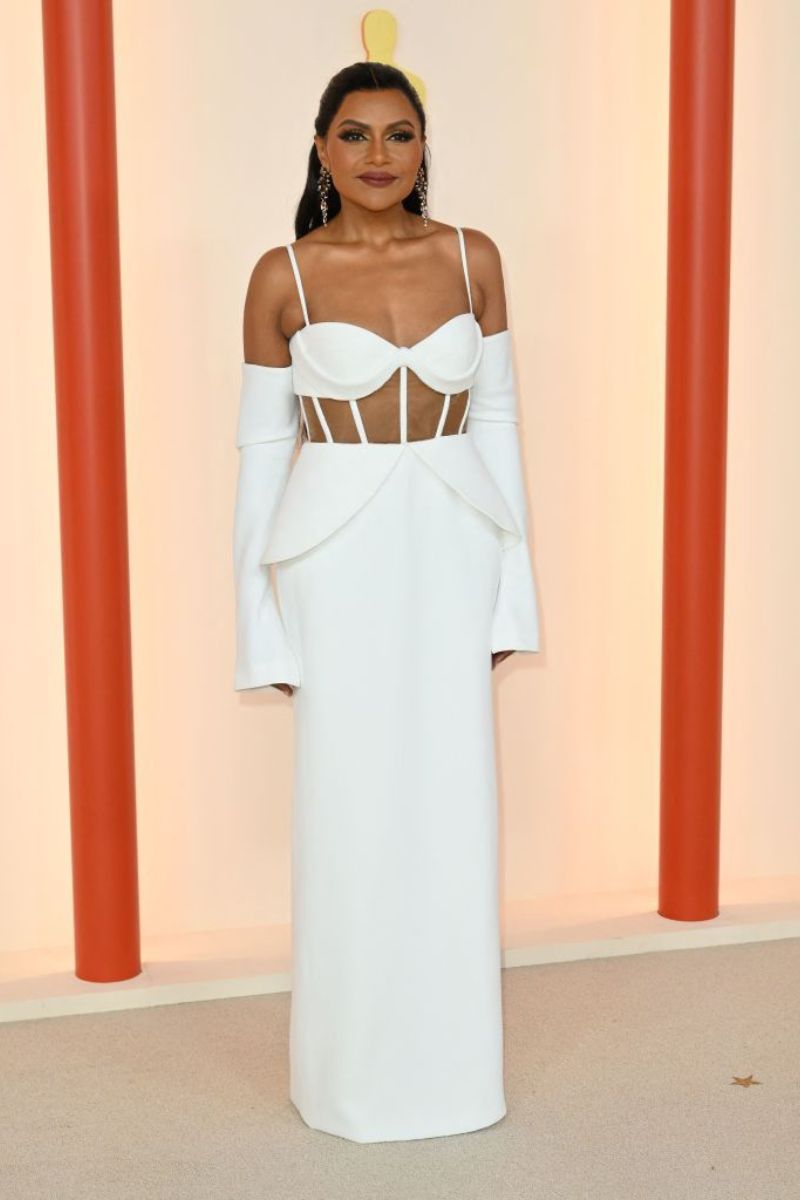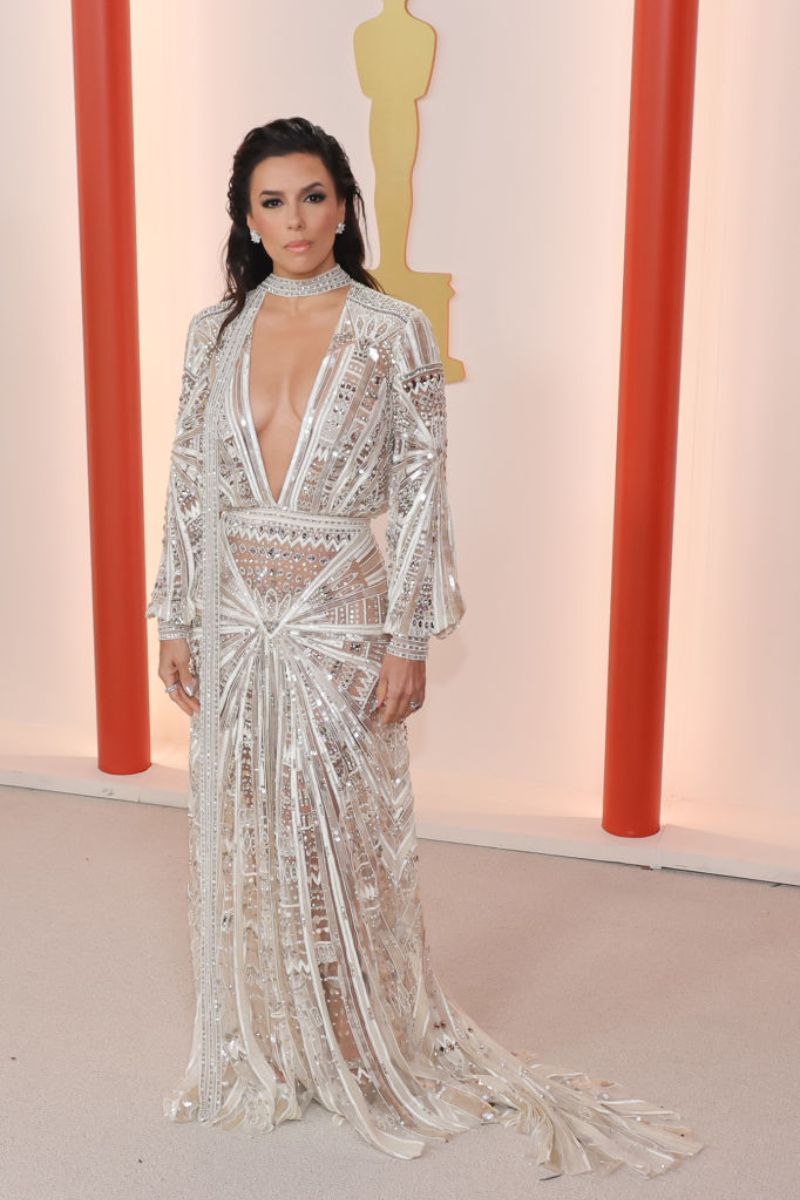 Next up, Angela Bassett, Nicole Kidman and Michelle Yeoh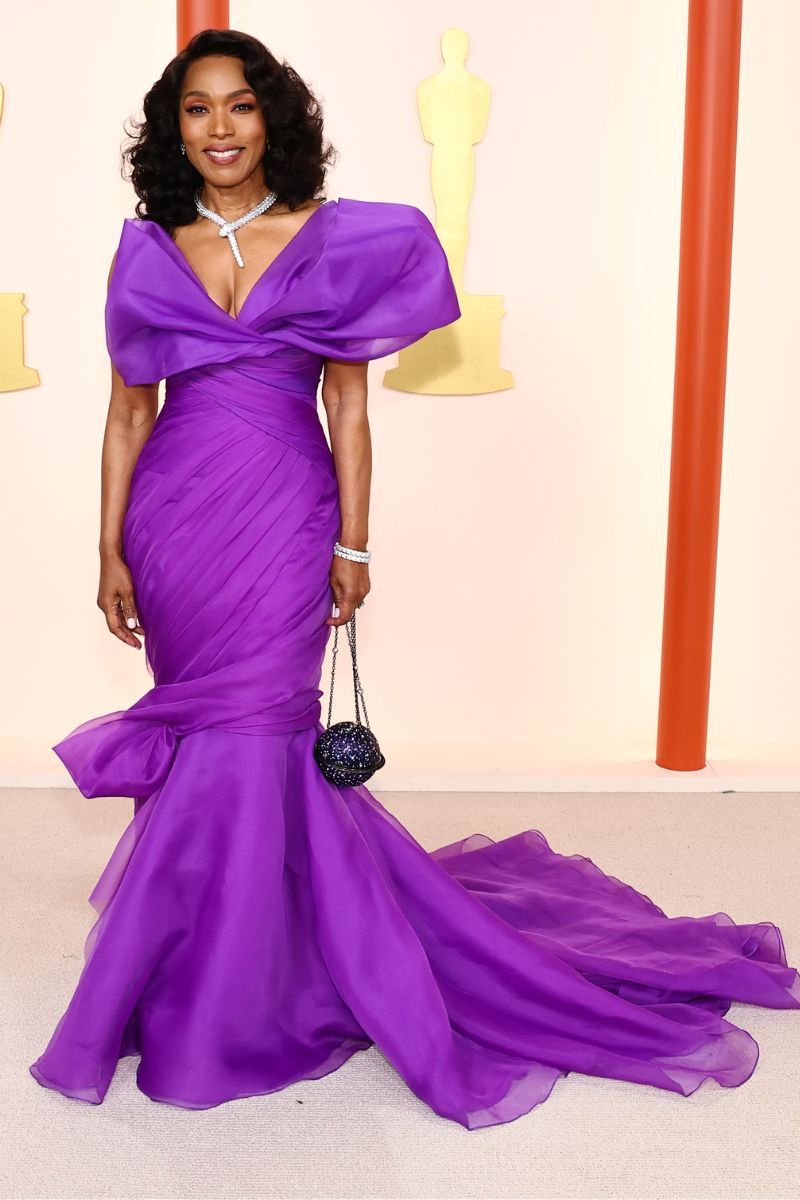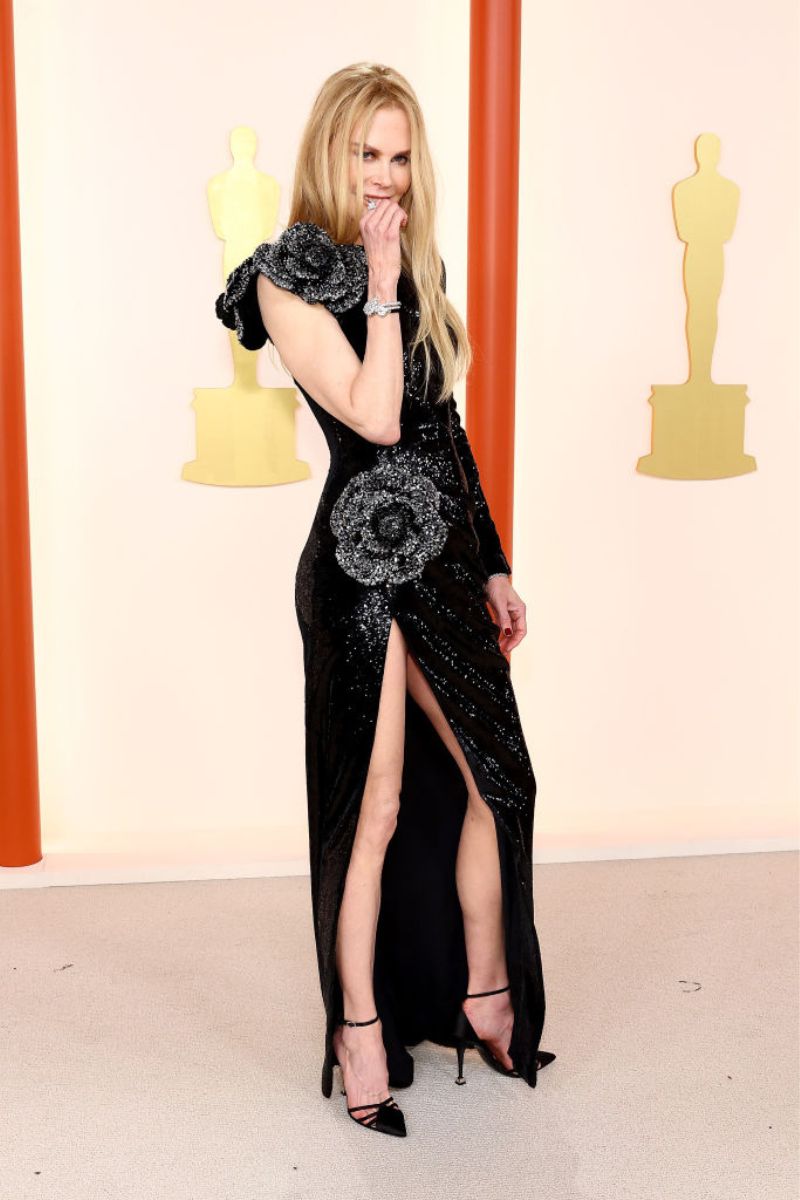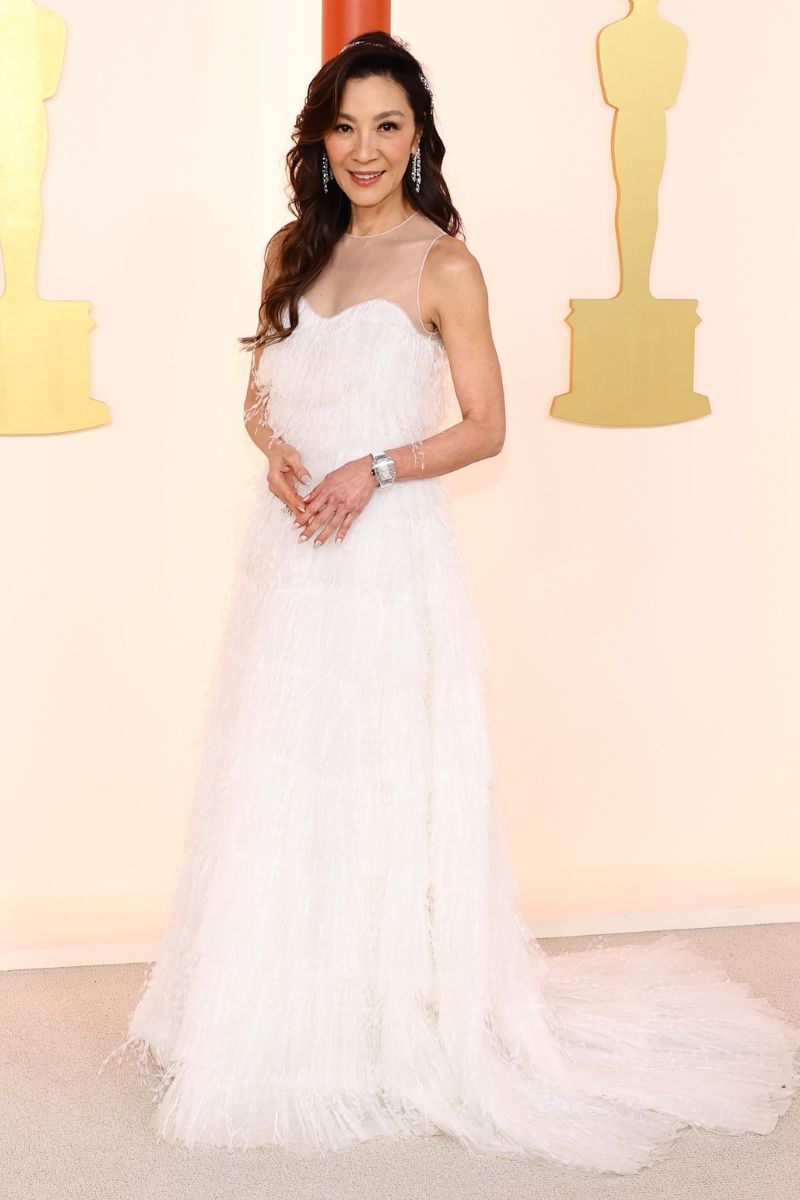 In case you missed it: Glenn Close is no longer presenting tonight
The actor had to pull out of hosting duties after testing positive for Covid-19. AP confirmed the news earlier today saying that Close's representatives said she was "isolating and resting."
Who is hosting the Oscars 2023?
This year's award ceremony will be hosted by Jimmy Kimmel. It's his third time presenting, first presenting in 2017 and then again in 2018. "The 95th Oscars show will be a success if no one gets hurt, I think the bar's pretty low now," he joked to ABC (opens in new tab). "I have to thank Will for that."
This isn't to say he hasn't had to deal with Oscars controversies first-hand - 2017 was the year of that wrong Best Picture announcement.
And we're underway
First up, the Best Animated Feature goes to Guillermo del Toro's Pinocchio!
No dry eyes in the house as Ke Huy Quan takes the Best Supporting Actor gong
The Everything Everywhere All at Once actor gets the first standing ovation of the night. "Mom, I just won an Oscar!"
Jamie Lee Curtis takes the Best Supporting Actress gong for her role in Everything Everywhere All at Once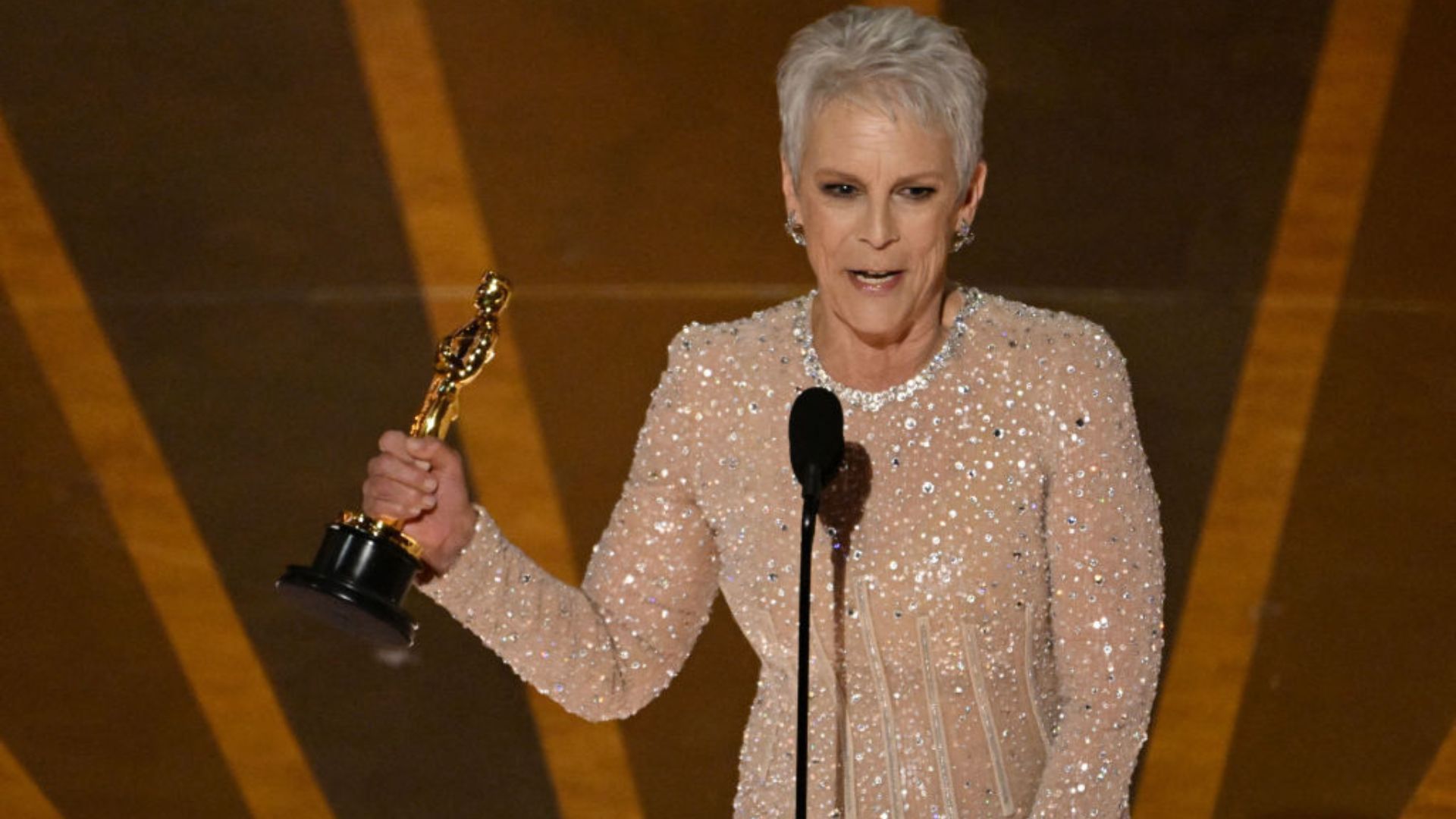 "I know it looks like I'm standing up here by myself, but I am not. I am hundreds of people…we just won an Oscar," she said in an emotional speech.
"To all of the people who have supported the genre movies that I have made for all of these years. The thousands and hundreds and thousands of people, we just won an Oscar, together!" she continued. This was Curtis's first Oscar nomination at the age of 64.
A deep dive into the story behind the champagne carpet
The show may have kicked off but we're still thinking about that champagne-colored carpet. Namely, how are they going to clean it?! Our writer Jack Slater breaks down why they changed the carpet color this year - and where the tradition of having a red carpet came from. Read about why the red carpet wasn't red this year.
The best dressed celebrities at the 2023 Oscars, according to our fashion editor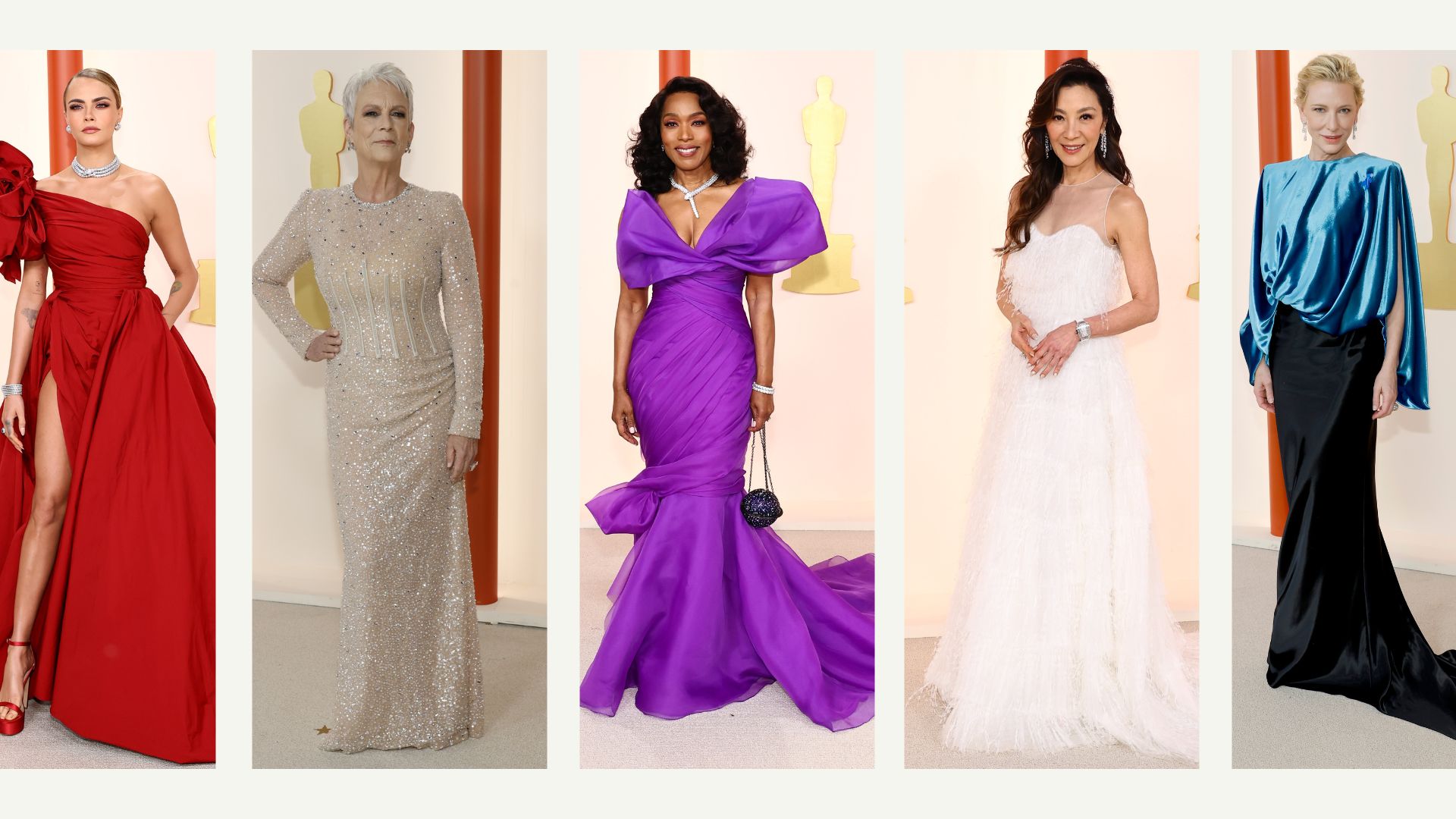 It wasn't easy to do, but our fashion editor Rivkie Baum has whittled down the best looks of the evening and put together her definitive Oscars 2023 best-dressed list. We've also broken down why they work and how you can use these styling hacks for inspiration next time you're attending an event and want to look (and feel) like an A-lister.
Remembering the craziest Oscars moments of all time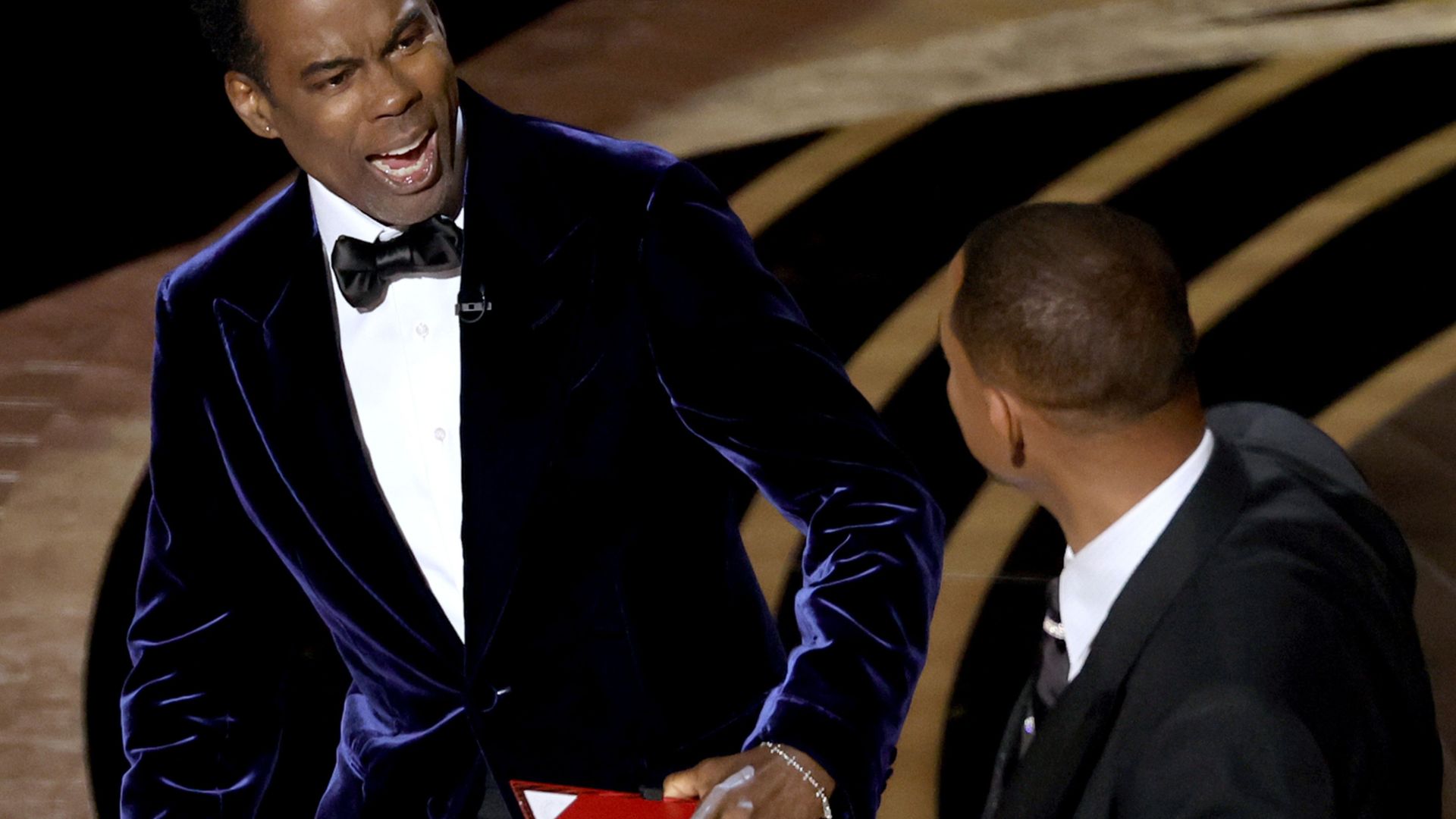 This year's ceremony has been a very civil affair so far (on-stage donkeys aside). But the night is young, and there's still plenty of time for the usual mishaps, inappropriate conduct and awkward speeches. Until then, we're casting our minds back to the craziest Oscars moments ever (And yes, of course, we included 'Adele Dazeem' and The Slap).
Lady Gaga strips off her make up for an intimate performance of 'Hold My Hand'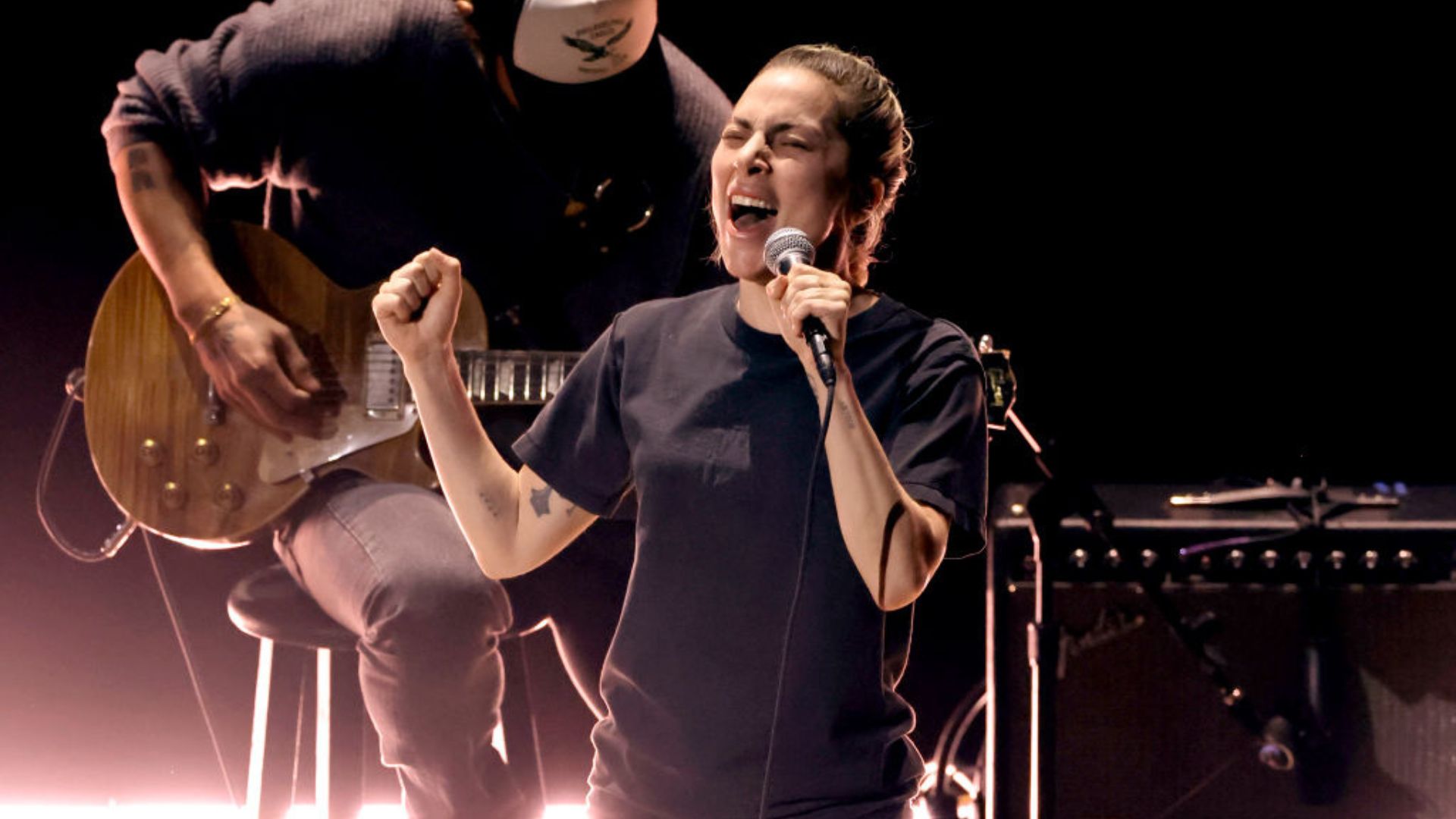 Lady Gaga ditched the glamorous Versace gown she arrived at the ceremony in to perform in jeans and a t-shirt.
"You can be your own hero even if you feel broken inside," she said, as she took to the stage to sing a stripped-down version of Top Gun: Maverick song. Gaga's appearance was only confirmed earlier today, as producers had previously said she wouldn't take to the stage due to her busy schedule.
The singer and actress is up for her fourth Oscar nomination tonight, this time nominated for Best Song.
All Quiet on the Western Front takes home fourth award for the evening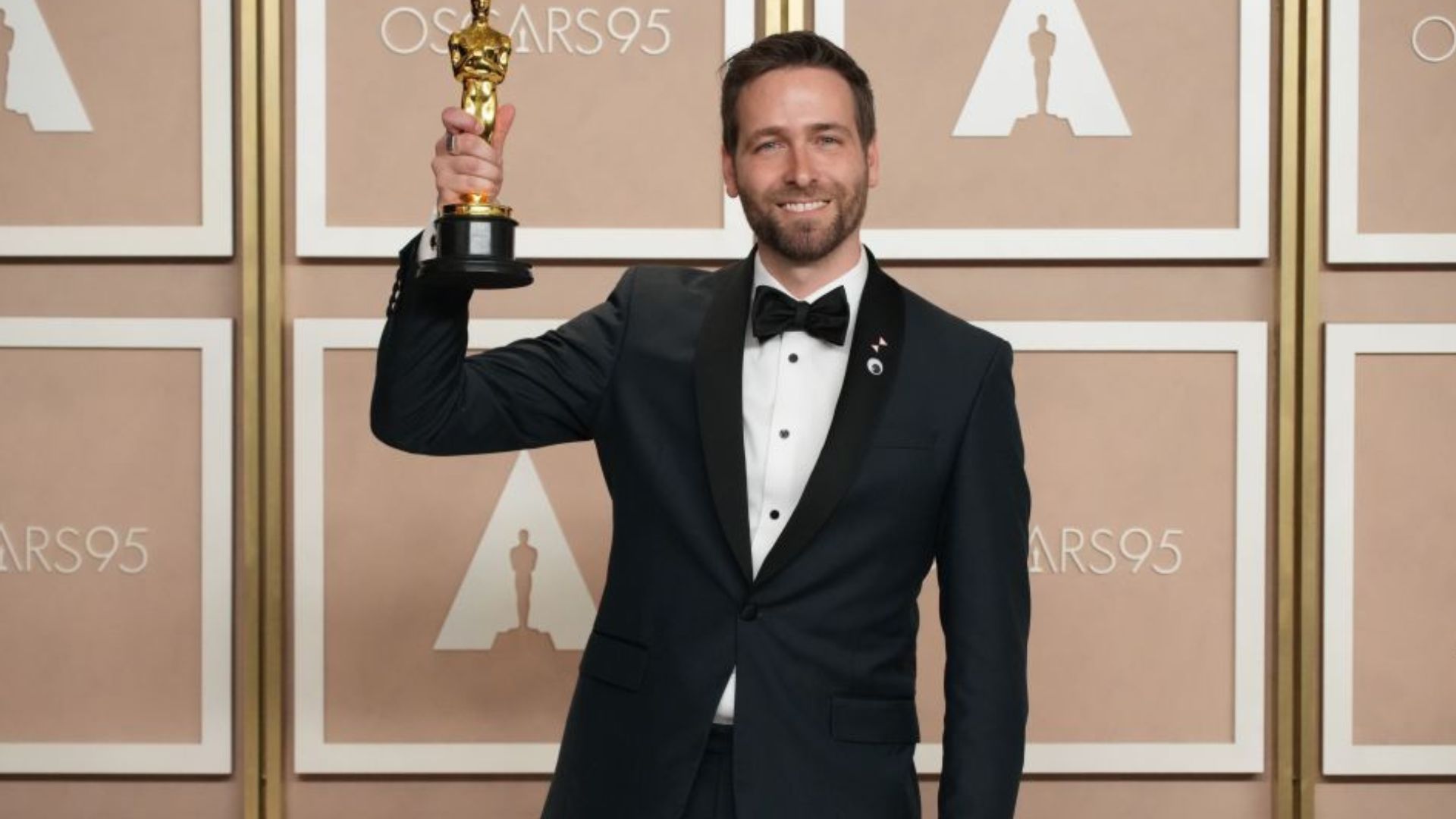 As expected, the German anti-war movie is currently the biggest winner of the night having picked up gongs for Best Cinematography, International Feature Film, Music (original score), and Production Design. And the night is still young!
Could it win Best Picture? Everything Everywhere All At Once has consistently been touted as the favorite to win that category - but until that envelope is opened, anything could happen.
Read more about the movie here: Is All Quiet on the Western Front a remake?
What it's really like to design a red carpet dress for the Oscars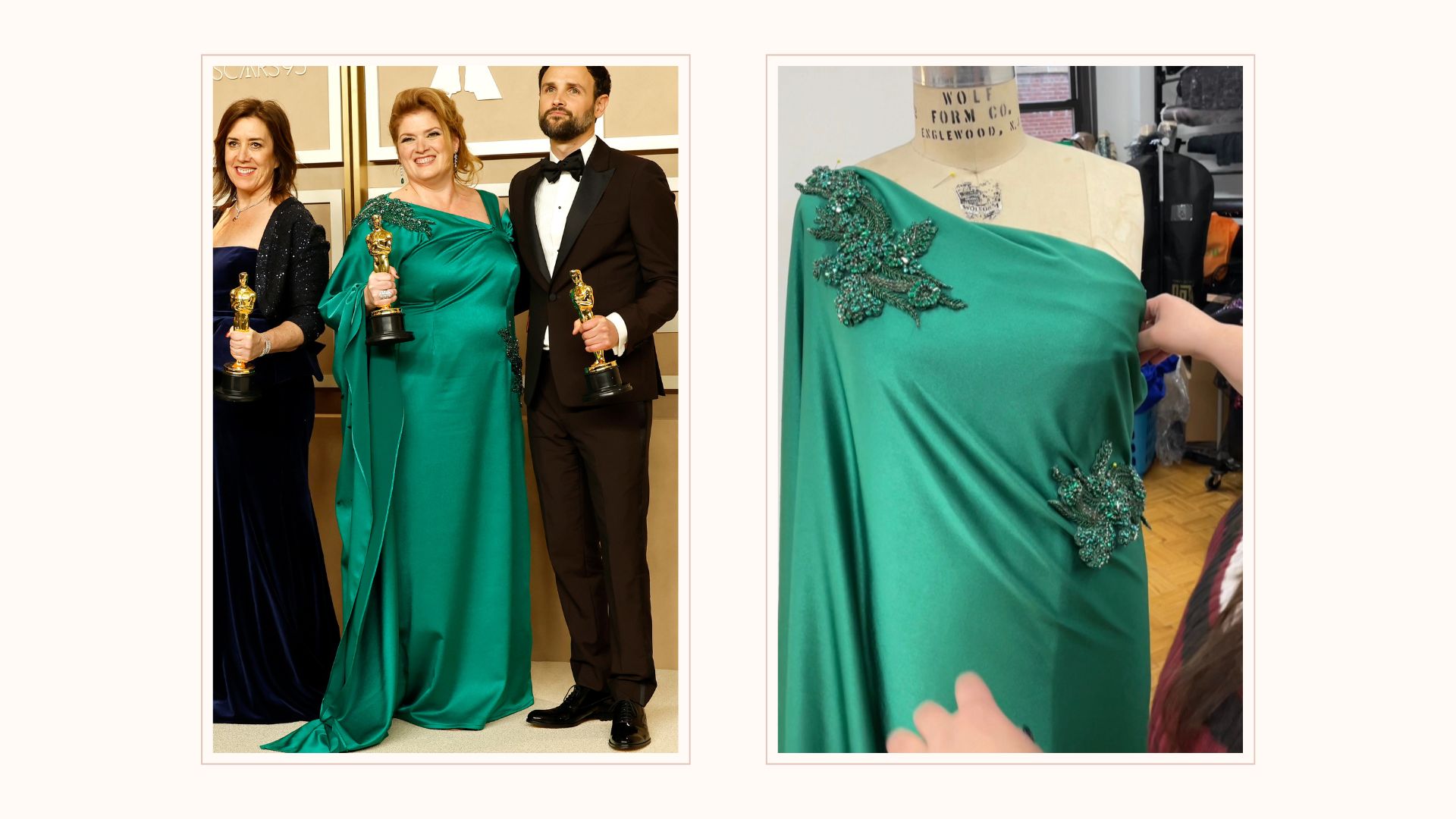 We spoke to fashion designer Renee Cafaro who designed the stunning emerald dress for Oscar-winning producer Melanie Mille. Renee revealed what goes down behind the scenes - from the first call to fittings and finding the perfect design.
"I never imagined I'd be working on my first Paris show and an Oscars red carpet dress simultaneously, but it never even crossed my mind that we wouldn't get this done," she tells us. "Powered by Red Bull and determination, I knew failure wasn't an option.
"People say fashion is glamorous, and sure it has its moments, but there is a lot of hard work people never get to see."
Read our full interview with Renee about what it's like designing an Oscars red carpet dress.
John Travolta in tears as he pays tribute to Olivia Newton-John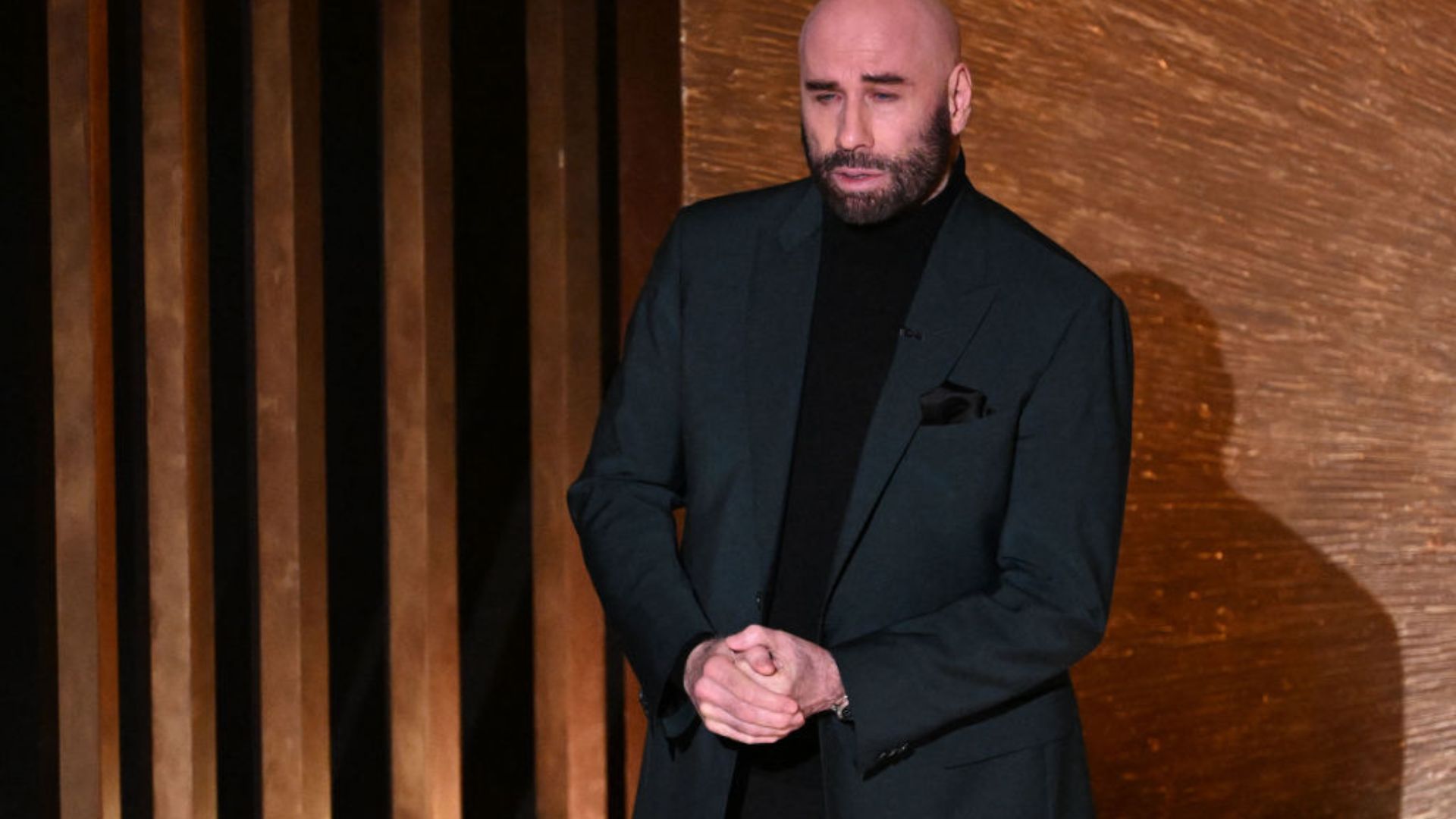 John Travolta introduced the 'In Memoriam' performance with a touching reference to Olivia Newton-John, who passed away in August 2022.
"Since tonight is a celebration of the work and the accomplishments of our community in this past year, it is only fitting then that we celebrate those we've lost, who dedicated their lives to their craft, both in front of and behind the camera," he said.
Fighting back tears, he added, "They've touched our hearts, they've made us smile and became dear friends who we will always remain hopelessly devoted to."
And now for the big awards... the Best Actor goes to Brendan Fraser for his role in The Whale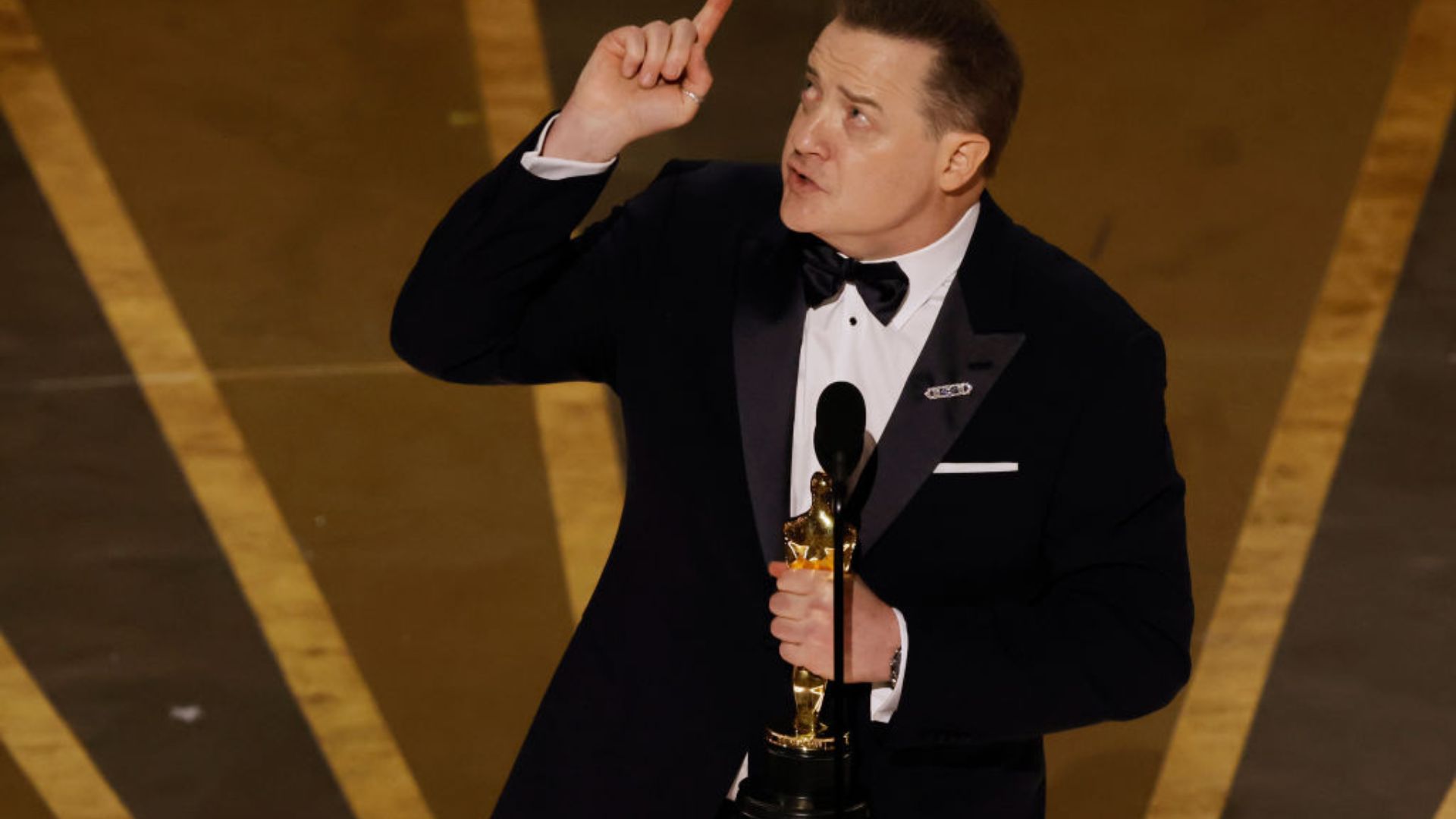 Fraser took home the massive accolade, battling fierce competition from a range of contenders including Austin Butler and Colin Farrell. In a nautical-themed speech, the child star thanked his crew, family and director Darren Aronofsky for throwing him a "creative lifeline," adding that it's felt like he has been on a "diving expedition."
Somewhat cryptically he said, "I started in this business 30 years ago, and things, they didn't come easily to me, but there was a facility that I didn't appreciate at the time until it stopped. And I just want to say thank you for this acknowledgment, because it couldn't be done without my cast."
The 2022 drama about a chronically obese man who attempts to reconnect with his teenage daughter was widely met with praise and standing ovations during the festival circuit, but some critics also slammed the production's use of prosthetics, as Fraser was loaded with an elaborate custom-made fat suit for the role.
And the Best Actress goes to... Michelle Yeoh for Everything Everywhere All at Once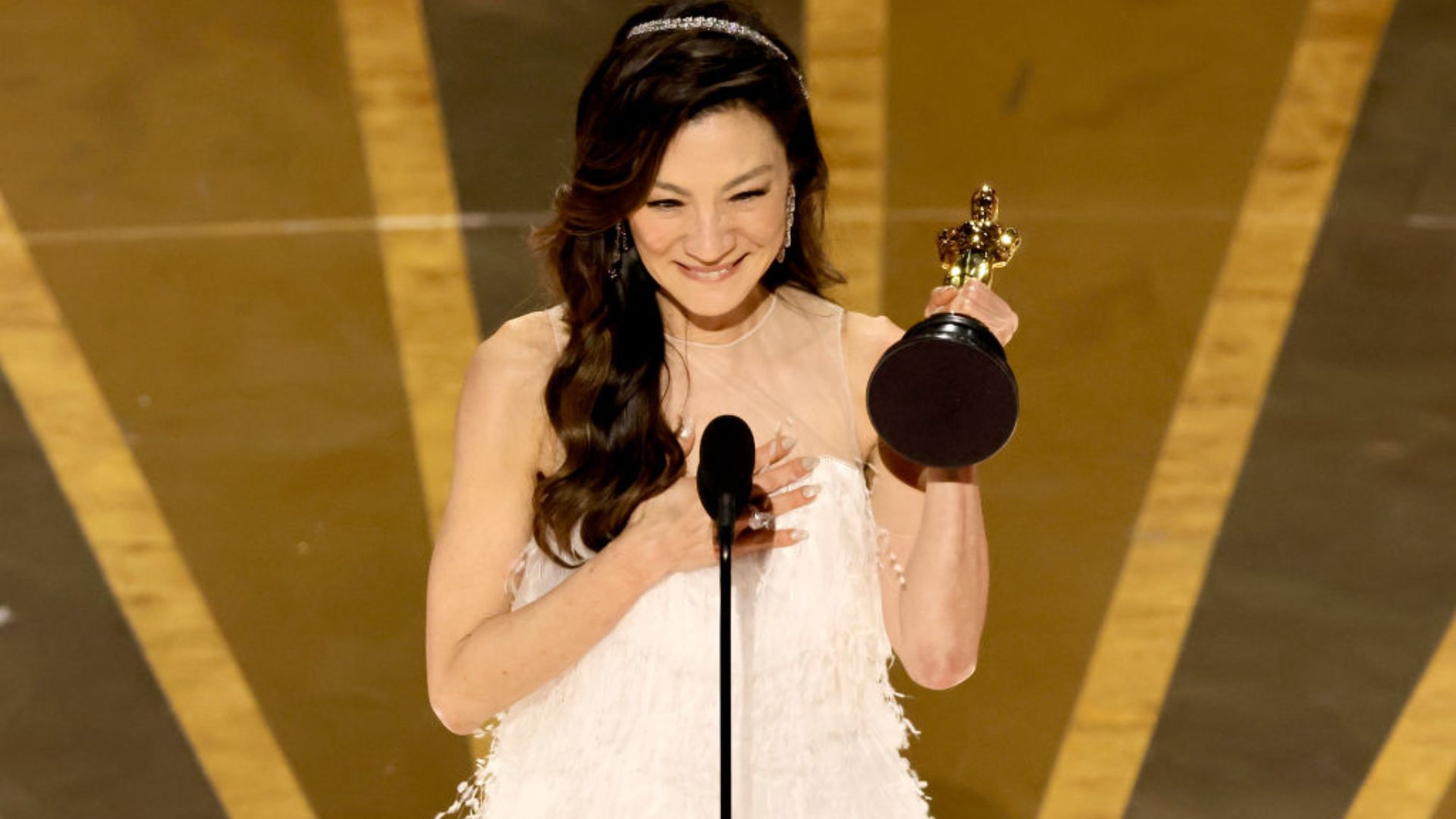 Michelle Yeoh has become the first Asian woman to win Best Actress and the second woman of color to ever win the award. "This is history in the making," she exclaimed - and she's not wrong. This is a hugely significant win.
"Ladies don't let anyone ever tell you you're past your prime," she told a captive audience, adding, "for all the little boys and girls who look like me watching tonight, this is a beacon of hope and possibility."
Everything Everywhere All at Once takes home the Best Picture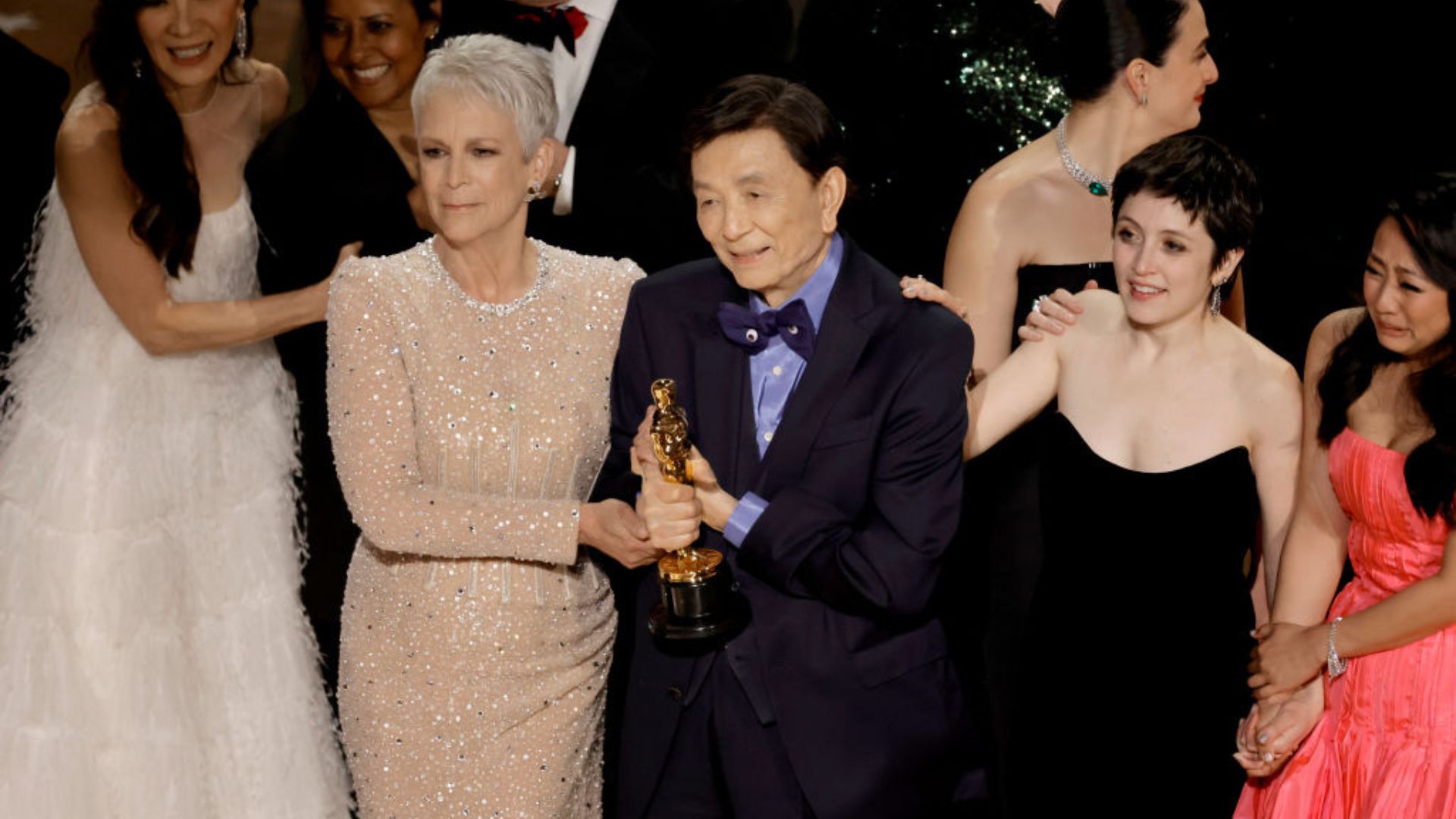 Everything Everywhere All at Once won the coveted Best Picture award! It's safe to say the multiverse sci-fi movie dominated the evening, taking home a grand total of seven wins.
The competition was tough for this award, with the indie movie beating All Quiet on the Western Front, Avatar: The Way of the Water, The Banshees of Inisherin, Elvis, The Fablemans, Tar, Top Gun: Maverick, Triangle of Sadness and Women Talking to scoop the top award.
Jamie Lee Curtis quite literally jumped for joy as the cast went on stage to claim the gong, while Ke Huy Quan made a beeline to hug Harrison Ford whom he starred alongside in 1984's Indiana Jones and the Temple of Doom.
Oscars 2023: Full list of winners
Everything Everywhere All at Once swept the 2023 Oscars, picking up seven awards in total. Find the full list of winners here:
Best Picture: Everything Everywhere All at Once
Best Actor: Brendan Fraser, The Whale
Best Actress: Michelle Yeoh, Everything Everywhere All at Once
Best Supporting Actor: Ke Huy Quan, Everything Everywhere All at Once
Best Supporting Actress Jamie Lee Curtis, Everything Everywhere All at Once
Best Director: Daniel Kwan and Daniel Scheinert, Everything Everywhere All at Once
Best Original Screenplay: Everything Everywhere All at Once
Best Adapted Screenplay: Women Talking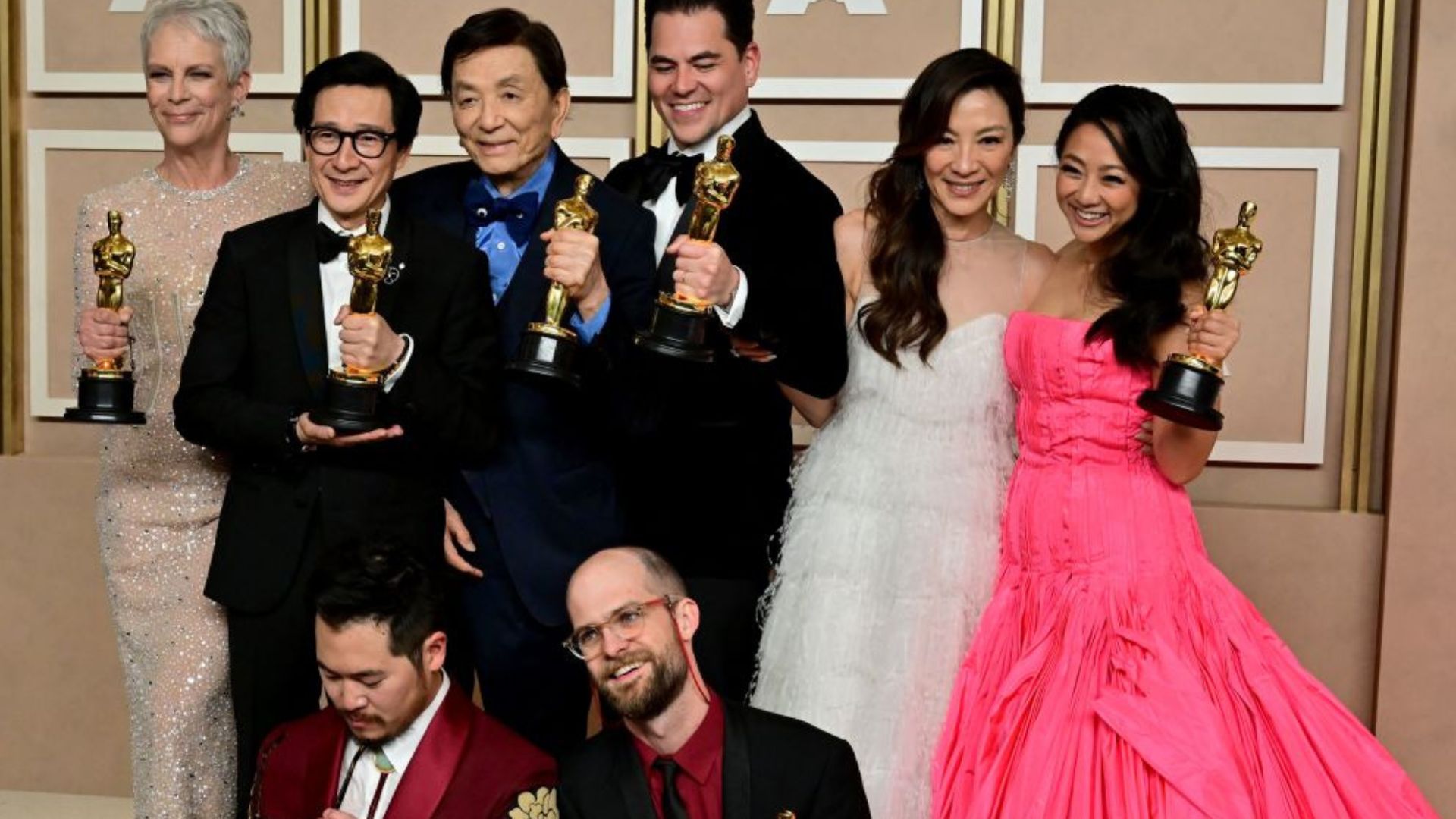 Best Cinematography: All Quiet on the Western Front
Best International Film: All Quiet on the Western Front
Best Documentary Short: The Elephant Whisperers
Best Animated Feature: Guillermo del Toro's Pinocchio
Best Animated Short: The Boy, the Mole, the Fox and the Horse
Best Documentary Feature: Navalny
Best Live-Action Short: An Irish Goodbye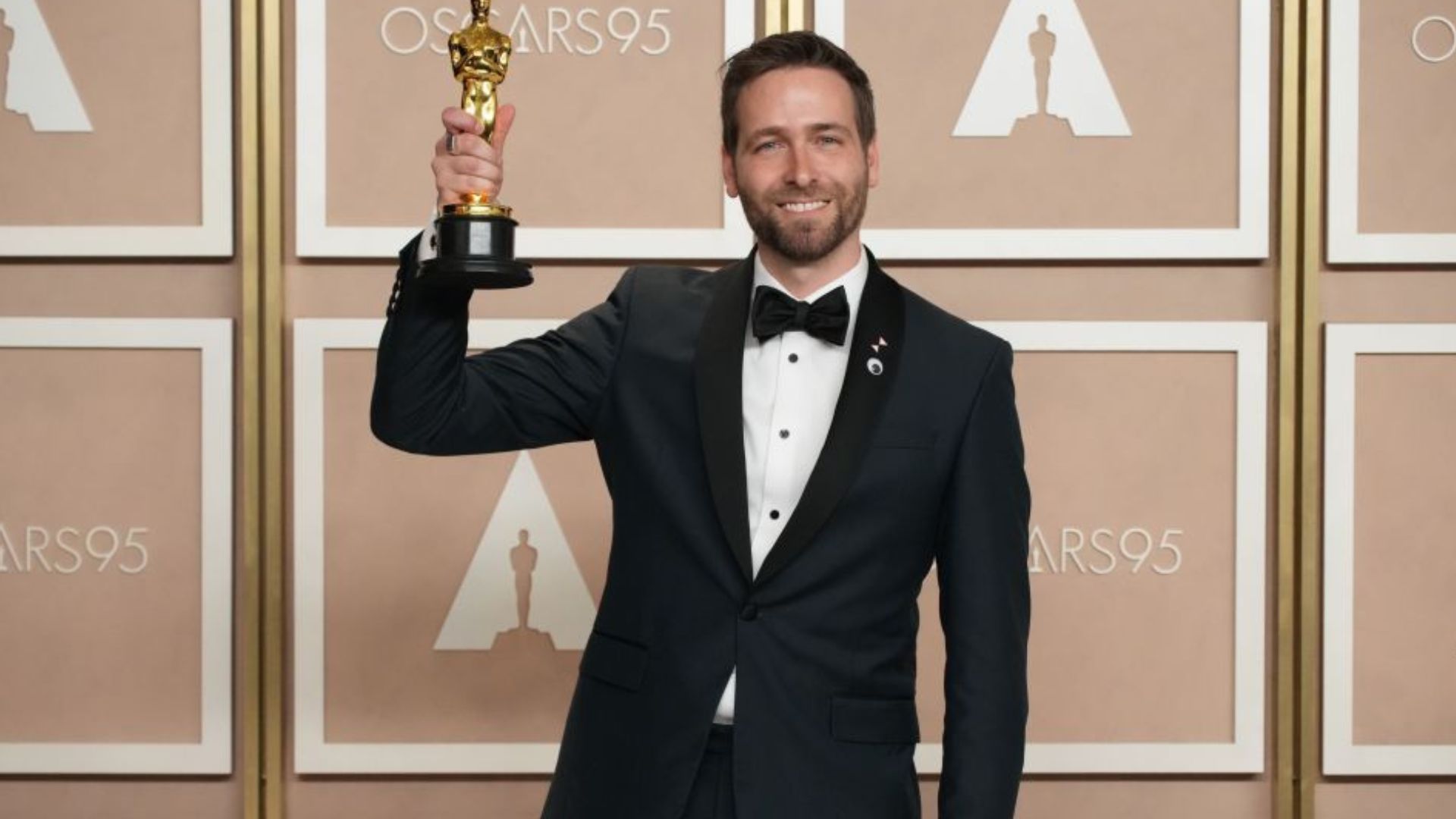 Best Makeup and Hair: The Whale
Best Costume Design: Black Panther: Wakanda Forever
Best Production Design: All Quiet on the Western Front
Best Original Score: All Quiet on the Western Front
Best Sound: Top Gun: Maverick
Best Original Song: Naatu Naatu, RRR Best Editing: Everything Everywhere All at Once
Best Visual Effects: Avatar: The Way of Water
That's the end of our live coverage for the evening, but we'll leave you with our highlights: