A look back at the craziest Oscar moments so far, from stage nudity and weird clapping to falls and *that* awkward announcement mistake
And yes, of course we included 'Adele Dazeem'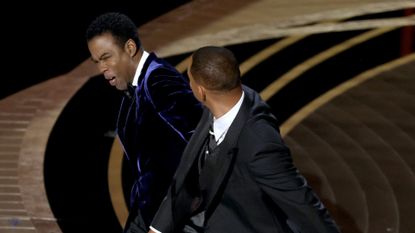 (Image credit: Getty)
Ahead of the 95th Oscars coming up this Sunday, March 12, we're taking a look at some of the craziest moments from past Oscars.
Award shows are wonderful viewing experiences for fans for a lot of reasons. For one, it's great to see your favorite stars and creatives get recognized for their outstanding work in the entertainment industry - and it's even more fun to predict who will take home the awards.
Another thing we love about award shows is that they happen live - which means anything strange could happen at a moment's notice. Sometimes, we even get treated to moments that become legendary in award show history.
In honor of the 2023 Oscars set to take place on Sunday, March 12, we're traveling back in time to recall some of the funniest, most random, strangest, and truly most chaotic moments in recent Oscar history. Buckle up, you're in for a ride.
1. "Adele Dazeem"
Of course we had to mention this one - it's one of the most quotable mess-ups in award show history.
During the 2014 Oscars, John Travolta got on stage to introduce Idina Menzel, who was set to perform Let It Go from that year's Disney blockbuster smash, Frozen.
Instead of pronouncing her name correctly (read: Eye-deen-uh Men-zell), he came up with a pronunciation of his own.
"Please welcome the wickedly talented, one and only, Adele Dazeem," he says, introducing the Tony award-winning actress.
This flub, even almost a decade later, is still hailed as one of the funniest moments in Oscars history.
2. Angelina Jolie: "I'm so in love with my brother right now"
In 2000, Angelina Jolie won the Oscar for best supporting actress for her role in Girl, Interrupted.
During her acceptance speech, the star wanted to thank all of the people who had supported her and helped her along the way - which, of course, is reasonable. One of those people was her brother - but the way she articulated her gratitude in her speech came out sort of... well, strange.
"I'm in shock. And I'm so in love with my brother right now," she starts off. "He just held me and said he loved me and I know he's so happy for me."
The sentiment is nice, and we understand what she was saying - but fans, even still to this day, wish she would have phrased it slightly differently.
3. Rob Lowe and Snow White sing a duet
The 1989 Oscars opening performance was truly a sight to behold, to say the least.
Allan Carr, a Hollywood producer who made the seminal film Grease, also produced the opening number for the 1989 Oscars ceremony - and this 11-minute performance is a serious fever dream.
Eileen Bowman, who does a truly chilling performance as Snow White, leads the song as she takes the celebrity-packed audience through her version of Hollywood. The stage triumph included dancing tables, salsa dancing, an appearance from Lucille Ball.
The icing on the cake, however, is a young and handsome Rob Lowe singing a duet with Snow White, where he tells her that he wants to get to know more about her - to the tune of Proud Mary, nonetheless.
If you don't believe us when we say this 11-minute number is a fever dream waiting to be perceived, you'll just have to watch it for yourself.
4. Will Smith slaps Chris Rock
You knew this one was coming. In case you missed it (really though?!) at the 2022 Oscars ceremony, Chris Rock made a joke about Will Smith's wife, Jada Pinkett Smith, addressing her bald head, which she recently shaved due to an alopecia diagnosis.
This prompted Will Smith to get out of his seat, walk up on stage, and slap Chris Rock right across the face.
The event consequentially prompted the Academy to create a "crisis team" in case of emergencies at future ceremonies.
5. Nicole Kidman's meme-able clapping
At the 2017 Oscars, Nicole Kidman arrived looking absolutely flawless in an Armani gown, and boasted over 119 carats of jewels on her body that night. Needless to say, she was carrying some precious cargo.
When that year's host Jimmy Kimmel began announcing names and awards, the cameras started picking up on something striking about Nicole - and no, it wasn't her stunning Oscars look. People began noticing that Nicole Kidman was clapping very strangely, in a fashion that almost gives off Slenderman vibes.
For some reason, she was clapping as though she had just gotten her nails done, trying not to mess up the fresh mani. Fans have speculated whether she was clapping so strangely because she was trying not to damage the jewels that were so intricately placed for her look - but either way, it's pretty damn funny.
6. Naked man on stage in 1974
Sometimes at the Oscars, you see your favorite celebrities dressed to the nines in couture, designer gowns - and sometimes you see naked men running around on stage. That's just the way the cookie crumbles.
As British actor David Niven went to present an award at the 1974 Oscars ceremony, he is suddenly joined on stage by a man who is completely naked. The man runs across the stage, leaving David Niven and audience aghast.
"Well, ladies and gentlemen, that was almost bound to happen," he says cleverly.
7. La La Land/Moonlight best picture mishap
Who could forget this equally horrific and awkward moment in Oscars history?
At the 2017 Oscars, Warren Beatty and Faye Dunaway graced the stage to present the audience with the best picture award for that year.
After much anticipation, they announce that La La Land, which was met with high praise from fans, won best picture. The whole cast and crew, including director Damien Chazelle who recently directed Babylon, stormed the stage, celebrating this accomplishment by giving their gratuitous speeches to the crowd.
Unfortunately, about two minutes into this endeavor, some of the cast and crew were informed that there had been a mistake - Moonlight was supposed to have received the award, not La La Land.
You have to watch the event unfold for yourself to see just how chaotic it is.
8. The controversial "We Saw Your Boobs" song
Oh, where to begin with this one?
At the 2013 Oscars, Seth MacFarlane, who is the mind behind comedy shows like Family Guy, hosted the ceremony - leaving fans to guess what chaos would ensue that night.
The opening song for the ceremony certainly made some audience members do a double-take, as Seth performed a little original song titled, We Saw Your Boobs.
Yes, it's exactly what it sounds like - Seth MacFarlane pointing out every actress who has appeared topless in movies. He references Anne Hathaway, Meryl Streep, Kate Winslet, and Angelina Jolie, to name simply a few of the many A-listers who have gone topless in films in the past.
Some actresses found it quite funny - Jennifer Lawrence has said she "loved" the boob song. Some, however, were quite offended. Just watch the video above and look out for Naomi Watson's face when Seth mentions her naked appearance in Mulholland Drive.
Not only does Seth MacFarlane perform this controversial ditty in front of all of Hollywood's A-list creative minds - he also brought out back-up dancers and the Los Angeles Gay Men's Chorus to help him perform the tune.
9. Jennifer Lawrence takes a tumble
Speaking of Jennifer Lawrence, in 2013, let's not forget her tumble up the Oscar stairs when accepting her award for best actress for her role in Silver Linings Playbook.
The actress, who is certainly known for her humorous and light-hearted demeanor, accidentally took a fall while walking up to the stage - and honestly, we can't blame her. Those gowns have to be a challenge to walk in!
Luckily, the audience clapped for her and continued to support her as she continued on to accept her award. "You guys are just standing up because I fell and that's really embarrassing," she said with a laugh when she got on stage.
10. Roberto Benigni wins best actor - and has *quite* the reaction
At the 1999 Oscars, Roberto Benigni's film Life is Beautiful was up for the award for best foreign language film. When Roberto won, he decided to celebrate with truly the most impressive display of enthusiasm we've ever seen.
Not only did Roberto get up out of his seat to accept his award - but he also decided to cascade himself over the audience, climbing over the seats and raising his hands in the air. Audience members helped him literally rise above the crowd, as he took steps over the seats and the heads of Hollywood's biggest stars, before coming down and hopping up on stage (again, literally) to accept his award. Talk about a reaction of pure joy!
Madeline Merinuk is woman&home's US lifestyle news writer. She covers celebrity, entertainment, fashion, and beauty news but is also obsessed with internet trends - you can find her reciting trending TikTok sounds out loud at any given time.
After winning multiple student journalism awards for her investigative work, she graduated from Hofstra University in 2021 with a B.A. in Journalism. After graduating, she worked at today.com, the digital site for the Today Show, where she wrote pop culture news and interviewed big-name personalities like Emily Ratajkowski, Haley Lu Richardson, Emma Corrin, and more.
Her personal interests, in no particular order, are: cheese, Joni Mitchell, reading, hot yoga, traveling, having multiple chapsticks in every handbag at all times, and dancing to ABBA songs as if she were in the Mamma Mia movies.