Why the Oscars 2023 already has a 'crisis team' in place
An Oscars 2023 crisis team is already in place after that Will Smith slap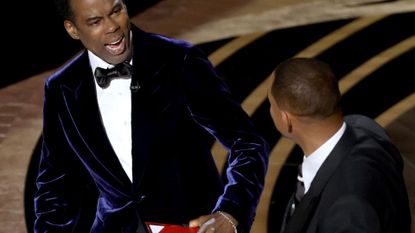 (Image credit: Getty Images)
The Oscars 2023 already has a 'crisis team' in place after last year's slapping incident between Will Smith and Chris Rock.
In an interview with Time Magazine (opens in new tab), The Academy of Motion Picture Arts and Sciences CEO Bill Kramer said they have implemented a brand new "crisis team" for the 2023 Oscars that will help navigate any real-time emergencies that may arise.
Janet Yang, the current president of the Academy of Motion Picture Arts and Sciences, admitted (opens in new tab) at the 2023 Oscars nominee luncheon that their response to Will Smith slapping Chris Rock on stage was "not swift enough."
Kramer said that the Will Smith incident informed the Academy that they needed new crisis plans to be put in action.
"Because of (the slap) last year, we've opened our minds to the many things that can happen at the Oscars," Kramer said.
We have a whole crisis team, something we've never had before, and many plans in place," he continued. "We've run many scenarios. So it is our hope that we will be prepared for anything that we may not anticipate right now but that we're planning for just in case it does happen."
At the 2022 Oscars, folks may remember the slap incident, which went viral on the internet just moments after it happened live on air.
Chris Rock, who hosted the 2022 Oscars on March 27, 2022, made a controversial joke about Jada Pinkett-Smith's bald head, which she had shaved following an alopecia diagnosis. Then, consequentially, Will Smith yelled to Chris Rock from the audience, "Keep my wife's name out your f***ing mouth," before head on stage and slapping Chris directly across the face.
This infamous slap moment informed the Academy that they needed to put new crisis plans in place in case of any future emergencies that could arise at future Oscars ceremonies - and Kramer said they have practiced "many scenarios" to prepare for the upcoming awards show.
"These crisis plans — the crisis communication teams and structures we have in place — allow us to say this is the group that we have to gather very quickly. This is how we all come together. This is the spokesperson. This will be the statement," he said. "And obviously depending on the specifics of the crisis, and let's hope something doesn't happen and we never have to use these, but we already have frameworks in place that we can modify."
After the 2022 Oscars, Will Smith resigned from the Academy, and gave a statement, tearfully apologizing in his Oscars acceptance speech about his actions at the ceremony.
"I betrayed the trust of the Academy. I deprived other nominees and winners of their opportunity to celebrate and be celebrated for their extraordinary work. I am heartbroken," he said.
AMPAS revoked his Academy membership and forbade him from attending the Oscars for the next 10 years.
Madeline Merinuk is woman&home's US lifestyle news writer. She covers celebrity, entertainment, fashion, and beauty news but is also obsessed with internet trends - you can find her reciting trending TikTok sounds out loud at any given time.
After winning multiple student journalism awards for her investigative work, she graduated from Hofstra University in 2021 with a B.A. in Journalism. After graduating, she worked at today.com, the digital site for the Today Show, where she wrote pop culture news and interviewed big-name personalities like Emily Ratajkowski, Haley Lu Richardson, Emma Corrin, and more.
Her personal interests, in no particular order, are: cheese, Joni Mitchell, reading, hot yoga, traveling, having multiple chapsticks in every handbag at all times, and dancing to ABBA songs as if she were in the Mamma Mia movies.