Inside the 2023 Oscars gift bag worth $125K, including Italian holidays, luxury skincare and… a loaf of bread
Let's look at the true worth of winning an Oscar, from the Everybody Wins goodie bag to what happens after you win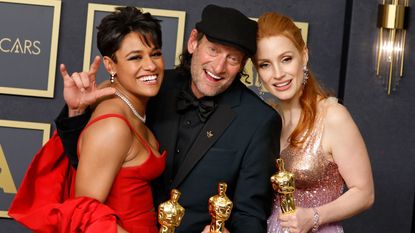 (Image credit: P. Lehman/Future Publishing via Getty Images)
"It's just an honor to be nominated" might be up there with one of the biggest lies, along with "We should do this again sometime!" and "Oh, I didn't get that email?"
But for those anointed Academy Award nominees, it really IS an honor just to be nominated thanks to the gift bag they all receive worth around a reported $125K.
Sure, that sounds like a lot, but it is considerably less than the Oscars 2022 gift bag, valued at over $137,000. How ever will the nominees cope?
Dubbed the "Everybody Wins" gift bag, everyone at the Oscars 2023 receiving one of these really would make anyone feel like a winner.
Los Angeles-based marketing company Distinctive Assets is responsible for supplying the celebrated gift bags to nominees in the acting and directing categories.
They have provided nominees with these luxurious gift bags for 21 consecutive years.
What's in the Oscars gift bag?
A trip to Canada
The most expensive gift included this year is a vacation worth $40,000 at an "ultra modern" private estate in Ottawa for three nights.
The nominees will get access to lakes, hills and forests, and a garage with two classic cars.
An Italian getaway for friends and family
The Everybody Wins gift includes a three night stay at Faro Punta Imperatore Lighthouse in Italy for up to seven people, as well as the nominee.
It's a trip thought to be worth $9K.
Gender neutral fragrance
A noted gender neutral fragrance worth $400 is included in the bag this year, featuring a crystal cap with emeralds and rubies.
A loaf of bread
Yes. You read that right.
Oscar nominees also get… bread (perhaps necessary after many of the stars would be on strict diets ahead of the ceremony!)
This is no simple loaf of bread, though. It's an $18 loaf of Japanese shokupan, or milk bread, from Los Angeles-based bakery, Ginza Nishikawa.
The bag is completed with
A one-square-meter plot of land in Australia
A $12K arm liposuction treatment
A private hair restoration consultation with leading transplant surgeon
Up to $10K worth of procedures from Dr Konstantin Vasyukevich
Shinery Radiance Wash – a hand soap beloved by Orpah which cleans your jewelry while you wash your hands
Miage luxury skincare gift set
Arabian dates from Bateel
Rescue Kit Company's Photo Shoot kit.
Jamie Lee Curtis is a first-time Oscar nominee this year - something which she celebrated with heartfelt and moving Instagram posts – so she will be indulging in these decadent gifts.
Other nominees this year includes Cate Blanchett, Michelle Yeoh, Paul Mescal, Bill Nighy and Angela Bassett.
Do actors get paid for winning an Oscar?
Winning an Oscar is a goal for most actors, directors and writers, entering you into a gilded group of people.
But do Oscar winners get anything except the statue (seemingly named after Bette Davis' husband, as one story goes)?
Though they don't get money from the Academy, winning does come with added value.
For starters, according to Business Insider, Academy Award winners in the Best Actor and Best Actress fields can receive a 20% pay increase for their next film.
It also strengthens someone's bargaining power when it comes to their choice of scripts and directors.
Jack Slater is not the Last Action Hero, but that's what comes up first when you Google him. Preferring a much more sedentary life, Jack gets his thrills by covering news, entertainment, celebrity, film and culture for woman&home, and other digital publications.
Having written for various print and online publications—ranging from national syndicates to niche magazines—Jack has written about nearly everything there is to write about, covering LGBTQ+ news, celebrity features, TV and film scoops, reviewing the latest theatre shows lighting up London's West End and the most pressing of SEO based stories.