Why are they called the Oscars? History of how the Academy Awards got their nickname
There's a few different theories floating about as to how the Academy Awards became the Oscars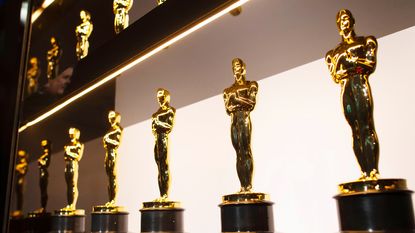 (Image credit: Matt Petit - Handout/A.M.P.A.S. via Getty Images)
Right now, in hotel suites and palatial homes around Hollywood, celebrities are getting in their last-minute workouts, dress fittings, and finishing touches.
That's because tonight, March 12, is Oscars night!
The 95th Academy Awards will be broadcast live from the Dolby Theater in Hollywood, California, bringing some of the most famous people in showbiz together under one roof.
As well as landing a spot on the best dressed list (or, at the very least, avoiding fashion blunders they'll come to regret like Sharon Stone and her "awful" first Oscars appearance), the crème de la crème of the industry will be hoping to go home with a little gold statuette, referred to as an Oscar.
But how did one of the most prestigious awards in showbusiness end up with this name?
Well, in keeping with the glamorous mystique of movie making, the history of the Oscars' naming is equally shrouded in mythology and urban legends.
One of the most popular theories involves a bona fide Hollywood legend – Bette Davis.
The very definition of an icon, Bette summed up Hollywood's Golden Age with her oversized persona, her captivating looks, and memorable roles in classics like All About Eve that still hold up today.
There's a reason she was a recipient of two Academy Awards herself and was the first thespian of any gender to receive ten nominations in her career.
But Bette's DNA in the very fabric of Hollywood's history goes beyond this - many have credited her as giving the Oscars their name.
Historic stories suggest that the Whatever Happened to Baby Jane? Star observed that the statue resembled that of her husband, Harmon Oscar Nelson.
Well, to be precise, in Bette's biting wit, she suggested that the statuette's backside looked like that of her husband's naked derriere after he gets out of the shower.
This being the movies, there's always a twist, though.
There are other claims to the origin of the name. One rival story involves Academy Librarian Margaret Herrick.
Before they were dubbed the Oscars (and even before they were simply known as the Academy Awards) the whole affair was a bit stuffy.
Winners would officially receive "The Academy Award of Merit." Doesn't quite roll off the tongue, does it?
One of the Academy's founding members, MGM art director Cedric Gibbons, designed the statuette as we know it today. a sword-wielding crusader for the arts, standing on a film reel.
Upon seeing the gold statuette for the first time, Margaret Herrick reportedly remarked that it looked like her Uncle Oscar.
As the Academy Awards moved away from a more insular, industry affair, the award of merit became more affectionately known as the Oscars.
Margaret would later become the Executive Director of the Academy until 1971.
The third and final origin story is a tad more highbrow, and involves a pithy retort which feels ripped from the script of a fast-paced talkie that could star the likes of Lauren Bacall and Cary Grant.
LA writer Sidney Skolsky claims he gave the Oscars their name, and it all stemmed from a subtle diss involving Oscar Hammerstein Sr.
As a theater owner on Broadway, Oscar Hammerstein would sometimes be the butt of a joke from comedians. The punchline, which was most likely funnier back then, was always "Will you have a cigar, Oscar?"
Sidney slipped the reference into his reporting. He filed his story and included the sentence, "Katharine Hepburn won the Oscar for her performance as Eva Lovelace in 'Morning Glory', her third Hollywood film."
Three different theories. Which one do you think deserves the Oscar for Best Oscar Story?
Jack Slater is not the Last Action Hero, but that's what comes up first when you Google him. Preferring a much more sedentary life, Jack gets his thrills by covering news, entertainment, celebrity, film and culture for woman&home, and other digital publications.
Having written for various print and online publications—ranging from national syndicates to niche magazines—Jack has written about nearly everything there is to write about, covering LGBTQ+ news, celebrity features, TV and film scoops, reviewing the latest theatre shows lighting up London's West End and the most pressing of SEO based stories.