Salma Hayek dancing in a bikini on a sailboat is our summer mood
Salma Hayek wore a beautiful neon purple bikini while dancing on a sailboat and we're into it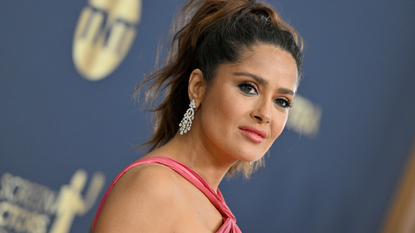 (Image credit: Axelle/Bauer-Griffin / Contributor)
In her latest bunch of Instagram photos, Salma Hayek quite literally embodies the spirit of summer, reminding us that warmer (and even funner!) months are just ahead.
Salma, one of BAFTAs best dressed earlier this year, shared pictures of herself dancing on a sailboat while wearing a beautiful neon purple bikini. She captioned the series of photos "#dancingontables #sailing," capturing the sort of mood we all hope summer will bring along with it.
The 55-year-old actor is no stranger to inspirational Instagram posts. In fact, she constantly takes to the social media platform to remind everyone that age is, indeed, just a number.
Back in April, she posted a video in which she danced the salsa alongside her Magic Mike's Last Dance costar Channing Tatum. Needless to say, fans went gaga over the clip, which got over 14 million views on Instagram and clearly built up excitement for the release of the upcoming movie.
---
Speaking of salsa, just three days ago, the mother-of-one also shared a video of herself moving to the beat at a Marc Anthony concert in London. Salma clearly has a thing for music.
The star has also gone on the record about her feelings towards social media in general and her decision to share specific aspects of her life on the various platforms. "I had to lose a lot of weight and exercise to get into the bikini towards the end of last year," she said to Entertainment Tonight (opens in new tab) in 2021, specifically referring to the poolside photos that she posted while promoting her movie House of Gucci. "I'm glad I took a lot of pictures, I have no shame on it, because it was the first week of the vacation."
As a general statement, Salma doesn't shy away from talking candidly about her life. Last year, she became a trailblazer for honest discussions around menopause, sharing a frank account of her experience and its surprising side effects, from unwanted body hair to changing breast size and more.
She opened up about the topic in an appearance on Red Table Talk with Jada Pinkett Smith, specifically revealing that she started dealing with menopause symptoms in her mid-40s.
"They [the doctors] were asking me things like, 'Are your ears growing, and is there hair growing out of them? Are you growing a mustache and a beard? Are you easily irritable? Are you crying for no reason? Are you gaining a lot of weight really fast that doesn't go away no matter what you do? Are you shrinking?' And then they ask you, 'Is your vagina dry?'" Salma openly recounted then.
As uncomfortable as these sorts of conversations may be, we're glad that Salma is honest enough to talk about it all. Keep on shining the way you do, Salma!
Anna Rahmanan is a New York-based writer and editor who covers culture, entertainment, food, fashion and travel news. Anna's words have appeared on Time Out New York, the Huffington Post, Fortune, Forbes, Us Weekly, Bon Appetit and Brooklyn Magazine, among other outlets.