Salma Hayek has the best advice for mothers who feel trapped in their lives
Salma Hayek has some words of wisdom for mothers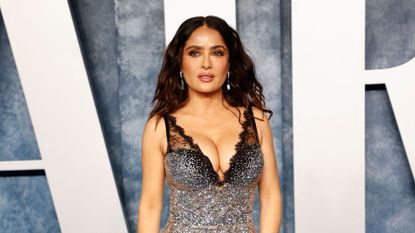 (Image credit: Getty Images)
Salma Hayek just gave the best advice to women, particularly moms, who are struggling to keep their lives balanced - and it only reaffirmed why we love her so much.
Being a mom is the toughest and most rewarding job a woman can have - and Salma Hayek knows a thing or two about this. Her daughter, Valentina Paloma Pinault, 15, is growing up to be just as beautiful and charismatic as her legendary mom, but it's not without some struggle on Salma's side.
Recently, Salma gave an interview with Marie Claire UK where she discussed some tips for moms and older women who are feeling depleted in their lives, or maybe feel like they're in a stagnant period. She also recently shared a happiness trick that we found incredibly empowering.
One of the most important pieces of advice she shares for moms is that they should never sacrifice their careers.
"When you have kids, that's a commitment for life. They need you. I thought that was going to mean I stopped working, and I was OK with that," she tells them.
"But shockingly, I've never worked more. When I was available, I wasn't getting all these offers! It's when I'm prepared to give it up – because age is also a factor – that somehow it works out."
Another tip she deeply stresses is for women to practice having gratitude for their age - regardless of whatever that number is.
"It's about being in the present and being alive. When you're present you forget certain things; I'm not thinking about how old I am when I wake up," she says.
She notes that, although sometimes she can still have moments where she feels insecure or down about her age or the way she looks, she always tries to practice an attitude of gratitude.
"Sometimes when I do look in the mirror I go, 'Oh Jesus', or I'll think 'How come I'm always tired?' and I'll remember, 'Ah, I'm older now'. When it dawns on me, I make the effort to connect with life again," she says. "I'm just amazed that at my age I'm still working and having the best moment of my career. At this point I'm just grateful."
Additionally, she urges women not to be afraid of trying new things or welcoming new experiences into their lives - and she should know a thing or two about this, considering she "nearly died" while receiving a lap dance on the set of the new Magic Mike movie.
Essentially, she wants women to commit themselves to trying new things. "I always enjoy the satisfaction of saying, 'I still can do it'. Once you're in it, you have to commit and be that character. There is no space for fear," she says.
"I'm not afraid to be afraid. I don't know if I'm fearless. I was fearless before I had children. Then I became somebody who worries about everything."
Anyone else wishing Salma Hayek was their personal therapist? Join the club.
Madeline Merinuk is woman&home's US lifestyle news writer. She covers celebrity, entertainment, fashion, and beauty news but is also obsessed with internet trends - you can find her reciting trending TikTok sounds out loud at any given time.
After winning multiple student journalism awards for her investigative work, she graduated from Hofstra University in 2021 with a B.A. in Journalism. After graduating, she worked at today.com, the digital site for the Today Show, where she wrote pop culture news and interviewed big-name personalities like Emily Ratajkowski, Haley Lu Richardson, Emma Corrin, and more.
Her personal interests, in no particular order, are: cheese, Joni Mitchell, reading, hot yoga, traveling, having multiple chapsticks in every handbag at all times, and dancing to ABBA songs as if she were in the Mamma Mia movies.