Reese Witherspoon looks incredible in houndstooth dress as she channels royal trend of the moment
Reese Witherspoon seems to be taking style tips from the royals as she sports pattern favoured by Princesses Kate and Eugenie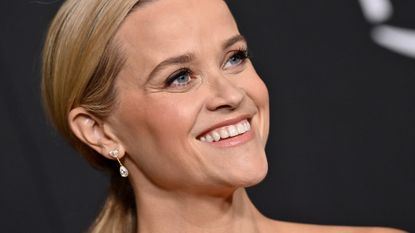 (Image credit: Getty Images)
Reese Witherspoon looked amazing in a tailored houndstooth dress as she shared her latest children's book with fans on social media on Wednesday.
The monochrome dress, which featured a large gold zip running down the front, short sleeves and frayed edges, grabbed the attention of fans as Reese took to Instagram to reveal all about her latest book, Busy Betty and the Circus Surprise.
Opening up about her new book, Reese said, "I'm so excited to introduce to you the second Busy Betty book. Are you ready to see the cover?" Showing off the finished article, she added, "Here she is. How adorable is this? Pre-order it now for the spirited kid in your life."
But followers were more impressed with Reese's stylish outfit. "I love your dress!" one fan commented, while another added, "Oh man I love that dress." A third asked, "Reese I love love love your dress... where can I buy that ?"
Unfortunately, Reese's dress is out of most people's price range at $4000 (£3449) from Oscar De La Renta, but it seems houndstooth is somewhat of a hot trend at the moment among A-listers.
Kate Middleton recently teamed a houndstooth Zara skirt with a gorgeous cream coat and pearl earrings as she and Prince William attended an engagement in Wales.
The gorgeous skirt is no longer available to buy new from high street favourite Zara as it belonged to a previous season's collection, but it can be found second-hand on various websites. On Resell Zara (opens in new tab), where customers sell clothing they no longer wear, it is on offer for £5.99.
Another royal who has sported houndstooth on the same day Kate wore her black and white houndstooth skirt is Princess Eugenie, who is pregnant with her second child.
The royal looked lovely as she attended an engagement at the Royal National Orthopaedic Hospital in Stanmore on Tuesday in a houndstooth coat, which she paired with stockings and black leather knee-high heeled boots for a perfect monochrome look on the last day of February.
This was a gorgeous monochrome look and was a re-wear from the Princess who has owned this coat for a number of years and last wore it exactly three years before on February 28, 2019, when she attended an exhibition in Windsor.
Eugenie was perhaps borrowing some style tips from Kate Middleton with her houndstooth look as just days ago, Kate Middleton re-wore her pregnancy coat which was patterned in a red and white houndstooth print, much like Eugenie's.
Like Eugenie, Catherine also wore her houndstooth coat while she was expecting. The Princess was snapped in this coat in January 2018 when she was pregnant with her youngest son, Prince Louis, who is turning five next month and is fourth in the royal line of succession.
Robyn is a celebrity and entertainment journalist and editor with over eight years experience in the industry. As well as contributing regular to woman&home, she also often writes for Woman, Woman's Own, Woman's Weekly and The Sun.