Pamela Anderson admits to bleaching her own hair at home - here is how she does it
In her new Netflix documentary, Pamela Anderson reveals which shade of platinum blonde she buys at the drugstore to bleach her own hair at home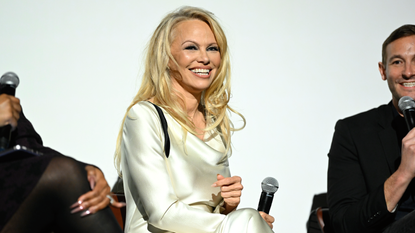 (Image credit: Roy Rochlin / Stringer)
Pamela Anderson is full of surprises - especially when it comes to her fabulous hair.
In the new Pamela Anderson Netflix documentary, Pamela, A Love Story, the 55-year-old celebrity reveals that her iconic platinum blonde hair does not actually require the hand of professionals.
In a scene from the production, Pamela explains that her own mother once taught her that learning how to color your own hair at home would be easier, cheaper and just as effective as heading to the salon every couple of months.
"[My mom] taught me how to color my hair from the drugstore," the former Baywatch star says before heading to a local drugstore in her Canadian hometown of Ladysmith, in British Columbia, with cameras in tow. "Five dollars for a box and I can do it myself in 20 minutes! Scandinavian Blonde, here I come!"
The following shot showcases Pamela's go-to dye of choice: the $10 Garnier Nutrisse Ultra Color in shade PL1. As the star herself notes, the pick is super easy to use and incredibly affordable!
We should mention that Pamela proclaims to "use cruelty-free brands and change them up." This particular ammonia-free formula does rely on bleach in its formula.
Speaking of Pamela's hair: in a new Instagram video published by British Vogue, the celebrity gave fans a look inside of her bag, showing off the sorts of items she always had on hand, including CBD oil for arthritis, a snack, a fan "for hot flashes" and... A G-string to be used as a hair scrunchie.
"This is the trick of the trade," she says to the camera while pulling her hair up. "We're really flashing back to the '90s. The tousled updo? Always had a pair of panties in them." And just like that, Pamela shows off the messy high-bun look that has become synonymous with her aesthetic throughout the years. We told you she's always full of surprises!
In addition to her critically-acclaimed documentary, in which she truly opens up about a vast variety of topics and reclaims her life story, Pamela has also been promoting her "empowering memoir," titled Love, Pamela.
The former Playboy model truly delved deep into her personal history on the literary project as well, revealing she actually gained 25 pounds while writing it.
"It was crazy, but I had a physical reaction to telling my story," Pamela said recently while on The Howard Stern Show, also explaining she was able to lose the weight eventually. "It was almost like I was hanging on to something. It was a protective [...] puffy suit of armor. I don't know what it was. I was thinking it was some kind of protection."
We don't blame Pamela for feeling stressed out when discussing her childhood, marriage to Tommy Lee, various pregnancies and experiences in Hollywood. Especially after watching her Netflix documentary, one thing proves to be true: Pamela is a survivor and we all have much to learn from her.
Anna Rahmanan is a New York-based writer and editor who covers culture, entertainment, food, fashion and travel news. Anna's words have appeared on Time Out New York, the Huffington Post, Fortune, Forbes, Us Weekly, Bon Appetit and Brooklyn Magazine, among other outlets.