Pamela Anderson on why she gained 25 pounds while writing her much anticipated memoir
The star of a new Netflix documentary, Pamela Anderson noted she "had a physical reaction to telling my story" while writing her recent memoir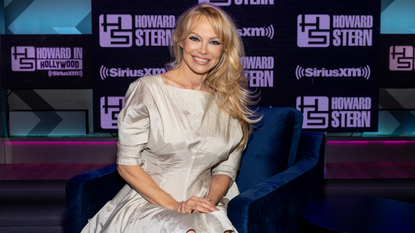 (Image credit: Emma McIntyre / Staff)
While on The Howard Stern Show to promote a slew of recent, very personal, projects, Pamela Anderson revealed that she "had a physical reaction to telling my story" and gained "like 25 pounds," specifically while working on her much-anticipated new memoir.
Pamela Anderson is set to release her empowering new memoir, Love, Pamela, tomorrow, the same day that the Pamela Anderson Netflix documentary will drop on the streaming platform. All eyes are clearly on the 55-year-old former Baywatch star and all that she will be revealing in both projects.
"It was crazy, but I had a physical reaction to telling my story," Pamela said to Howard, also revealing that she lost the weight she gained once she was done writing her book. "It was almost like I was hanging on to something. It was a protective [...] puffy suit of armor. I do't know what it was. I was thinking it was some kind of protection."
The Canadian celebrity also wondered out loud whether the bodily changes had something to do with "just getting old," a fact that she thought of even more deeply once her own mother asked her why she stopped showing off "her figure."
"I just felt like, 'What figure?' I was just kind of joking," Pamela said on the show. "I was a mess at that time, so I kind of liked that I peeled back everything: No makeup, nothing like that, and I thought, 'You know what? If you like me like this, if you like me at my worst, maybe you like me.'"
In the interview, the memoirist, who wrote the entire project by herself without the help of collaborators or ghost writers, also opened up about her reaction to the Hulu series Pam and Tommy, based on her whirlwind romance, marriage and devastating sex tape scandal involving Mötley Crüe's drummer, Tommy Lee. As fans are now keenly aware of, Pamela and Tommy married after four days of dating in February of 1995. The couple divorced in 1998 and currently share sons Brandon, who is 26 years old, and Dylan, who is 25 years old.
"I remember seeing this Pam & Tommy thing on Hulu, or some advertisement for it, and I thought, What the hell is this?'," Pamela said to Howard. "No one called me, no one asked me. I'm still alive!"
Pamela admitted to never having reached out to the likes of Seth Rogen, who starred in and executive produced the series, or actually even watching the program.
"I just felt kind of run over with that one," she said candidly. "I don't think they really portrayed Tommy or I positively. I don't know, I only heard that it was a very shallow kind of representation of us, of that time. I don't know why they — I mean, I wish they would've called."
The star hopes to reclaim at least part of her story through her memoir and her new Netflix documentary.
"Pamela Anderson is ready to tell her story in a new documentary," Netflix tweeted in March of 2022. "The film, which has been in the making for several years, will feature the pop culture icon setting the record straight as she looks back on her professional path and her personal journey."
In addition to the message, Netflix shared a handwritten note from Pamela that read, "My life, a thousand imperfections, a million misperceptions. Wicked, wild and lost, nothing to live up to. I can only surprise you. Not a victim, but a survivor — alive to tell her real story."
In the first trailer for the program, Pamela is seen actually addressing the scandal that rocked her life and career, specifically noting how the Hulu show brought back all memories of it.
"I blocked that stolen tape out of my life in order to survive," she says on camera. "Now that it's all coming up again, I'm feeling sick. I wanna take control of the narrative for the first time."
Anna Rahmanan is a New York-based writer and editor who covers culture, entertainment, food, fashion and travel news. Anna's words have appeared on Time Out New York, the Huffington Post, Fortune, Forbes, Us Weekly, Bon Appetit and Brooklyn Magazine, among other outlets.