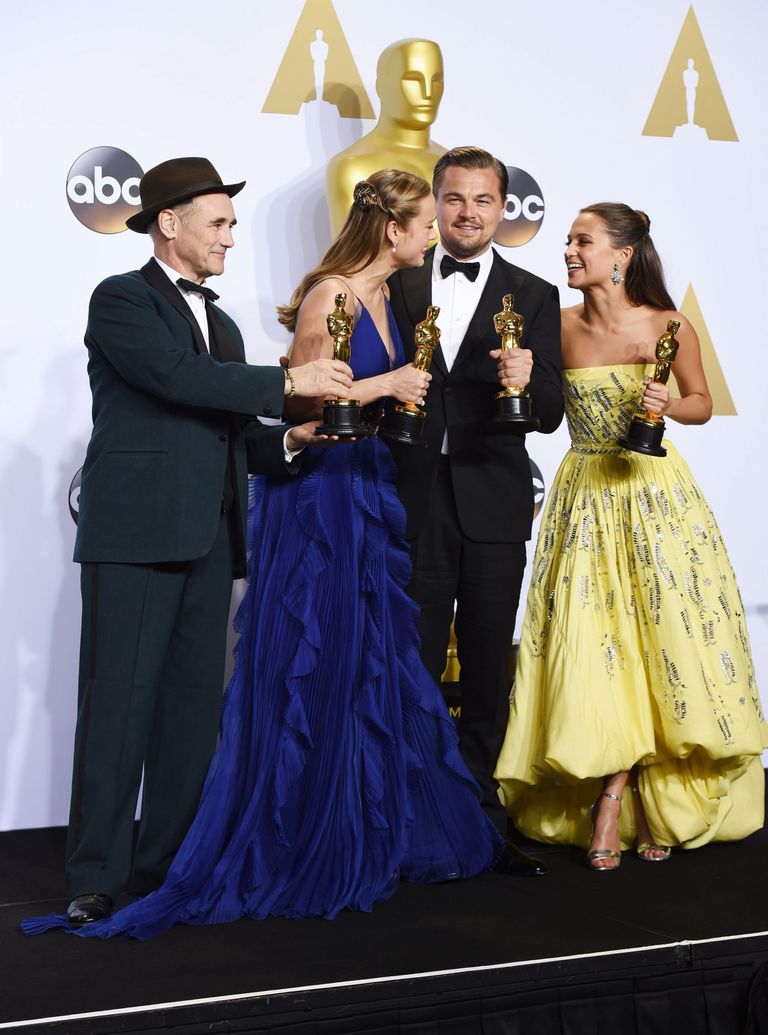 It's the biggest night of the year for Hollywood, but who walked away with an award this year? We've got everything you need to know...
It's the biggest night of the year for Hollywood, and this year's Oscars have certainly been one for the books. Thanks to new names getting nominations, and some we've seen before but have had extremely high hopes for, plus race controversy and calls for more equality, this year's ceremony, and the lead-up to it, certainly won't be one to forget any time soon.
Thankfully, the 88th Academy Awards show went without a hitch, and thanks to its winners, will definitely be one of the most talked about for years to come. If you haven't had chance to catch up with the winners yet, don't fear: we've got them all right here, plus the ins and outs of the acceptance speeches, who shed a tear on stage and some seriously surprising winners.
And while the winners are the big news of the night, if you can't wait to see thedresses from the red carpet,or thebest hair and make-up looks, we've got you covered.
So who will be making headlines today? There's only one name on everyone's lips (and in fact, this has been the case for months): Leonardo DiCaprio. But did he finally walk away with that Oscar, after 6 nominations and 23 years of high hopes? Click through to find out, and discover the other Oscar winners who will be going on to do big things in the very near future...
Performance by an Actor in a Leading Role: Leonardo DiCaprio, The Revenant
We've been pretty sure since the nominations were announced that Leo would finally get his moment to scoop up the Best Actor award, but we can't deny that there was a niggling doubt up until the very last minute. Thank goodness that his role in The Revenant impressed the Academy enough to award him one of the highest honours of the evening - and the world celebrated along with him.
In his speech, Leonardo thanked his director and co-star Tom Hardy for his "fierce talent on screen" and "friendship off screen" before campaigning for action to combat climate change, ending with: 'Let us not take this planet for granted. I do not take tonight for granted.'
Performance by an Actress in a Leading Role: Brie Larson, Room
She's been favourite to win, but Brie Larson couldn't look more elated to be holding that Oscar in her hand. The actress wowed in her role in Room, and her first ever Academy Award nominated led to her walking away with the award.
Beating out serious competition from the likes of Charlotte Rampling and Saoirse Ronan, Brie took the opportunity to thank her adorable co-star, Jacob Tremblay in her speech. She added: 'Thank you to the moviegoers. Thank you for going to the theatres and seeing our films.'
Actor in a Supporting Role: Mark Rylance, Bridge of Spies
Mark Rylance faced fierce competition to walk away with this award, including favourite Sylvester Stallone. He took the opportunity to address the lack of diversity in Hollywood backstage, saying: 'I know it's necessary to make a show out of it, but I feel like you're more of a spokesman when you win.
'I think also there's a big issue for women. That's been as big an issue for me in these months coming up to this: the revelations about just how dominated this major storytelling form of our culture is by men.'
Actress in a Supporting Role: Alicia Vikander, The Danish Girl
Eddie Redmayne's co-star Alicia Vikander wowed in The Danish Girl, but she still couldn't quite believe her luck in winning the Oscar. Holding back tears, she said: 'I'm still trying to remember anything that happened in the last five minutes!'
Addressing Eddie, she said: 'Thank you for being the best acting partner. You raised my game.' And our Brit Eddie obviously thinks very highly of Alicia too, saying earlier on the red carpet: 'I just thought Alicia was formidable.'
Original Song: Writing's on the Wall
Jimmy Napes and Sam Smith's song, The Writing's on the Wall, was tipped to win an Oscar almost as soon as it came out, but the pair behind the song couldn't have been happier to walk away with the award.
Sam dedicated the award to the LGBT community, saying: 'I stand here tonight as a proud gay man and I hope we can all stand together as equals one day.'
Achievement in Directing: Alejandro González Iñárritu, The Revenant
Alejandro González Iñárritu took away the Oscar for best director for the second year in a row. His work on The Revenant follows last year's success for Birdman.
Best Original Screenplay: Spotlight
Writers Tom McCarthy and Josh Singer won the award for their work on Spotlight, the film based on the true story of a group of journalists from The Boston Globe investigation allegations of child molestation amongst priests.
Accepting the award, Tom said: 'For the survivors, whose courage and will to overcome is really an inspiration to us all. We have to make sure this never happens again.'
Costume Design: Mad Max: Fury Road
Jenny Beavan made headlines after that joke from Stephen Fry at the BAFTAs, but her new Oscar award should overshadow that. She chose an M&S jacket for the ceremony, and said during her speech: 'It was an incredible experience...It could be horribly prophetic, Mad Max, if we stopped being kind to each other and kept polluting the atmosphere.'
Best Picture: Spotlight
It was a surprise win for Spotlight. The picture was up against favourites The Revenant, Mad Max and Room, but triumphed to win the coveted award. The journalism drama, about The Boston Globe's investigation into claims of abuse in the Catholic Church, and the film's incredible writing and acting has paid off.
Best Cinematography: The Revenant
Emmanuel Lubezki won the Oscar for his work on The Revenant, and set a new record while he was at it. It's the third year in a row Emmanuel has taken the award for Best Cinematography, following wins for Birdman and Gravity.
Best Documentary: Amy
James Gay Rees and Asif Kapadia were the men behind Amy Winehouse documentary Amy, and the powerful tribute has won them the Oscar, Golden Globe and BAFTA. Asif paid tribute to Winehouse in his speech, saying: '...This is all about showing the world who she really was: not her tabloid persona, the beautiful girl, the amazing soul, funny, intelligent, witty, someone special, someone who needed looking after.