Jennifer Coolidge just revealed some bizarre makeup tricks that we can't help but follow as well
A self-described makeup "mixologist," Jennifer Coolidge actually puts on products out of order and uses ice cubes on her face - here is why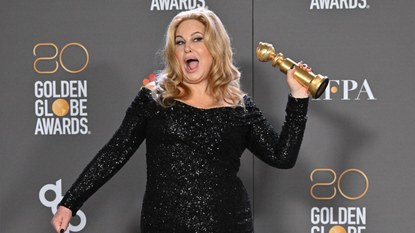 (Image credit: FREDERIC J. BROWN / Contributor)
Leave it up to Jennifer Coolidge to turn makeup conversations into hilarious bits worthy of deeper exploration.
In a new interview, Jennifer, whose fans are calling for to host SNL, delves deep into her daily beauty routine, sharing some tricks of the trade that are honestly completely bizarre - and totally worth trying for ourselves.
A self-described makeup "mixologist," the 61-year-old star of The White Lotus tells PEOPLE (opens in new tab) that she actually puts "products [on] out of order. I put the primer on after my makeup, because I feel like it makes me look extra dewy."
As a general statement, the actress likes that moist look - which she also tries to achieve by rubbing ice cubes on her face on a daily basis to seem like she "just walked up a flight of stairs."
In her own words, "I always to look like there's moisture on my face."
Whether Jennifer's suggestions are worth exploring is debatable, but one thing is for sure: the hilarious celebrity always looks phenomenal - which is probably why she was tapped to star in e.l.f. Cosmetics' first-ever Super Bowl commercial to promote the brand's Power Grip Primer.
Fans were quick to point out that, even in a 30-second ad, Jennifer is able to deliver her signature brand of humor.
Speaking of beauty and comedy, Jennifer enlisted the help of fellow celebrity Jennifer Lopez to launch her TikTok account a few weeks ago.
Jennifer Coolidge and Jennifer Lopez joined forces for hilarious 'Jenny From The Block' recreation that served as the ideal social media debut for the actress.
"This is my first TikTok and I was trying to think of something cool to do and I think I'm just going to [recite] a poem that I like," Jennifer says to her followers before diving into the lyrics of J. Lo's own Jenny From the Block song, delivered in her always-funny style and voice.
The camera then shifts to focus on J. Lo, who is sitting next to her pal. "I like that," J. Lo says. "I really, really like that." Cue the laughs.
In addition to the social media bit they co-starred in, the two Jennifers can currently be seen in Shotgun Wedding, now available for streaming on Amazon Prime.
The movie tells the story of a wedding day that falls into total and utter chaos when it turns into a hostage crisis. Jennifer stars as the mother-in-law and J. Lo as the bride and the crisis at hand means that both stars got involved in the action - literally.
If seeing Jennifer sing in the trailer for the hilarious new movie is of any indication, Shotgun Wedding is just as entertaining and, well, as hilarious, as the star's makeup tutorials are.
Considering The White Lotus season 2 finale, we'll gladly watch just about anything that Jennifer stars in these days.
Anna Rahmanan is a New York-based writer and editor who covers culture, entertainment, food, fashion and travel news. Anna's words have appeared on Time Out New York, the Huffington Post, Fortune, Forbes, Us Weekly, Bon Appetit and Brooklyn Magazine, among other outlets.