The White Lotus season 2 dramatic ending explained, including *that* shock death and the killer's identity revealed
The White Lotus season 2 finale revealed who died and who was responsible and the ending delivered a surprise many likely didn't see coming...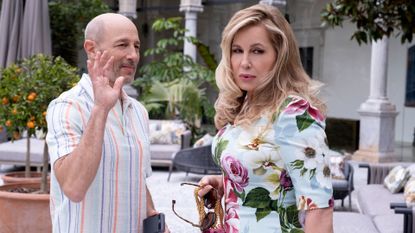 (Image credit: Fabio Lovino/HBO Copyright © 2022 Home Box Office, Inc. All rights reserved. HBO® and all related programs are the property of Home Box Office, Inc.)
woman&home newsletter
Sign up to our free daily email for the latest royal and entertainment news, interesting opinion, expert advice on styling and beauty trends, and no-nonsense guides to the health and wellness questions you want answered.
Thank you for signing up to . You will receive a verification email shortly.
There was a problem. Please refresh the page and try again.
The White Lotus season 2 finale brought this hit show to an intense conclusion few fans will forget as not one, but several deaths unfolded alongside romantic resolutions and realisations.
Whilst fans were prepared for a major mystery from the opening episode of The White Lotus season 2, the twist in the ending was one plenty wouldn't have seen coming. The show's second instalment is set in Sicily and The White Lotus season 2's filming location was the perfect backdrop for the new cast of rich, conflicted characters. The only familiar faces were Tanya McQuoid, who made a big impression in the first season of The White Lotus, and her husband Greg. And although a flashback in episode 1 signalled that several deaths would've happened by the end, it was only in episode 7 that we finally learnt everyone's fates.
Here we explain what happened in The White Lotus season 2 finale and what we know about The White Lotus season 3…
*Warning: Spoilers ahead!*
The White Lotus season 2 finale explained and does Tanya die?
As the only returning character after White Lotus season 1, Jennifer Coolidge's Tanya was a fan-favorite and so many viewers might have been wondering - does Tanya die in The White Lotus season 2 ? If that's the case, then prepare yourself for bad news as sadly, Tanya did die in The White Lotus season 2 finale and she was the one who Daphne found floating in the sea. Though the manner of her death couldn't have been more shocking and she certainly wasn't the only character to meet a grisly end in episode 7.
Just as many will have worked out, Tanya was the focus of a plot put together by her husband Greg and Quentin, who fell in love with him 30 years ago and confessed he'd still do "anything" for him. With an iron-clad prenup protecting her wealth, Greg recruited Quentin to help get rid of his wife and it almost worked. But Tanya was one tough cookie and Quentin underestimated her intelligence as she worked out what was going on and turned the tables on them during a trip on his luxurious boat.
Her one-time lover Niccolo came on board and he brought a mysterious duffel bag that Tanya later found and went through. Inside she found rope, tape and a gun. Tanya later used the would-be-assassin's gun to take out everyone who'd come to try and murder her, including Quentin.
Her moment of victory was short-lived, however, as with all the adrenaline pumping through her veins and the high stakes of the situation, Tanya tried to get from the boat to a dinghy by jumping and hit her head and fell into the sea where she drowned. Her death was perhaps hinted at earlier in the season when she saw the opera Madame Butterfly where the main character also ends up dying.
A horrified Daphne later found Tanya's body after it had washed up closer to the hotel in a moment that had been teased to fans via flashforward in The White Lotus season 2 episode 1. Of course, Tanya's wasn't the only body found as Quentin and his pals were also discovered dead on the boat. And although the flashforward teased multiple bodies, few people might've suspected that Tanya would be both killer and victim.
That was undeniably the biggest shock twist in The White Lotus season 2 ending but Tanya's untimely death wasn't the only big plot point. Her assistant Portia had also sussed something was wrong with Quentin's "nephew" Jack's story and when he left his phone on the table, she seized the opportunity to ring Tanya.
Her boss finally admitted what she'd seen Quentin and Jack doing together - AKA *that* surprising cliff-hanger in The White Lotus season 2 episode 5 - and she told Portia that Greg would get nothing if they divorced, but everything if she died. Tanya told Portia they needed to get out of Sicily pronto and whilst everything went down at the boat, Portia initially thought she might've been kidnapped by Jack.
Only he ended up driving her to the airport and told her that she shouldn't be "stupid" and should take her flight the next day. He explained that "these people" are dangerous and drove off. Portia later saw Albie, his father Dominic and grandfather Bert at the airport. Albie admitted that he knew he'd been "played" by Lucia, who'd been given €50,000 to "rescue" her from a threat that turned out not to be real.
Her supposed angry and controlling pimp Alessio was actually someone she knew and a doorman at another hotel. Albie had persuaded Dominic to give him the money in exchange for singing his father's praises to his mother. In the end he exchanges numbers with Portia and things seem to be looking up for the pair.
Meanwhile, the whole Cameron/Daphne/Harper/Ethan storyline was finally resolved. Harper denied sleeping with Cameron and said she only kissed him briefly, but that did nothing to stop Ethan's intense jealousy and furious outbursts. He even punched his friend in the sea before the fight was broken up and confronted Daphne about the possibility of her husband and his wife cheating on them together.
As some might've expected, Daphne was pretty chilled about the whole thing. She told Ethan that she didn't think he had anything to worry about and echoed something she'd said previously to Harper about doing what you need to do to feel better about situations.
"I think you just... do whatever you have to do, not to feel like a victim of a life, you know. You just use your imagination," Daphne said.
Then came a scene which left a lot to the imagination as she asked Ethan to walk with her to Isola Bella and they disappeared together on this stunning island.
Did anything happen or was it simply a friendly walk? It's never revealed and ultimately fans will have to make up their own minds. But following this moment both Ethan and Harper and Cameron and Daphne seem to be back on track and Ethan and Harper are more attracted to each other than ever before.
The final scene of The White Lotus season 2 finale focuses on Lucia and Mia (who'd been given the role of playing the piano at the hotel permanently) walking together around the streets of Sicily before being lost in the crowd. All in all, the ending of The White Lotus season 2 packed in plenty of emotion and drama and delivered one of the most shocking twists as fans said a final farewell to Tanya.
Will there be a The White Lotus season 3?
After the devastation of losing the brilliant Jennifer Coolidge's Tanya in The White Lotus season 2 finale, there's good news for fans as The White Lotus season 3 has already been confirmed. And when it comes to what could happen the show's creator Mike White talked about how each season so far has had a specific focus and hinted that it could be set somewhere in Asia.
He told Deadline (opens in new tab), "The first season we highlighted money and then the second season is sex and I think the third season, it would be maybe a kind of satirical and funny look at death in Eastern religion and spirituality — it feels like it could be a rich tapestry to do another round at White Lotus."
Of course, as an anthology series where the cast and setting changes each season fans sadly can't expect to see all of these hotel guests again. Though it's possible that like they did with Tanya after season 1, the show might bring back one familiar character in season 3. They would have plenty to choose from, though Greg is the one who's surrounded by loose ends.
He convinced Tanya to come to The White Lotus Sicily - only to be "called away", giving him an alibi whilst Quentin saw their plan through to the end. But after the plan went wrong, police would have been left to investigate what went down on Quentin's boat that led to so many bodies being discovered shot dead. And with Tanya found drowned and Greg inheriting everything, it's possible it will finally come back to him in the end.
Mike even teased that Greg's story and Portia knowing what he'd planned for Tanya could come back as a storyline in The White Lotus season 3.
"I think as far as what happens to Greg and the conspiracy of Tanya's death, it's possible that I think Portia is scared enough to just leave it alone, but the fact that all of those guys die on the boat, it feels like there's gotta be somebody who's gonna track it down to Greg," he explained. "But maybe you'll have to wait to find out what happens."
The White Lotus season 2 is available to watch on HBO in the US and Sky Atlantic and NOW TV in the UK.
Emma is a Senior Lifestyle Writer with six years of experience working in digital publishing. Her specialist areas including literature, the British Royal Family and knowing all there is to know about the latest TV shows on the BBC, ITV, Channel 4 and every streaming service out there. When she's not writing about the next unmissable show to add to your to-watch list or delving into royal protocol, you can find Emma cooking and watching yet more crime dramas.