How many boyfriends has Georgia Miller had? A complete timeline of all her love interests on Ginny & Georgia
Here is a complete timeline of Georgia Miller's romantic history from Ginny & Georgia, including all of her former boyfriends and ex-husbands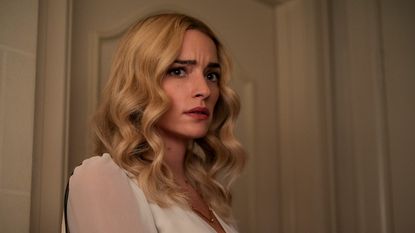 (Image credit: Netflix)
The second season of Netflix's Ginny & Georgia was released recently, but fans are struggling to piece together Georgia's entire romantic history.
Ginny & Georgia season 2 has delighted fans and many want to remind themselves of Georgia's entire romantic history. As the character has led a very full life, and the series is told with a number of flashbacks, it can be hard to piece together how many romantic relationships Georgia has had. Here is a complete chronological timeline of Georgia's relationships, plus how those relationships ended.
** Be warned! If you haven't completed season 2 there are spoilers ahead!**
Joe
Joe has never been Georgia's boyfriend, but the intense flirting between the pair in the series, coupled with their emotional history which led Georgia to move to Wellsbury definitely places him firmly on this list.
Georgia met Joe at a gas station stop soon after she escaped from her abusive home. Joe offers her half of his sandwich and the pair chat at the bus stop. Joe tells her about his hometown Wellsbury and that one day he hopes to have horses, to which Georgia says used to pretend she had a horse named Milkshake. Joe gives Georgia his aviators as a parting gift and the pair reconnect more that 15 years later.
When Georgia moves to Wellsbury at the beginning of season 1, Joe is working as the owner of the restaurant Blue Farm and has achieved his dream of owning horses - even naming one of them Milkshake.
While he and Georgia don't immediately realise their past connection, it is hinted that they both worked it out in season 1, and in season 2 Joe confronts Georgia. As the second season came to a close Joe told Georgia that her persistent flirting has left him confused and she is playing with his feelings. The possibility of a romantic relationship blossoming between the two is now looking very unlikely, but fans are still hopeful that they might see Joe and Georgia together at some point.
Zion Miller
Zion is Ginny's father and is introduced in the first season. The pair had a healthy relationship but Georgia decided to leave him when Zion's parents planned to raise Ginny themselves and give Georgia and Zion a backseat in the parenting.
In season 1, Zion moved to Boston in order to be closer to Ginny. He also still has a close relationship with Austin, despite not having any biological connection to him. It is revealed that Georgia still has an on-again-off-again relationship as they sleep together once again, but ultimately they choose to just co-parent.
In season 2, Georgia is still close to Zion, but he has moved on and begun a relationship with a new woman named Simone. Similarly, Georgia also ends the season with a husband, making her relationship with Zion purely about co-parenting.
Anthony Green
Georgia married her first husband Anthony Green, when she was just 17, and he was the first of the three people Georgia has killed in Ginny & Georgia.
After she was caught running an illegal poker ring, Ginny is taken away from Georgia by social services. In an effort to get her back and come across as put together, Georgia agreed to marry her landlord and boss Anthony. However, Anthony quickly tried to control Georgia by not letting her out of the house and threatening to call the DSS worker and have Ginny taken away if she doesn't act in the way that he wants.
In order to get away from him and live a normal life, she pours Anthony a drink that she spiked with a number of sleeping pills. The scene then cuts to Anthony choking in his sleep, Georgia goes to call an ambulance but instead lets him choke. It is later revealed that she disposed of his body (with the help of her old biker gang, Blood Eyes) and he is considered a missing person by the police.
Gil Timmins
After her relationship with Anthony, Georgia then fell into an abusive relationship with Austin's father Gil. Gil is imprisoned throughout the first season but appears in the second season in both flashbacks and in person.
At the beginning of their relationship Gil treated Georgia well and even seemed committed to his role as a pseudo-father to Ginny. He spent money on Georgia and provided her with stability, but soon became physically abusive and threatened Georgia. At this point she fell pregnant with Austin and stayed with him until she could plan her escape.
Gil made the mistake of telling Georgia that he regularly embezzles small amounts of money from his company, and Georgia used this as a way to escape from him, by paying herself $100,000 USD so Gil was sent to prison for stealing company funds.
Gil reared his head again season 2 and tried to establish a relationship with Austin and blackmail Georgia. The season ended with Paul scaring off Gil and threatening to call his parole officer if he tried to blackmail his (at the time) soon-to-be wife again. He also told Gil that he had a good custody lawyer lined up and was ready to fight Gil if he ever tried to take Austin away from Georgia again. This conversation concluded with the police escorting Gil out of the Mayor's office.
However, now that Georgia has been arrested, and could possibly go to prison, Gil could be in a better position to get Austin back. This could lead to a potential custody battle in season 3 between Paul, Austin's step-dad, and Gil, Austin's biological father.
Kenny Drexel
The first season of Ginny & Georgia begins with Georgia moving her family to Wellsbury, Massachusettes following the death of her second husband.
It is revealed in the first season that Kenny died in a car accident after suffering from a heart attack while behind the wheel. It is then revealed through flashbacks that Georgia poisoned her husband's smoothie with wolfsbane, which in turn caused him to have a heart attack while driving.
A flashback showed Ginny and Georgia exercising and when Georgia left the room, Kenny took the opportunity to grope Ginny under the guise of helping her adjust her position. Georgia saw this, and in an effort to protect her children, she took matters into her own hands and killed him. She then inherited his money and moved her family out of town.
Paul Randolph
Paul is the town Mayor of Wellsbury and Georgia began a romantic relationship with him when she began working in his office. In the first season Georgia went to great lengths to hide her criminal past, but ahead of their wedding in season 2, Georgia confessed everything.
Georgie told Paul that she isn't as innocent as he may think and in fact, she is the reason that Gil went to prison, as she framed him for embezzlement as he was an 'abusive a**hole.' She told Paul that she stole money from the Mayor's office and although she gave it all back, she said she has 'been a hustler and a criminal' her whole life. She omitted the murders she has previously committed but told him that she previously lost custody of Ginny, was once in prison, and is being blackmailed by Gil.
Paul accepted all of this and still chose to marry Georgia at the end of the season. However, as she was arrested for the murder of Tom Fuller at their wedding reception at the very end of the season, she may struggle to maintain her relationship with the wholesome town Mayor now that the ugly truth is out.
Sign up to our free daily email for the latest royal and entertainment news, interesting opinion, expert advice on styling and beauty trends, and no-nonsense guides to the health and wellness questions you want answered.
Laura is a news writer for woman&home who primarily covers entertainment and celebrity news. Laura dabbles in lifestyle, royal, beauty, and fashion news, and loves to cover anything and everything to do with television and film. She is also passionate about feminism and equality and loves writing about gender issues and feminist literature.
Laura loves drinking and eating and can often be found trying to get reservations at London's trendiest restaurants. When she's not wining and dining, Laura can also be found travelling, baking, and hiking with her dog.