Hallmark's Christmas movie schedule: All the new films premiering in 2022
The much-anticipated Hallmark Christmas movie schedule is officially out and it includes 40 entirely new films!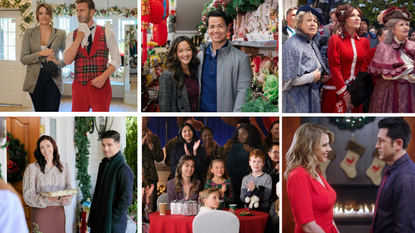 (Image credit: Hallmark)
'Tis the season, folks: Hallmark's 2022 Christmas movie schedule has officially dropped and fans will be delighted to know that there are a total of 40 entirely new movies as part of the lineup.
Just like the best Christmas movies on Hulu and the best Christmas movies on Disney Plus, catching these flicks before the holiday season is a right of passage.
Without further ado, here is Hallmark's 2022 Christmas movie schedule:
Hallmark's Christmas movie schedule for 2022
Noel Next Door
Natalie Hall plays a single mother who doesn't get along with a grouchy neighbor played by Corey Sevier, whom she believes wants to ruin Christmas. In an expected twist, the two fall for each other.
Premiere date: October 21 at 8pm
We Wish You a Married Christmas
This feel-good Christmas movie sees Marisol Nichols and Kristoffer Polaha play married couple Becca and Robby. Going through a rough patch in their marriage they make an effort to ignite a spark between each other again by heading to an inn in Vermont before Christmas, but end up spending even more time there after their car breaks down.
Premiere date: October 22 at 8pm
We Need a Little Christmas
Julie is preparing for her and her son's first Christmas without her husband and a pretty unexpected friendship with her older neighbor Irene ends up helping her get through a tough time.
Premiere date: October 22 at 10pm
A Maple Valley Christmas
Peyton List is Erica, a rancher who has spent her whole life on the family farm working alongside her mother and sister - until Arron, played by Andrew Walker, shows up and changes everything.
Premiere date: November 5 at 10pm
A Kismet Christmas
A children's book author, Sarah returns to her hometown for the holidays to spend time with her family. While home, she reconnects with her teenage crush Travis and also discovers the truth about a long-held family legend.
Premiere date: October 23 at 8pm
The Royal Nanny
A romance of the royal kind: Claire is an intelligence agent who goes undercover as a royal nanny. While trying to keep the family safe over Christmas she - unsurprisingly - falls for the charming Prince Colin.
Premiere date: November 12 at 8pm
A Cozy Christmas Inn
This one's sweet: Erika is a real-estate mogul who flies to Alaska during the holidays to buy a bed and breakfast that is actually owned by her ex - a fact that she becomes aware of only after arriving. You can imagine how the rest of the story goes.
Premiere date: October 28 at 8pm
Jolly Good Christmas
Unlike the majority of other Hallmark Christmas movies, this one's based in the United Kingdom and stars Will Kemp as David, an American architect who lives in London and meets professional shopper Anji (Reshma Shetty) right before Christmas. David hires Anji and the two fall for each other... while they're looking for the perfect gift for David's girlfriend.
Premiere date: October 29 at 8pm
Inventing The Christmas Prince
Tamera Mowry-Housley of Sister, Sister fame plays rocket engineer Shelby. Just as Shelby gets ready to quit her job, her daughter becomes convinced that her boss Evan is a Christmas prince that should spend the rest of his life with her single mother.
Premiere date: November 18 at 8pm
Christmas Bedtime Stories
Danielle loses her husband while he is deployed with the army. A few years after his passing, as she's getting used to raising their daughter as a single mother, Danielle begins telling her child bedtime stories about her dad.
Premiere date: October 29 at 10pm
The Most Colorful Time Of The Year
Ryan, a colorblind elementary school teacher, strikes up a friendship and, perhaps, something more, with Michelle, the single mother of one his students.
Premiere date: December 9 at 8pm
Ghosts of Christmas Always
You're going to have to stretch your mind a bit for this one, which focuses on Katherine, a ghost of Christmas present, who sets out to help Peter rediscover his love for the holidays. Things don't go as planned, though.
Premiere date: October 30 at 8pm
A Magical Christmas Village
Vivian movies in with her daughter Summer and her grandchild Chloe, immediately setting up her heirloom miniature Christmas village resembling their town. Vivian tells Chloe that the village grants wishes - and the child notices that real-life events start mimicking the scenes she plays out with the figurines.
Premiere date: November 4 at 8pm
---
Lights, Camera, Christmas!
Kerry, a local shop owner, starts working as a costume designer on the set of a rom-com movie shooting in her own town. While busy on set, she falls for the production's famous leading man Brad.
Premiere date: November 5 at 8pm
All Saints Christmas
American musician Ledisi stars in this movie as Lisette, an R&B singer traveling to New Orleans to visit her family for the holidays. But when the media mistakes a photo of her and her music producer ex as an engagement announcement, Lisette is forced to listen to her family's wishes and brings her fake fiance home for Christmas.
Premiere date: November 6 at 8pm
In Merry Measure
This one's also about the music industry. Pop star Darcy heads home for the holidays to spend some time with her sister and her niece. While there, she becomes the coach of the high school choir alongside her former rival Adam.
Premiere date: November 11 at 8pm
Our Italian Christmas Memories
What's more holiday-like than a movie focusing on a family recipe? Our Italian Christmas Memories tells the story of the Colucci siblings, who try to refresh their sick grandfather's memory by recreating his late wife's legendary pasta sauce.
Premiere date: November 12 at 10pm
Christmas at the Golden Dragon
Siblings Romy and Rick start re-evaluating their lives and respective futures when their parents announce that they will close the Chinese restaurant that they have owned and operated for decades.
Premiere date: November 13 at 8pm
Three Wise Men and a Baby
What could be funnier than three grown men forced to take care of a baby over the holidays? That's the premise of this hilarious Hallmark movie that also functions as a celebration of Christmas and the importance of brotherhood.
Premiere date: November 19 at 8pm
Long Lost Christmas
Patricia always dreamed of being part of an extended family, so her daughter Hayley, an interior designer, sets out to give her widowed mother just that as a holiday present.
Premiere date: November 19 at 10pm
When I Think of Christmas
"Sara Thompson returns to her hometown to help her mother move and is surprised to find her ex-boyfriend Josh Hartman is back home," reads the official synopsis of When I think of Christmas. "The two had once planned a life in music together, but Sara left to study law." While in town together, the former couple re-connects and decides to work together on the upcoming Christmas concert in town.
Premiere date: November 20 at 8pm
My Southern Family Christmas
After years of wondering, Campbell meets her biological father and his family for the first time - all the while pretending to be a journalist. Will she eventually reveal her real identity to her dad? You'll have to watch to find out.
Premiere date: November 24 at 8pm
#Xmas
Jen and Max are best friends who find themselves in a pickle when the former enters a brand's design contest posing as a family influencer alongside Max and her own baby nephew. Problems arise when the video is actually selected as a finalist and the duo has to continue acting out the lie.
Premiere date: November 25 at 6pm
A Royal Corgi Christmas
Prince Edmond heads back home right around the holidays expecting to be named successor to the throne. "To ingratiate himself to his mother the Queen, he gifts her with 'Mistletoe,' a rambunctious Corgi in need of some serious training," reads the official description of the film. So misbehaved is the dog, though, that Edmond hires American canine expert Cecily to help him. The two succeed in training the pup... while falling for each other.
Premiere date: November 25 at 8pm
A Tale of Two Christmases
Imagine being able to experience two different Christmases in unison. That's exactly what Emma gets to do in A Tale of Two Christmases. In the first iteration of the holidays, Emma stays in the city to celebrate with friends. In the second version, she returns home to her family and Drew, an old friend who still loves her. What scenario would make Emma happiest? She'll know soon enough.
Premiere date: November 26 at 6pm
Haul Out the Holly
This isn't Lacey Chabert's first Hallmark holiday movie - and for good reason: she's clearly great in them. In this production, she takes on the role of Emily, who flies home to spend time with her parents during Christmas only to discover they are preparing to leave on a trip themselves. Emily decides to stay at their house for the holidays and gets involved with the town's festive activities.
Premiere date: November 26 at 8pm
Time for Him to Come Home for Christmas
Based on Blake Shelton's popular song Time for Me to Come Home, this is the fifth installment of the movie franchise. The plot: just four days before Christmas, Elizabeth receives a voicemail from an unknown number pleading the love of his life to get a second chance.
Premiere date: November 26 at 10pm
A Christmas Cookie Catastrophe
In this cute film, Annie has her hands full as she's trying to revive her late grandmother's small-town cookie company. Things become even harder when someone steals her grandma's secret recipe during a Christmas party. Annie then enlists the help of local bakery owner Sam to find the thief and recreate the recipe. While working together, the two discover that they share likes, dislikes and more.
Premiere date: November 27 at 6pm
A Holiday Spectacular
If it's a more "vintage" kind of movie that you're craving, this one's for you: set in 1958, A Holiday Spectacular tells the story of heiress Maggie, who heads out of Philadelphia while planning her grand wedding in order to visit New York City to make her very particular dream come true - dancing live on stage in the Christmas Spectacular show at Radio City Music Hall.
Premiere date: November 27 at 8pm
Hanukkah on Rye
The always wonderful Jeremy Jordan takes on the role of Jacob, a deli owner that connects with Molly, a rival deli owner, via a matchmaker. Whether or not a Hanukkah miracle will keep the two together is yet to be seen, but the journey will certainly be fun to watch.
Premiere date: December 18 at 8pm
A Big Fat Family Christmas
Lying in order to land her dream assignment, photojournalist Liv finds herself in a weird situation when she grows closer with her co-worker Henry. Eventually, Liv has to decide whether to reveal that she's actually related to the Chang family, whom she is scheduled to shoot during an annual holiday party for a cover story.
Premiere date: December 2 at 8pm
A Fabled Holiday
There's just something about traveling back home that restores everyone's faith in love and family. Case in point: when Talia reunites with her childhood best friend Anderson during the holidays while at home, sparks fly.
Premiere date: December 3 at 8pm
The Holiday Stocking
RJ has one regret: while still alive, he did not help his sisters reconcile. And so, when he returns to earth as an angel/stranger, he re-connects with his family and convinces his sisters to revive their parents' old tradition to encourage charity at Christmas - all the while trying to foster a relationship between his siblings.
Premiere date: December 3 at 10pm
Undercover Holiday
Noemí González, whom you probably know as Mia Rosales from The Young and the Restless, plays pop star Jaylen, who returns home for the holidays with her security guard Matt, whom her family believes is actually her new boyfriend.
Premiere date: December 4 at 8pm
Christmas Class Reunion
A 15-year high school reunion to remember, Christmas Class Reunion follows the members of a "cursed class" as they reconnect after nearly two decades apart. During the reunion, the former students learn more about themselves and each other.
Premiere date: December 10 at 8pm
The Gift of Peace
After her husband tragically passes, Traci, an artist and former Christian, renounces God, unable to understand the tragedy that has befallen her. Approaching her second holiday season as a single woman, Tracy heads to a support group to find comfort - and her life immediately improves.
Premiere date: December 10 at 10pm
The Holiday Sitter
One of few Hallmark movies focusing on same-sex couples, The Holiday Sitter centers on Sam, a workaholic bachelor who agrees to babysit his niece and nephew right around the holidays. In need of help, he asks his sister and her husband's handsome neighbor Jason to assist him in the task, and the two fall for each other.
Premiere date: December 11 at 8pm
Holiday Heritage
Intending to fix strained relationships within her family unit, Ella returns home and encourages everyone to celebrate Christmas and Kwanzaa together. Her ex-boyfriend Griffin helps her, resulting in new connections and romances.

Premiere date: December 16 at 8pm
'Twas the Night Before Christmas
Clement Clarke Moore's famous poem A Visit from St. Nick is at the epicenter of this Hallmark movie in which Torrey DeVitto stars as a former actor with dreams of directing. To practice, she signs up to direct her town's annual Christmas Eve courtroom production, in which participants debate the true authorship of the work of literature.
Premiere date: December 17 at 8pm
Five More Minutes: Moments Like These
This is actually the second holiday story inspired by American Idol winner Scotty McCreery's song Five More Minutes. In the production, a young widow spends the days leading up to Christmas wishing for her son to earn true happiness - a dream that becomes true when they return to their former home for the holidays.
Premiere date: December 17 at 10pm
Anna Rahmanan is a New York-based writer and editor who covers culture, entertainment, food, fashion and travel news. Anna's words have appeared on Time Out New York, the Huffington Post, Fortune, Forbes, Us Weekly, Bon Appetit and Brooklyn Magazine, among other outlets.