Eamonn Holmes reveals the special way his children helped him celebrate Father's Day
Lovely!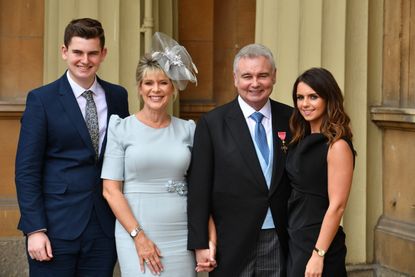 Eamonn Holmes took to social media yesterday to reveal the special treats his children gave him for Father's Day.
The This Morning (opens in new tab) host and journalist is father to Declan, 31, Rebecca, 29, and Niall, 27, - grown up children from his first marriage to his ex-wife Gabrielle.
Eamonn also shares 18-year-old son Jack with his wife and telly co-star Ruth Langsford.
Of course, three sons and a daughter, Eamonn was given some lovely gifts on Father's Day last Sunday.
Taking to Instagram, Eamonn shared a video of himself chatting away about the lovely celebration, explaining that while he wasn't able to see all of his brood in person, they surprised him with some heartfelt presents.
"I just wanted to share with you some of the things that came my way today, on this very special day. The kids know me well and they got me some very tasteful things – pictures played a big part," he said to his 646,000 followers.
READ MORE:Eamonn Holmes leaves Ruth Langsford mortified as he does something seriously naughty live on This Morning (opens in new tab)
https://www.instagram.com/tv/CBtfXOIBsHb/?utm_source=ig_web_copy_link
Showing off a poster of Johnny Cash and some football themed bits, the Belfast born telly star went on, "Here's Jonny Cash walking the line, lovely print. So they know me well with that one. My eldest son, who wrote this, this reads back to front.
"It says, 'Dad, I was going to get you a present but the Premier League is back. You're welcome.' That just sums me up, they know me very, very well."
Expressing his gratitude further, Eamonn added, "And if that wasn't good enough, this then got translated by an artist, Fanny Gough. Check her out on Twitter.
"I got aftershaves, shampoos and shower gels, I have been very loved. To all you dads out there, well done, keep doing it. Everyone can be a father but not everyone can be a dad, I salute you."
This comes days after Eamonn shared a gorgeous selfie of him and his only daughter on her birthday.
'Many Happy Returns Darlin.🎂🍰🍾🥂It was a very Special day when Becca my daughter came into the World and every time I'm with her continues to be Special. 💌,' he sweetly penned beside the photo.