Eamonn Holmes leaves Ruth Langsford mortified as he does something seriously naughty live on This Morning
Viewers were gobsmacked too!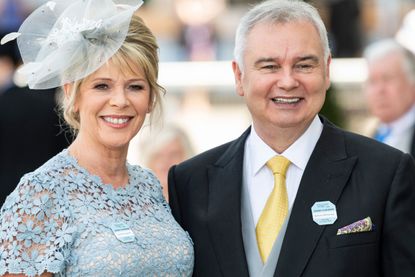 This Morning viewers were left laughing during today's instalment of the ITV chat show.
Many fans of the telly favourite took to social media in stitches after spotting host Eamonn Holmes do something seriously cheeky live on air.
As a segment showing Alison Hammond enjoying the summer solstice at Stone Henge last year came to an end, it seemed that Eamonn and his wife and co-host Ruth Langsford weren't quite prepared.
As former Sky News anchor Eamonn rushed to get into position, he scooted behind Ruth and seemingly gave her a slap on the bottom in front of the nation.
Naturally, Ruth was taken by surprised by Eamonn's televised antics, shrieking, "What are you doing!?"
"You were blocking me," Eamonn hilariously replied, defending himself.
Twitter quickly filled up with This Morning fans posting about the side splitting moment, with one sharing a slow-motion video of it, penning, 'ThisGENUINELY made me spit my tea out,CHEEKYEamonn!'
'Me and the Wife are in stitches watching@EamonnHolmesgive@RuthieeLa cheeky bum slap before the camera's come back on. (You mistimed that oneEamonn) better luck next time,' added a second amused viewer.
A third seemed rather shocked, chipping in, 'DidEamonnreally just slap Ruth's bum live on TV???'
While another wondered if Eamonn had forgotten he was on live TV, '@EamonnHolmes just spanked his wife on @thismorningwhile texting on his phone!Eamonnmate You don't you are live right?#spank#thismorning'
Others made sure to write about how much Ruth and Eamonn cheer them up when they take usual presenters Holly Willoughby and Phillip Schofield's place on Fridays.
'WatchingEamonnHolmes on This Morning actually makes me smile so much,' one said.
'I just love them both.Eamonna little more so,' added a loyal Ruth and Eamonn fan.
This comes after the married presenting pair faced backlash by viewers who were confused as to why they weren't social distancing on the This Morning sofa.
Clearing up the confusion, Ruth said, "In case you are new to This Morning, because obviously a lot of people would normally be at work, please don't panic that we're not social distancing.
"Obviously Phillip and Holly do - but we are married. As much as we bicker and you might not think we like each other..."