Dolly Parton wears her famous Playboy bunny outfit 45 years after first debuting it
Iconic 77-year-old country star Dolly Parton dressed up in her iconic Playboy bunny outfit for her husband - and the Internet is stunned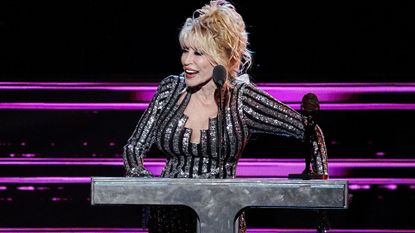 (Image credit: Getty Images)
Back in 1978, a then 30-something Dolly Parton famously appeared on the cover of Playboy wearing a black strapless bodysuit with same-colored full-length black gloves, bunny ears, a mesh torso covering and a pink bow chocker.
Fast-forward 45 years and Dolly, whose general attitude towards aging is inspiring, stunned fans on Instagram by donning the iconic Playboy bunny outfit once more - this time posing for her rarely seen husband Carl Thomas Dean while holding a frame featuring the original magazine cover alongside a photo of Dolly wearing the same ensemble today.
The 77-year-old also shared images of models wearing T-shirts featuring the original cover. The T-shirts are up for sale on Dolly's own website right now alongside totes, keychains, mugs and magnets boasting the same photo print.
Dolly captioned the post, "Any bunny think Carl will like this new shirt? ➡️🐰" - and fans quickly took to the comments section of the social media platform to express their admiration for the star.
"Icon behavior," one follower simply stated.
"Queen of advertisement 👏😍," someone else commented in likely reference to the the purchasable items on her website.
"I'm sure if you wore a dress made out of burlap, Carl would still think you're the most beautiful woman on the planet," another fan wrote.
This actually isn't the first time that Dolly, who follows this specific rule while eating on tour, revisited the iconic outfit.
Back in 2021, in fact, Dolly celebrated Carl's 78th birthday by re-wearing the look and posting a video of herself in the outfit on Twitter.
It's always #HotGirlSummer for my husband, Carl 💝 Happy birthday my love! pic.twitter.com/utz7Atpk3FJuly 20, 2021
See more
"Hey, today is July 20, it's my husband's Carl's birthday and you're probably wondering why I'm dressed like this and it's for my husband's birthday," she says in the clip. "Remember some time back I said I was going to pose on Playboy magazine when I'm 75? Well, I'm 75 and they don't have the magazine anymore but my husband always loved the original cover of Playboy so I was trying to think of something to do to make him happy. He still thinks I'm a hot chick after 57 years and I'm not going to talk him out of that."
Talk about creativity.
Although Dolly Parton's husband is rarely seen in the spotlight, Dolly has actually gone on the record about the secret to a happy marriage and, spoiler alert, it's about more than sexy outfits!
"I like it when people say, 'How did it last so long?' I say, 'I stay going.' You know, there's a lot to be said about that. So we're not in each other's face all the time," Dolly said to ET Canada a few months back. "He's not in the business, so we have different interests, but yet we have the things we love to do together. So it was meant to be, I think. He was the one I was supposed to have and vice versa."
Clearly, the couple has it all figured out.
Anna Rahmanan is a New York-based writer and editor who covers culture, entertainment, food, fashion and travel news. Anna's words have appeared on Time Out New York, the Huffington Post, Fortune, Forbes, Us Weekly, Bon Appetit and Brooklyn Magazine, among other outlets.