This is Dolly Parton's one very specific rule for the food she eats on tour
To stay healthy and comfortable, Dolly Parton likes to eat home-cooked meals while on tour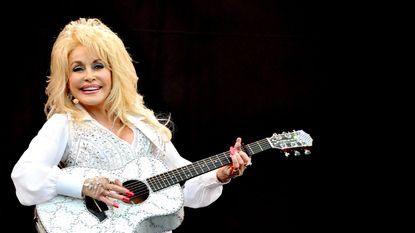 (Image credit: Shirlaine Forrest / Getty Images)
If you've always been curious about Dolly Parton's favorite culinary treats - especially while she's on tour around the world - you're in luck: the award-winning artist shared details about her dietary habits in a new interview… and there's loads to dive into.
While discussing her tendencies on tour, Dolly, whose attitude towards aging and making life count are words to live by, revealed that she has installed two fridges on her bus, one of them so large that the vehicle's windshield had to be removed to properly set it up.
"You need a giant refrigerator because you don't have the space or time to cook on a tour bus," the 77-year-old celebrity said to Yahoo (opens in new tab). "I cook up a bunch of stuff when I'm on tour and traveling."
Speaking of cooking: the one rule she seems to follow while on the road is to try and eat as much home-cooked food as possible.
"I put a bunch of containers in my freezer and my refrigerator so I have food I love," she said, mentioning chicken and dumplings and all sorts of potato-based dishes as her go-tos. "You can order stuff from restaurants, and we usually have a catering service feed the whole band and stuff like that, but after the show, I like to eat something comforting that's food I make and know I'm gonna love."
Dolly's gastronomic exploits are the stuff of legend as fans constantly sing the praises of the food available for purchase at Dollywood, the Tennessee theme park that Dolly owns and hosts nearly 3 million guests during a typical season. Among the most renowned dishes is the cinnamon bread and all sorts of barbecue offerings.
Dishes available on premise also birthed a now out-of-print cookbook aptly titled Dollywood Presents Tennessee Mountain Home Cooking. If you haven't been able to get your hands on a copy, though, worry not: Dolly just told Yahoo that she's working on a new cookbook alongside her sister Rachel Parton George that will also feature revamped versions of some original entries.
"We're going to rework a lot of those recipes because they're still great," Dolly, whose secret to a happy marriage still resonates, said to the outlet. "We'll refurbish that thing and use many of those same recipes."
Perhaps even more entertaining than the highlighted menu items is the name of the collection, which is still a work in progress.
"[My sister] is a great cook, so we're going to come out with a cookbook in the near future called Good Lookin Cookin' because she knows how to make it pretty and make it taste good," Dolly revealed.
We could not think of a better moniker ourselves.
As for how she sources the recipes that she likes to cook while at home, Dolly was quick to note that she doesn't much rely on the Internet.
"I don't have the time for that," she said. "My food is not pretty but it is good. I kind of do that Southern thing my mom and my aunts did where it's about tasting good and cooking for the multitudes. I still love to cook but my sister Rachel does most of the serious cooking."
We'd gladly taste just about anything cooked by the super artist.
Anna Rahmanan is a New York-based writer and editor who covers culture, entertainment, food, fashion and travel news. Anna's words have appeared on Time Out New York, the Huffington Post, Fortune, Forbes, Us Weekly, Bon Appetit and Brooklyn Magazine, among other outlets.