Carole Middleton's Style File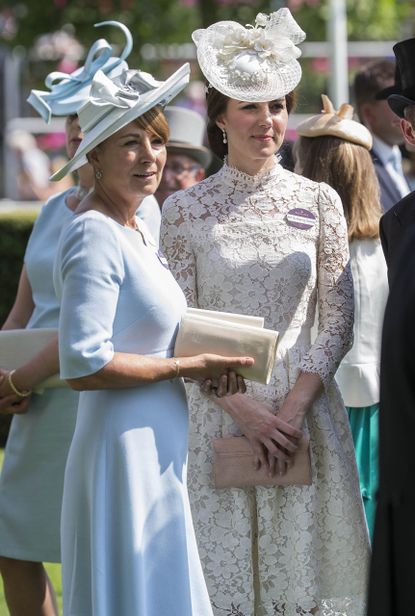 (Image credit: Rex Features (Shutterstock))
Take a look back at some of her starring moments...
She's one of the most important people in the Duchess of Cambridge's life, and the two are said to be incredibly close, so it's no surprise that often when we see Kate, Carole is never far behind. Whether it's an official royal gathering or a big formal event, Mrs Middleton is always on hand to help. Although she may not always be at the fore of royal occasions, Carole never fades into the background thanks to her effortlessly stylish and elegant outfits that ensure she often has her own starring moment.
Whether she's attending a charity event or accompanying her children with their work, she is always beautifully and gracefully dressed. And since her daughter Catherine is one of the biggest style icons in the world, we have to wonder how much of her expert knowledge has been passed down!
Mother to Catherine, Pippa and James and wife to Michael, Carole is a family woman through and through, but she loves to spend time with her friends at the races, too. Pictured here at Royal Ascot with the Duchess of Cambridge in June 2017, Carole debuted another chic and elegant ensemble. Click through to see Carole's Ascot 2017 outfit in full and more pictures of Mrs Middleton's best style moments...
Wimbledon Whites!
Following Catherine's official visit to Wimbledon (opens in new tab) on Monday, and her children James and Pippa's trip to the tennis (opens in new tab) Championships together earlier this week, yesterday was Carole's turn to make a stylish appearance at the Wimbledon Tennis Championships. Just like her children, Carole is a keen tennis fans, and looked delighted to take her seat in the Royal Box to watch the day's matches. Proving that plain' doesn't have to mean boring' when it comes to fashion, Carole's simple white dress gave us all a lesson in summer occasion-wear this week, with it's flattering neckline and cap sleeves. Accessorising with classic nude heels to elongate her legs (a fashion trick the Duchess of Cambridge knows well), she finished the minimal look with subtle jewellery, a chic handbag by Jaeger and a pair of much-needed sunglasses!
Elegance at Ascot
Carole almost stole the spotlight from Catherine in her on-trend Ascot outfit. Her timeless pale blue dress was by luxury British brand Goat and retails for £520.
Carole turned heads with her simple yet chic blue hat with bow detail ? worn at an angle on the same side as her parting as is recommended by top milliners. While she may have splashed out on a new dress for her day at the races, Carole saved on her outfit by re-wearing one of her favourite hats by Berkshire-based designer Jane Corbett. You may recognise it? The elegant blue box detail hat is particularly special to Carole, as it is the hat she wore to her daughter?s royal wedding back in 2011.
While Catherine opted for fussy frills and lots of lace for her pretty Ascot look, her mother Carole proved that less can definitely be more, and timeless simplicity can definitely steal the show!
Dressed up for the tennis
Wimbledon isn't complete without an appearance from Carole! She famously loves the game, and is often seen getting animated whilst watching. We loved this classic tweed suit that she wore for this year's competition - and we love it even more that she dresses so well for a sports game!
Glowing grandmother
Prince George was Christened at the Chapel Royal, St James' Palace in October 2013, and Carole was there to see her only grandchild in his starring moment. Dressed in a coat by one of her favourite designers, Catherine Walker and hat by Jane Corbett, Carole chose royal blue - very fitting for the occasion!
Proud as could be!
The Middletons couldn't contain their excitement at the birth of their frist grandchild in July 2013. Pictured here leaving the Lido Wing, St Mary's Hospital, where Prince George was born, the couple beamed for the waiting press. In a statement read by the couple, Carole said: 'They are both doing really well, and we are so thrilled.' When asked what it was like to have the first cuddle with her grandson, she said: Amazing, it's all coming back.' Aww!
Looking radiant in black tie
Don't they scrub up well! Carole and Michael attended a British Red Cross International Fundraising Committee Ambassadors' Gala in London in November 2013 and the pairhad the attention of the world's media in their evening outfits. Sticking to what she knows best - a flattering sleeve - Carole chose black and paired it with an updo for a classy look.
Motherly duties
It was reported that Catherine was suffering from severe morning sickness when pregnant with Prince George, but of course she had her doting mother on hand to ease the pain slightly. Pictured here leaving King Edward VII Hospital in December 2012, Carole wrapped up warm in a camel coat, but pulled it in at the waist to maintain her stunning shape.
All eyes on Pippa
Seen here attending the launch of youngest daughter Pippa's book, 'Celebrate: a Year of Festivities for Family and Friends', in Oct 2012, Carole strayed away from her usual neutral wardrobe and chose a bold red midi dress instead. Worn simply with black accessories, she gave us all a masterclass in simple occasion dressing.
Wedding pro
Pictured here in an elegant nude ensemble and black fascinator for the society wedding of close friends Theirry Kelaart and Patrick Heathcote-Amory in Oxfordshire in September 2012, Carole looked every inch the proud wife as husband Michael stepped in to give away the bride in place of her late father.
Enjoying the view
Another tweed two-piece for Wimbledon, this time in pastel pink at the 2012 championships. The Middleton ladies all know how flattering nude can be against their skintone, and are often pictured in varying shades of the tone. In fact, we're even wondering if the Duchess of Cambridge got her leg-lengthening nude courts tip from her mother!
Ladies Day
The Royal Ascot race meeting on Ladies Day in June 2012 was the first time the Middletons had attended a public Royal event without the Duke and Duchess of Cambridge, and didn't Carole look stunning in red for the occasion? She and the Duke of Edinburgh were pictured sharing a joke and laughing together on the royal balcony during the day.
Royal duties
She may not be a royal by blood, but Carole has certainly showed her ability to learn the ropes quickly. Seen here boarding a vessel at the Diamond Jubilee Thames River Pageant, she chose a classic white suit for the event that drew in billions of spectators. An elegant and classic choice.
Keeping it neutral
Carole chose a beige dress and simple black jacket for the JLT Lockhinge Stakes in 2012. The dress, paired with a tan bag, flattered her figure and skintone perfect.
Charity work
Pictured here attending a Red Cross charity dinner in October 2011, Carole wore a simple black dress paired with a white jacket with button detailing. This monochrome ensemble proved that black and white can be paired together for a classic and timeless look.
Flashing those pins!
A more daring outfit choice was showcased here at a Beach Bar Party in 2011. The usually demure and ladylike-dresser chose a kimono-wrap-style dress for the occasion - and certainly pulled it off! This look showed the world that she does have a daring side when it comes to style, but we love that she chose batwing sleeves to show off those fantastic legs instead.
Attending the races
Carole loves to go to the races, and can often be seen in the Royal Box with friends or family. For the 2011 Derby at Epsom Downs, she chose a gorgeous spotty dress in her signature blush colour, and showed us all that polka dots can be pulled off at any age.
Toasting the newlyweds
Carole and Michael emerged looking fresh faced on the day after Catherine and Williams wedding back in April 2011. The simple suit was a daring choice for
Glamorous Mother of the Bride
Doesn't she look proud! The whole world watched as Catherine and William married in April 2011, and Carole couldn't have looked happier to see her daughter become the Duchess of Cambridge at Westminster Abbey. She and Prince Charles greeted the crowds after the wedding, and her Mother of the Bride look gained approval from the world's media.
Carole Middleton
Carole Middleton
Pictured with daughter and then-girlfriend of Prince William, Catherine in 2006, the mother and daughter duo showed off their style on a shopping trip. Carole even took some of the limelight from Catherine in her camel coat and tan bag. A great lesson in how an accessories colour combo can work to your advantage!
Carole Middleton
Even her casual weekend outfits are so well put-together! This gilet and jeans combo is the perfect outfit for a country walk, or even a day running errands. Pictured here at the festival of British Eventing in 2005, Carole proves that she has always had timeless style.
Carole Middleton
Pictured for the first time at - where else? - the races, Carole and Pippa co-ordinated perfectly in long coats and boots. The stylish addition of the Russian cossack hat makes us (almost) glad it's winter, so we can emulate here!