Brooke Shields shared her extremely simple beauty secrets
The model shared her beauty tips and breakfast regimen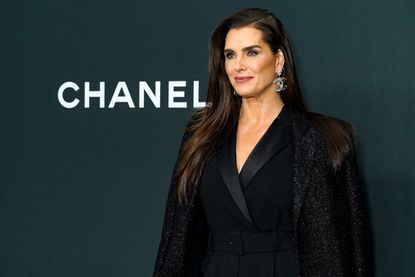 (Image credit: Getty)
Brooke Shields credits sleep, protein shakes and cleansing for her youthful glow.
The model and actress told the WSJ Magazine that she likes to wake up early, but also needs more sleep the older she gets.
"As I've gotten older, I actually feel like I need more sleep. I know it's supposed to be the opposite," she said. She typically sleeps six hour or more per night.
Most mornings, she downs a shake with fruit and protein powder. But when she has more time, she likes "grainy cereals with berries and bananas" and almond milk.
She also drinks eight ounces of freshly juiced celery juice each morning. "I notice my skin and my digestion and everything just feels better when I drink celery juice," she said.
The most important part of her skincare routine is cleansing and moisturizing. She says it's the most important thing and the only regimen she's stuck with for years.
These days, she's using a vitamin C serum and an eye cream, as well as one of the many face masks beauty brands send her.
"Oh, they just make me laugh, those masks," she said. "I get a lot of stuff sent to me or I'll read something, and I have yet to find the mask that I really love."
No matter what, she wears SPF 40 every day on her face and body.
At night, she dry brushes her skin before she showers, and in the shower she uses a milky oil. "I've noticed that it's really helped the texture of my skin because I can get pretty dry," she said.
While exercise was once a larger part of her routine, Brooke is recovering from a major femur injury. Right now she takes a pilates or spin class in the morning, and she stretches often.
Brooke started modeling as a baby, and was cast in the movie Pretty Baby with Susan Sarandon at age 12. At 14, she was the youngest model to ever appear on the cover of Vogue, and her Calvin Klein commercials are still classics.
Rebecca Holland is a travel and food writer based in Chicago. She has written for the Guardian, New York Times, Architectural Digest, Food & Wine, Wine Enthusiast and more. She is currently a graduate student at Northwestern's Medill School of Journalism. When not working, you can find her eating her way through Chicago's neighborhoods, or in non-pandemic times, traveling around the world.