How to talk to children about money
It's important to teach children to be financially healthy as they grow up, but where do you start? We breakdown how to have those conversations with each age group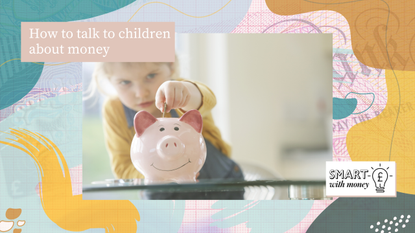 (Image credit: Getty)
It can be tricky teaching kids money lessons that you were never taught yourself. But as parents and grandparents, one of the most important discussions you can have with children is how to be financially healthy.
Research shows most habits around money are set by age 7—so don't put it off.
The more you talk about money the better, and friends and relatives can all get involved in helping to build financial resilience in a child.
The rise of contactless cards and digital currencies (meaning money has gone from being visible to invisible), limited financial education in schools, and the prevalence of scams make instilling good money habits even more crucial.
"Parents would rather talk to their children about sex than about money," says Rob Gardner, investment director at St. James's Place Wealth Management and author of Save your Acorns.
"It's vital that children understand the basics of budgeting and saving. It shouldn't be just one conversation at the dinner table, it needs to be continuous."
Will Rainey, the founder of Blue Tree Savings and author of Grandpa's Fortune Fables, which helps teach children about money, adds: "I believe kids who learn about money will grow up more confident and have fewer money worries when they are adults. Which parents or grandparents wouldn't want that?"
From pre-schoolers to teenagers, we outline some fun ways to kickstart these conversations, as well as useful resources like books and games.
---
Pre-schoolers
It's never too early to gently introduce the concept of money. Using money in role play is highly effective for toddlers and pre-schoolers.
If your child or grandchild enjoys playing with a play kitchen, consider turning it into a cafe where customers use pretend coins and banknotes to pay for their food and drink. Toy cash tills normally come with coins and bank cards. Ask the child how much it costs and then when you pay, ask for change. You can do the same with a play shop, where one of you pretends to be the shopkeeper and the other is the customer.
For 3- and 4-year-olds, you can also start showing them real money, and explain how much each coin is worth. Pre-schoolers will feel grown-up if they have their own purse containing some coins, which you can take with you to a shop for them to buy a treat. Discuss how much their coins are worth, what they can buy, and whether they'd like to buy something for a friend or relative, too.
Will Rainey points out that being good with money is more about behaviors than knowledge. "So training your toddlers to have the behaviors that are aligned to being great with money, such as patience, is not a bad idea," he says.
Young children are naturally curious, so if they ask questions about money, say about the contactless card you use for shopping or where the money comes from, it's important to provide answers, and use it as a way to open up a wider discussion.
Play: Shopping list
Read: Economics for Babies
Watch: Numberblocks
Ages 4-7
At this age, children are developing a deeper understanding of numbers and are able to pay attention for longer. It's also an important age to start showing them good money management.
According to Will Rainey, getting kids to think of money like seeds is a powerful analogy. "It makes talking about money more engaging and helps kids appreciate that if they plant (save) then something can grow in the future. Those that have their own financial forest are the ones who are financially healthy. If they only spend, then they will never have a forest."
Consider giving the child pocket money, even if it's a small amount, and discuss saving before you spend. Grandparents can talk about this if they give their grandchild birthday money—would they like to save some in a piggy bank to buy something bigger at a later date, and use the rest to buy a small treat now?
You can also introduce the idea of "needs" and "wants", and delayed gratification. For example, if you're in a supermarket and your child or grandchild is nagging you for a chocolate bar or magazine, you can explain the difference between "wants" and "needs". You have money for the "needs" (such as food for tonight's dinner), but not the "wants" (treats). This helps them understand the choices adults must make about money.
Play: Money Match Café Game
Read: Save your Acorns and Grandpa's Fortune Fables
Watch: BBC Bitesize: What is money?
Age 8-12
Now it's time to teach a child how to be responsible for their money, and even start earning their own. According to Rob Gardner, there are opportunities everywhere for youngsters to earn money, such as setting up a lemonade stand, doing a paper round, cleaning a neighbour's car or clearing out a grandparent's attic or garage.
You can also increase their pocket money and put them in charge of paying for outings, like the cinema, and give them a special allowance for holidays. "Put them in control of buying the ice creams," says Gardner. "If they get the money and spend it all on day one, and find they have no money for the rest of their holidays, that's a really valuable lesson. Better to learn it at age 8 on holiday in Spain, than at 19 or 20 when you could end up with serious credit card debt."
Charlotte Brayton, a financial planner at wealth manager James Hambro & Partners, says parents and grandparents shouldn't forget to teach kids to haggle, such as at car boot sales. "In Britain, we're taught it's vulgar but children love it, and are often very good at it. It's a skill that will last them way beyond the time they're cute enough to get a sympathy bargain."
By this age, kids are normally going online, so building awareness of scammers is vital. Pocket money apps and prepaid cards are worth considering, such as RoosterMoney and GoHenry, which can teach users budgeting and how to pay for things with contactless cards.
Play: Monopoly Deal
Read: Kidpreneurs: Young Entrepreneurs with Big Ideas!
Watch: Moneysense videos
13+
Smart With Money
Smart With Money is our dedicated money channel created to give you expert, easily digestible information to help you make the most out of your money.
Hopefully by this age, you have taught some good habits but it's important to continue making money part of your everyday family conversation, which could include saving to go to a music festival, managing a child trust fund, or shopping around for insurance for a first car.
You can also introduce some financial topics to your teenager, such as interest, investing and tax. Financial education is part of the secondary national curriculum in England, so your discussions should supplement what they learn in the classroom—although critics say the lessons are very limited, meaning any wisdom from parents or grandparents is even more valuable.
Darren Collins, a teacher at The Sittingbourne School in Kent and winner of the 2020 Interactive Investor Personal Finance Teacher of the Year Award, says mortgages, investing and insurance can be discussed from age 14, and pensions a bit later, although he adds that it is the self-discipline and psychology of money that needs to be concentrated on.
"Making money relate to the real world is the key to getting the most engagement," he says. "Encourage teenagers to get a part-time job, so they can think about how best to save. Get teenagers to open current accounts, so they begin to understand the different products that banks offer." Have a look at a payslip together, either theirs if they've got a job, or your own. Talk about the deductions, such as tax, National Insurance and pension contributions. Stimulate a discussion about what tax is used for and whether tax rates are fair.
Charlotte Brayton has a friend who, whenever he sees TV adverts for payday loans or debt agglomeration products, plays "Spot the APR"—shouting out the annual percentage rate of the loan in the small print and then getting his teenage children to calculate the impact this would have on a £100 loan over a year. "He says his kids laugh at him but he's pretty confident they'll be wary of falling into credit card debt when they grow up," she says.
It's important to teach teenagers about investing, and how it compares to saving. A child trust fund or junior ISA is an excellent tool to show them how their money is invested in the stock market, the power of compound interest, and the risks versus the returns.
Compound interest is the concept of earning interest on interest. "Essentially, if you want your kids to grow up to be financially healthy, it's super important they understand compound interest," says Will Rainey. "You want your kids to be earning it, not paying it!"
Play: Pay Day and Moneysense games
Read: Rich Dad, Poor Dad
Watch: Becoming Warren Buffett and The Minimalists: Less is Now
Sign up to our free daily email for the latest royal and entertainment news, interesting opinion, expert advice on styling and beauty trends, and no-nonsense guides to the health and wellness questions you want answered.
Ruth is a contributing editor for The Money Edit and also covers finance for Woman & Home. Ruth is passionate about helping people feel more confident about their finances. She was previously editor of Times Money Mentor, and prior to that was deputy Money editor at The Sunday Times.
A multi-award-winning journalist, Ruth started her career on a pensions magazine at the FT Group, and has also worked at Money Observer and Money Advice Service.
Outside of work, she is a mum to two young children, a magistrate and an NHS volunteer. You can follow Ruth on twitter.