Luxury Outdoor Pools in the UK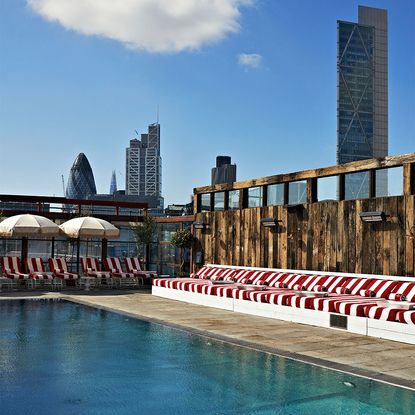 Go for a dip in style at these luxury outdoor swimming pools...
The gorgeous yet retro rooftop at Shoreditch House was renovated just last year with the pool being resurfaced, retractable awnings added and new sun loungers for the Lazy Lawn. Enjoy striking views of London while swimming in the 16m swimming pool which is heated all year round. The Lounge is adjacent to the pool where there is a large open fire to huddle around during the winter months too.
Shoreditch House (opens in new tab), London
Thermae Bath Spa
Thermae Bath Spa is the only place in Britain where you can bathe in naturally warmed, mineral-rich waters. There are three hot springs in Bath and the water comes out of the ground at 45 degrees. The water in the pools here is a soothing 34 degrees, the air seats and bubbling jets aid your comfort while you relax and take in the spectacular views over the City of Bath and the surrounding hills. Thermae Bath Spa, Bath
Whatley Manor
Offering supreme luxury and enjoyment, the Aquarias Spa at Whatley Manor has a hydrotherapy pool complete with an airbed, neck massage jets and an air bench. Once you're fully relaxed, swim outside for sensational views. Whatley Manor (opens in new tab), Wiltshire
The Berkeley
Bringing the essence of the English countryside to the heart of the city, you can look out over London from the 8th floor of this hotel in Knightsbridge, while tucked up in a warm and unexpected sanctuary for the mind and body. Kickback on a designer sun lounger and wait for the twice daily delivery of healthy treats. The Berkeley (opens in new tab), London
The Scarlet Hotel
Perched on top of a cliff in Cornwall, The Scarlet Hotel boasts a natural, chemical-free pool filtered by reeds as well as hot tubs looking out to the ocean. Heaven. The Scarlet Hotel (opens in new tab), Cornwall
Cliveden House
Tucked away in the heart of the Berkshire countryside, situated in National Trust grounds, the Pavillion Spa at Cliveden House boasts an outdoor heated pool and Canadian hot tubs all inside a walled garden. The pool is surrounded reclining sun loungers and waiters are on hand with drinks and snacks. Cliveden House (opens in new tab), Berkshire
St Brides Spa Hotel
Located on a headland, this infinity edge hydro pool with beautiful coastal views will take your breath away. It's impossible not relax here. St Brides Spa Hotel (opens in new tab), Pembrokeshire
Polurrian Bay Hotel
At this seaside retreat perched on the cliffs of the Lizard Peninsula you can enjoy fabulous views of Mounts Bay and the Atlantic Ocean from the seasonal outdoor pool. The beach is literally on the doorstep, with a little path snaking through the gardens down to a sandy cove below. Polurrian Bay Hotel (opens in new tab), Cornwall
Chewton Glen Hotel & Spa
Chewton Glen's secret outdoor pool is an oasis of tranquillity where the temperature will always be a luxurious 29 degrees from dawn to dusk. Comfortable sun loungers and quality bathing towels neatly rolled will be waiting for you. You can enjoy the secluded Italianate sunken garden setting from Easter to late September and for total exclusivity, the pool can be transformed into the venue for a luxurious pool party complete with music and dancing under the stars. Chewton Glen Hotel & Spa (opens in new tab), Hampshire