12 of the best coronation mugs and tea cups to celebrate King Charles III
All of the best coronation mugs and tea cups to mark King Charles's coronation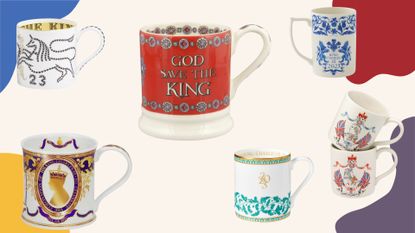 (Image credit: Future)
The coronation of King Charles III may be over, but lots of coronation memorabilia and souvenirs are still available. Among these are coronation mugs: after all, what's more British than tea?
King Charles's coronation took place on Saturday, May 6, and while the momentous day has come to an end, you can still get a range of coronation mugs to commemorate the event and enjoy for years to come. In fact, if you're wondering how to shop for coronation memorabilia, now might be the best time to buy.
"Some collectors and experts suggest that it may be better to wait until after the coronation to buy memorabilia, as prices could potentially drop due to a decrease in demand", antique dealer Nicholas Wells told us. Leftover stock of limited edition and rarer coronation mugs may be at their lowest price point right now, and could yield returns in the future.
Browse our list of the best King Charles coronation memorabilia mugs below, from classic to contemporary designs, to get inspired.
The best coronation mugs and tea cups to buy in 2023
1. Fortnum's Coronation Mug
Specifications
RRP: £39.95 / $49.74
Delivery: 3-5 days
This bone china mug is exclusive to Fortnum & Mason, and was handmade and hand-decorated in the UK. Featuring the year '2023' on the outside of the mug and the date of King Charles's coronation inside the rim, the mug also comes in a beautiful presentation box.
2. Emma Bridgewater 3 Cheers for King Charles III Small Mug
Specifications
RRP: £17 / $20.66
Delivery: 3-5 days
In Emma Bridgewater's signature style and font, this mug features contrasting colors and graphics of the crown jewels, with the words '3 Cheers For The King'. The mug is already at a great price, but you can often save even more with the latest Emma Bridgewater discount codes.
3. Victoria Eggs King Charles III Coronation Cup and Saucer
Specifications
RRP: £38.50 / $47.64
Delivery: Next-day available
If you'd prefer a classic cup-and-saucer to a coronation mug, this option from Victoria Eggs is made from bone china, and its illustration features hints to the King Charles' coronation emblem alongside the new King's life and loves - pens and paintbrushes representing his love for the arts, and foliage and wildlife as a nod to his passion for the natural world.
4. Coronation King & Queen Royal Stafford Boxed Mug Set
Specifications
RRP: £18 / $22.76
Delivery: 5-7 days
Cath Kidston has a range of elegant coronation memorabilia on sale, and this adorable mug set depicts not just the King but also Queen Elizabeth. Each mug features imagery of a crown framed by Union Jack flags, flower garlands, ribbons, and of course the royals family's beloved corgis.
5. Emma Bridgewater King Charles Coronation 1/2 Pint Mug
Specifications
RRP: £17 / $21.49
Delivery: 3-5 days
As with all of Emma Bridgewater's hand-made pottery pieces, this sweet mug is suitably rustic-looking, with a simple design and a sturdy handle and base. The handcrafted and hand-decorated design gives it a special vintage feel, too, and the mug is currently on sale.
6. King Charles III Coronation Mug with Personalization Available
Specifications
RRP: From £8.50 (UK only)
Delivery: 9-18 days
You can purchase a card, coaster, mug, cushion, or a combination of a few options, but we particularly like the mug-and-coaster combo from Etsy which has an eye-catching union jack heart on the front, with a graphic of King Charles's crown. There's also personalization available, if you're looking for 40th birthday gift ideas.
7. Personalized King Charles Coronation Mug
Specifications
RRP: £14.50 (UK only)
Delivery: Up to 7 days
One side of this simple white mug depicts King Charles's royal cypher, along with the words 'H.M. King Charles III, Coronation 6th May 2023'. But on the other side, personalize the mug with whatever words you like. If you choose not to personalize the mug, the same graphic from the front will be repeated on the back.
8. Spode King's Coronation Mug
Specifications
RRP: £15 (UK only)
Delivery: 1-2 days
Hand-made in Stoke-on-Trent, this simple mug is an instant classic. With an eye-catching design that represents all the countries of the United Kingdom, this mug also comes with a matching teapot, sugar pot and cream pot, if you do desire the whole set-up.
9. Dunoon H.M.King Charles III Accession Mug
Specifications
RRP: £39 / $48.23
Delivery: 14-28 days
Another coronation mug with an elegant gold design, this mug depicts a profile of the King on a deep purple background on both sides. The sturdy mug is also made from bone china. This mug is available for preorder at the moment.
10. Emma Bridgewater God Save The King 1/2 Pint Mug
Specifications
RRP: £23 / $29.08
Delivery: 3-5 days
This Emma Bridgewater option features the King's royal cypher, as well as a range of jewels, King Charles's crown and the words 'God Save the King'. Emma Bridgewater mugs are handmade and hand-decorated, and the coronation collection will likely sell out soon, so make sure you snap one up.
11. Wedgewood King Charles Coronation Mug
Specifications
RRP: £95 (UK only)
Delivery: 1-2 days
This unique coronation mug from Wedgewood features a striking design and 22-carat gold lining. Made in England from bone china, this covetable mug should only be hand-washed.
12. Personalised King Charles Coronation Commemorative Mug
Specifications
RRP: £15 / $18.67
Delivery: Up to 6 days
If you're after a coronation-based theme for a loved one, this ceramic mug can be personalised with the name of the recipient, which will be displayed around the rim of the mug. The mug also features classic London iconography, King Charles's cypher and the words 'To Commemorate the Coronation of King Charles III'.
---
Are coronation mugs and tea cups worth anything?
It's hard to say whether King Charles coronation mugs and tea cups will be worth a substantial amount of money in the future. Generally, if you're purchasing a coronation mug or tea cup which has been mass-produced by a popular stockist or brand such as Amazon or Cath Kidston, it's less likely that you'll be able to make money from the mug in the future (as more being produced means that they won't be a rare item to own).
Some mugs and tea cups which were produced to commemorate the coronation of Queen Elizabeth II are worth a small amount on sites such as eBay - and if you were to find a very rare one in a charity shop, for example, you might find you'll pay more than you'd expect for a regular mug. However, don't expect to be sitting on a gold mine if you do purchase a King Charles coronation mug this year, unless it is a particularly rare find; something like the official Royal Mint coronation coins will be more likely to yield returns in the future.
Hannah is the UK Shopping Writer for woman&home. As a shopping writer, Hannah has written on everything from period pants to wine subscriptions, and is especially interested in sustainable alternatives to well-known products, as well as books and homeware accessories.
Before she joined the team at woman&home Hannah headed up the social media accounts for Wonderland in 2019, where she was also a Contributing Editor for the magazine's sister titles. During the COVID-19 pandemic, Hannah also explored evolving shopping trends at New York Magazine's The Strategist UK, researching everything from face masks to status candles and even pens.