How to shop for coronation memorabilia that will hold its value - according to antique experts
We spoke to antique experts and dealers to find out which King Charles coronation memorabilia will actually be valuable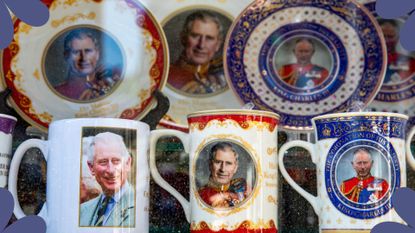 (Image credit: Getty Images/Future)
With the coronation of King Charles fast approaching, a range of memorabilia, souvenirs and collectables to commemorate the big day are available to shop. But how much will these pieces be worth in the future? We spoke to antique dealers and experts to find out.
To celebrate the upcoming coronation on Saturday, May 6, several retailers have released limited edition memorabilia, gifts and souvenirs - from Fortnum & Mason to Marks and Spencer. While some of these items are mass-produced and not likely to fetch much money in the future, some of the best King Charles coronation memorabilia is expected to be worth something in the years ahead. But how can you determine what's worth investing in and what's not?
To help you shop, we spoke to antique dealers and consultants, asking them their top tips for purchasing potentially valuable memorabilia.
How to shop for coronation memorabilia and souvenirs, according to antique experts
While most will be buying coronation memorabilia simply to mark the day or to inject a bit of patriotic flair into their home, some coronation decorations, memorabilia and souvenirs will be worth something in the future. If you're looking to invest in a collectible item, follow these tips when shopping:
1. Look for rare and limited edition pieces
It may sound obvious, but the rarer an item is, the higher the value and the interest in buying and collecting it will be. While plenty of retailers are currently offering a selection of coronation mugs, for example, they will more often than not be mass-produced in a large collection, rather than limited edition, very rare pieces. Stephanie Connell, antique dealer and consultant, tells woman&home that "anything unusual, such as rare coronation mugs, or directly from the Royal family - such as signed presentation photographs - have been increasing in demand in recent years."
While this sort of memorabilia can be harder to get your hands on, it may be worth the research and investment to purchase a piece that will increase in value in the future. "Unusual and collectable makers can prove valuable", Connell adds, telling us that "Swansea pottery mugs celebrating the coronation of Queen Victoria, for example, can fetch over £500 at auction."
2. Invest in quality pieces
In order to find some truly rare coronation memorabilia, souvenirs and collectables which may hold value in the future, Connell explains that "the best advice is to keep an eye out for good design and craftsmanship." Echoing this sentiment that researching your purchase is integral, antique dealer Nicholas Wells adds, "it's best to look for items that are in good condition and have a clear provenance." In other words, always ask the seller/dealer about the history and origin of the piece, and make sure you have as much information as possible before purchasing.
Wells continues that "the value of these items can vary greatly depending on factors such as their age, condition, rarity, and historical significance. It's important to do thorough research to determine the potential value of specific items, and if you are prepared to hold onto them for the long term."
Remember, these pieces won't increase in value overnight so think about them as a long-term investment. With that in mind, thoroughly research the pieces first, looking at the materials, and the seller. Also think about how you're likely to store it - and how it will hold up over time.
3. Choose your timing wisely
While most people will be searching for coronation memorabilia in the lead-up to the big day, it's important to note that prices and value will fluctuate depending on when the piece is bought. "Some collectors and experts suggest that it may be better to wait until after the coronation to buy memorabilia, as prices could potentially drop due to a decrease in demand", says Wells. This could be especially true if there is a surplus of memorabilia produced for the event, and collectors may be looking to sell their items after the initial excitement has died down."
If you are planning on waiting until after the coronation to invest in memorabilia, Wells notes that "prices may be higher leading up to the anniversary of the coronation or during significant milestones, so you may find better deals during off-peak times." However, he adds that this really is a case-by-case situation: "Some collectors may prefer to buy memorabilia in the run-up to the coronation, where the excitement is high. Limited edition and special commemorative items may be released at this time, and they could potentially increase in value over time, especially if they become sought-after by collectors."
Which pieces of royal memorabilia are valuable?
While it's hard to say which items of royal memorabilia will become valuable in the future, our experts say there are certain things to look out for. "Official programs, commemorative coins, commemorative plates, photographs and other souvenirs related to the coronation ceremony" will likely prove valuable, says Wells. Indeed, the Royal Mint coronation coins, released on Monday, April 24, are a good example of a limited edition, commemorative piece that could become very valuable in the future.
Connell agrees, adding that "the pieces which tend to be particularly collectable and valuable are those closely relating to the Royal family - objects owned by them or directly reflecting their history." Again, the rarer the piece, the more value it's likely to hold: Wells reiterates that "collecting mass-produced items will not yield returns!"
Where to buy royal memorabilia that will hold its value
When it comes to shopping for rare coronation memorabilia, shopping in person is the way to go. Wells suggests "visiting antique centers and markets" as it's a "great way to discover unique and valuable coronation memorabilia. These places often have a wide range of items available, and you may be able to find something truly special that you wouldn't have come across online." Wells adds that the "first stop to track down some interesting Royal memorabilia must surely be Windsor! Make a day of it and visit the antique centers in Hungerford, Tetbury, Burford and more."
Connell notes that "if you want to start with collectable commemorative ware, your local antique shop would be a great place to start - most centers will have pieces in stock. We are very fortunate in the UK to have fantastic antique shops in every region." That's not to say that rare memorabilia can't be found online, though, as Connell adds: "If you're browsing online, Etsy can also be another good place to look for commemorative ware - just always make sure you ask for information about the condition."
Shop our selection of coronation memorabilia and souvenirs
1. The Coronation of His Majesty King Charles III 2023 UK £5 Coin
The official commemorative coin for King Charles's coronation can now be purchased online, while stocks last. Featuring a portrait of His Majesty on one side and the coronation regalia (including the crown jewels) on the reverse, the coins are likely to hold value in the coming years, so they make for a wise investment.
---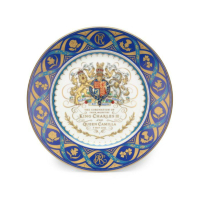 2. The Coronation Dessert Plate
As part of the Royal Collection's exclusive range of coronation bone china products, this dessert plate features the Royal coat of arms, as well as the names of both King Charles III and Queen Camilla Consort. The plate is manufactured by hand and finished with 22-karat gold. As a limited edition piece, there's a good chance this is the sort of item that could be worth something in the future.
---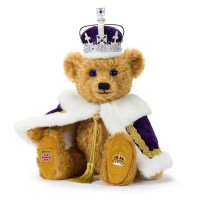 3. Merrythought King Charles III Coronation Commemorative Teddy Bear
This limited edition (meaning it's the sort of item which could prove rare, therefore valuable, in the future) teddy bear from Goviers features the King Charles cipher on its faux fur trim, with pure cotton velvet paws adorned with the crown jewels. This item is currently on preorder for estimated delivery in June.
---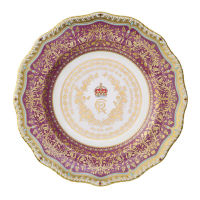 4. Royal Crown Derby King Charles III Coronation Gadroon Plate
This impressive bone china plate is available for preorder, and will ship in May. Finished with 22 karat gold, the illustration on the plate features wildlife such as butterflies and bees, to represent the King's love of nature. While it's not clear how many pieces have been made for this collection, as this is already a pricey item, it's likely to yield returns in the future.
---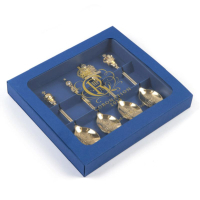 5. The Coronation Set of Spoons
Another limited edition product in the commemorative coronation range from Royal Collection Shop, which could prove valuable in the coming years, this set of four spoons comes in a gold-foil-printed and royal blue box, to sit pride of place during the celebrations and beyond. The spoons themselves depict different elements of the Royal regalia.
Hannah is the UK Shopping Writer for woman&home. As a shopping writer, Hannah has written on everything from period pants to wine subscriptions, and is especially interested in sustainable alternatives to well-known products, as well as books and homeware accessories.
Before she joined the team at woman&home Hannah headed up the social media accounts for Wonderland in 2019, where she was also a Contributing Editor for the magazine's sister titles. During the COVID-19 pandemic, Hannah also explored evolving shopping trends at New York Magazine's The Strategist UK, researching everything from face masks to status candles and even pens.