27 Coronation decorations and decor ideas to host the ultimate party
We've selected the best of the best Coronation decorations and decor ideas to help you throw the ultimate royal-themed party in style...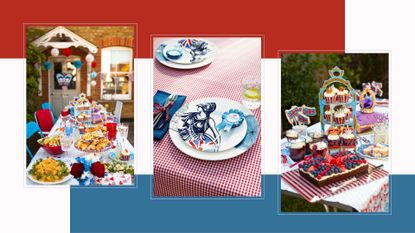 (Image credit: Future)
Sourcing the best coronation decorations and unique decorating ideas will ensure your street party is suitably dressed to celebrate King Charles' coronation in style on Saturday 6th May.
This monumental royal celebration is a cause for going all out when it comes to party decorations – with everything from decorating homemade bakes and stringing up bunting to dressing tables in style to host unforgettable parties throughout the celebratory weekend to mark King Charles III's coronation.
Whether you're throwing a street party, hosting a bbq, or holding a more intimate garden party, if you're looking for stylish coronation decorations and fun ideas to ensure your party is dressed for the occasion, you've come to the right place – from quirky tableware to classic bunting we've found the perfect decorations fit for a king.
The best coronation decorations and decor ideas for King Charles' Coronation 2023
There are a wealth of King Charles coronation memorabilia, gifts, and souvenirs on the market, so we've specifically selected the best of the best coronation decorations available to dress the decor.
From Union Jack bunting to more unusual decor ideas like royal carriage cake stands and characterful photo props that will really make your coronation party a memorable one.
1. Drape decorative paper chains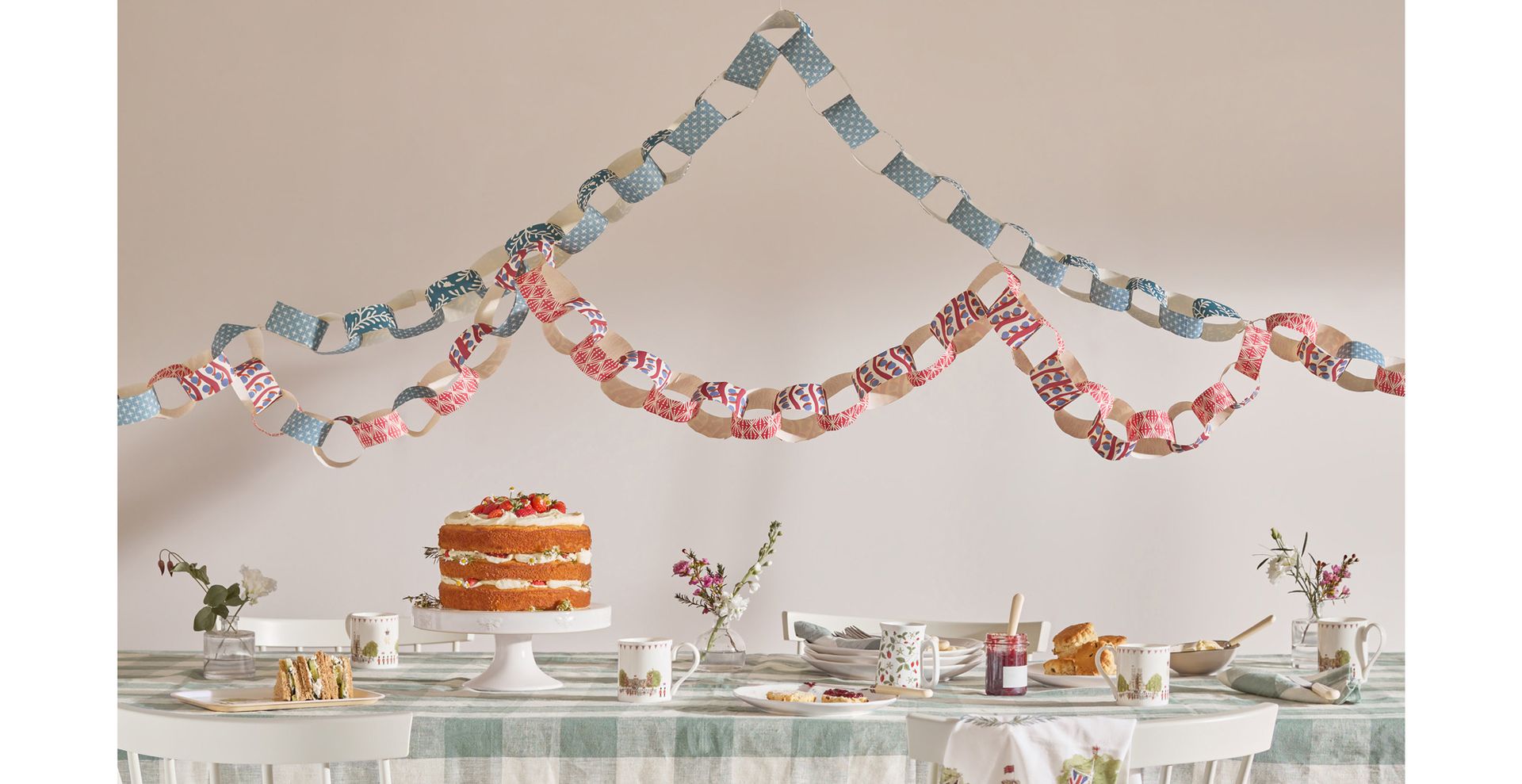 Add a charming touch to your celebrations by hanging simple, stylish paper decorations. From paper chains to cascading streamers a little colored paper can make all the difference when setting the scene and being able to cover a large area.
If you're feeling artistic, inspired by the Sophie Allport styling above, you can upcycle strips of colored paper to make your own chains - but for those feeling less inclined to craft, there are simple packs that make the job even easier. For decorating walls and adorning tables and trees with an abundance of paper streamers, it's best to buy them pre-made to keep things simple.
Union Jack Kings Coronation Party Paper Chains
$8.99/£5.52 | This pack of 100 easy-to-make paper chains is a quick and effective way to dress a room or a veranda with patriotic patterns and colors. There are 4 different royal designs to make approximately 21ft of paper chains.
$4.95/£3.95 | Hang a string of all Union Jack paper chains to show where the parties at. This set has 72 double-sided lick-and-stick strips that loop together to form up to 18ft of paper chain decorations.
2. Fly the flag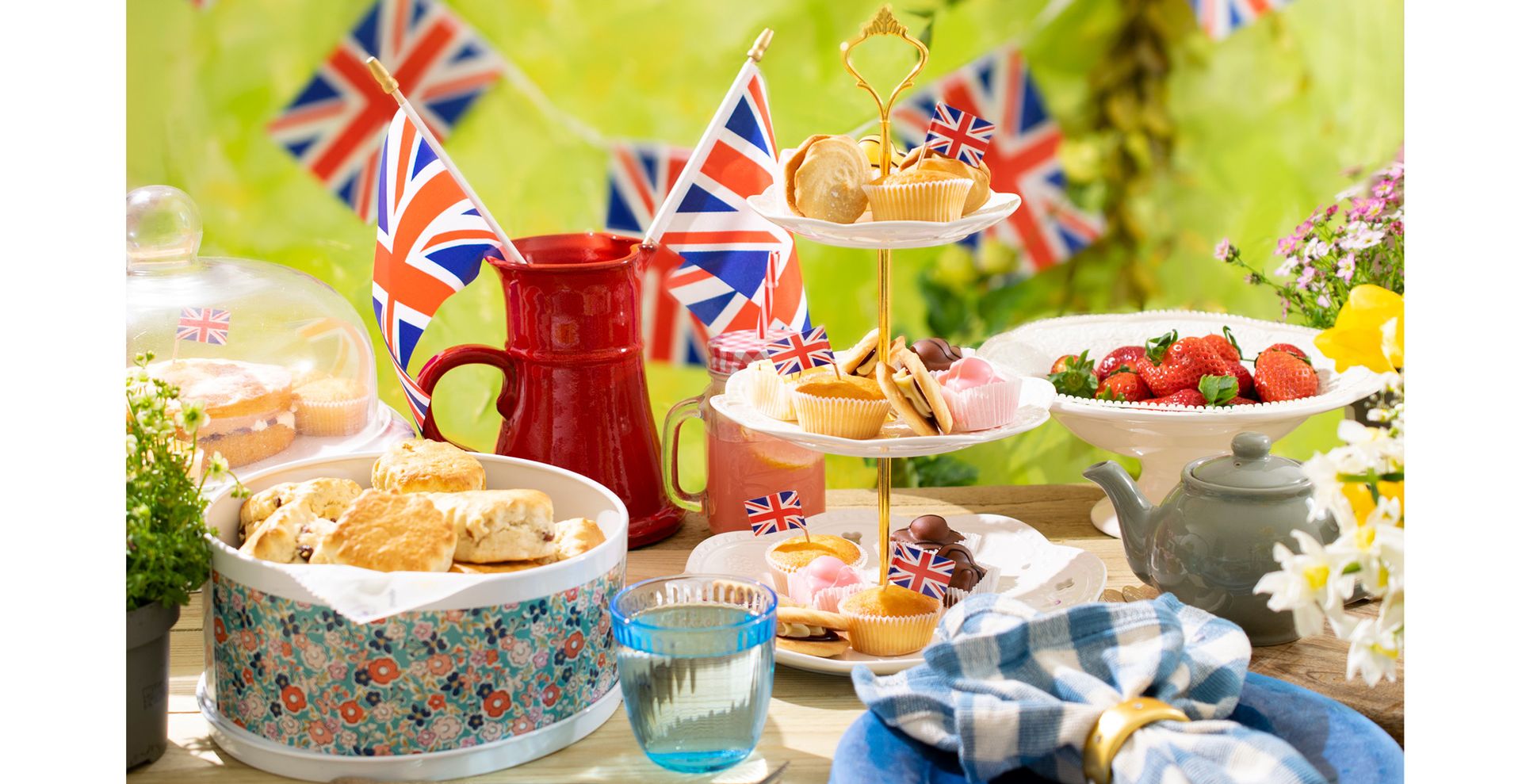 It wouldn't feel like a proper royal shindig without an abundance of Union Jack decorations. From flags to decorate cupcakes to mini mast flags to dot around, there's a Union Jack coronation decoration to jazz up every element of your party decor.
In addition to Union Jack bunting there are plenty of creative ways to fly the flag for the celebrations in 2023. We've found Union Jack decorations to dress the food and drink tables, which is always at the heart of any celebratory garden party so is crucial to incorporate this main staging area into your decorating scheme.
Royal Coronation Union Jack Flag Food Flag
£7 (UK only) | Decorate any manner of nibbles and party food with the help of these jolly Union Jack food flags. The pack of 12 flags comes complete with six food labels, making it easy for hosts and guests to label and identify dishes – especially handy for allergies and veggie options.
King Charles III Hand Waving Flags Coronation Decorations Mini Union Jack Flags
$6.51/£4.99 | Give a royal wave with the help of these commemorative Union Jack flags. The set of 10 mini flags are ideal for placing around as table decorations in vases or for party goers to wave at their will while watching the coronation.
3. Lay down a patriotic tablecloth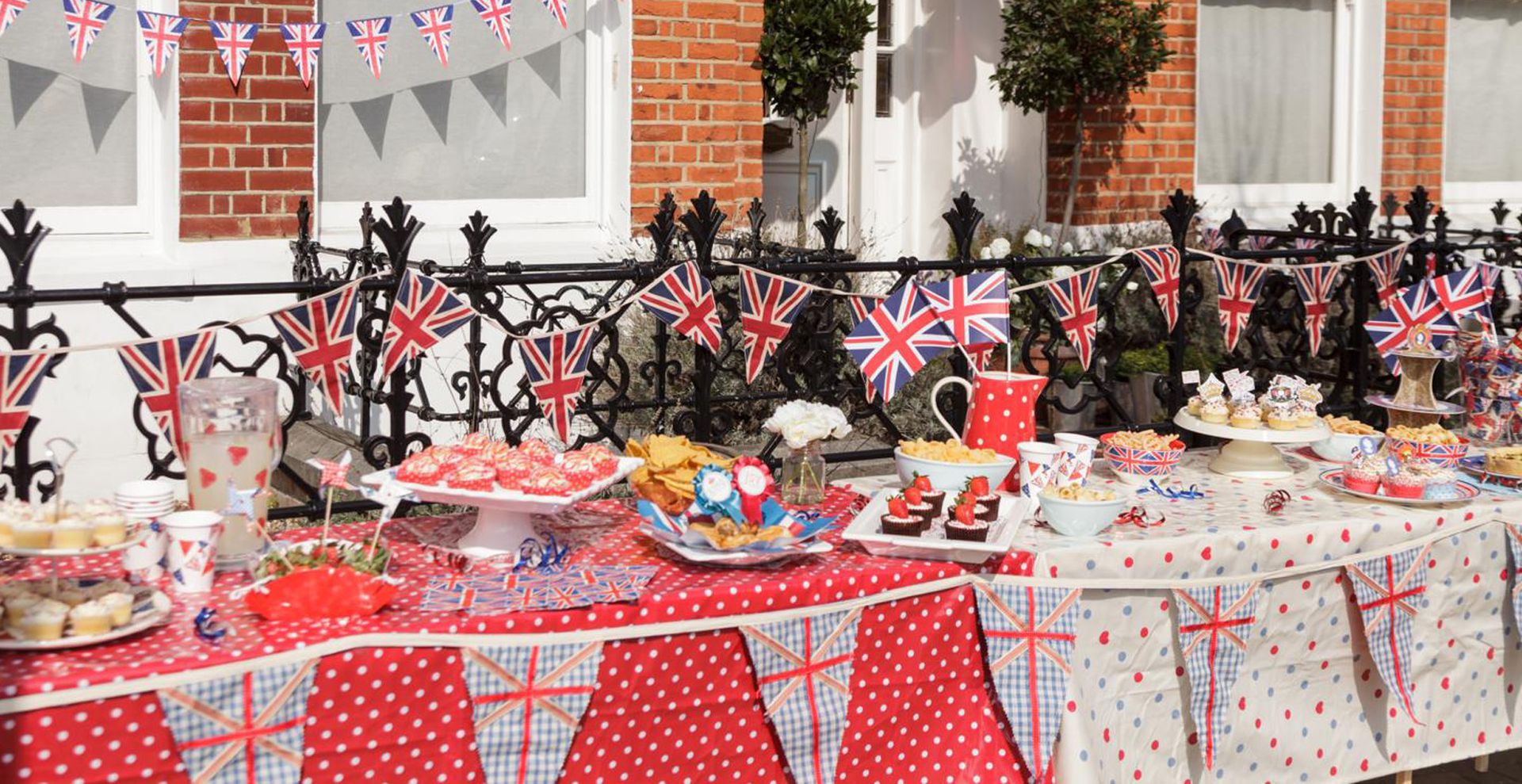 With an attractive tablecloth, no matter what table you need to utilize for extra space when hosting you can be sure it will be suitably well-dressed.
A party tablecloth is not only great for covering up and transforming an old kitchen table or even a wallpaper trestle table into something more presentable, but it also adds a layer of protection against spills and stains from any food or drink items. Pretty and practical, what's not to love?
Union Jack Print Paper Tablecloth
$10.19/£8.50 | Set any table in style with this Union Jack Paper Tablecloth by Postbox Party – a practical way to welcome a splash of patriotic color to proceedings. This item is 100% recyclable.
Yibeas Round British Flag Tablecloth
$18.99/£15.50 | This 60 inch round tablecloth is a cute take one the British flag adorned with traditional polka dots and flowers to add a pretty touch. Made of high-quality water repellent fabric, which is soft to the touch, it be washed and reused.
4. Hang out the bunting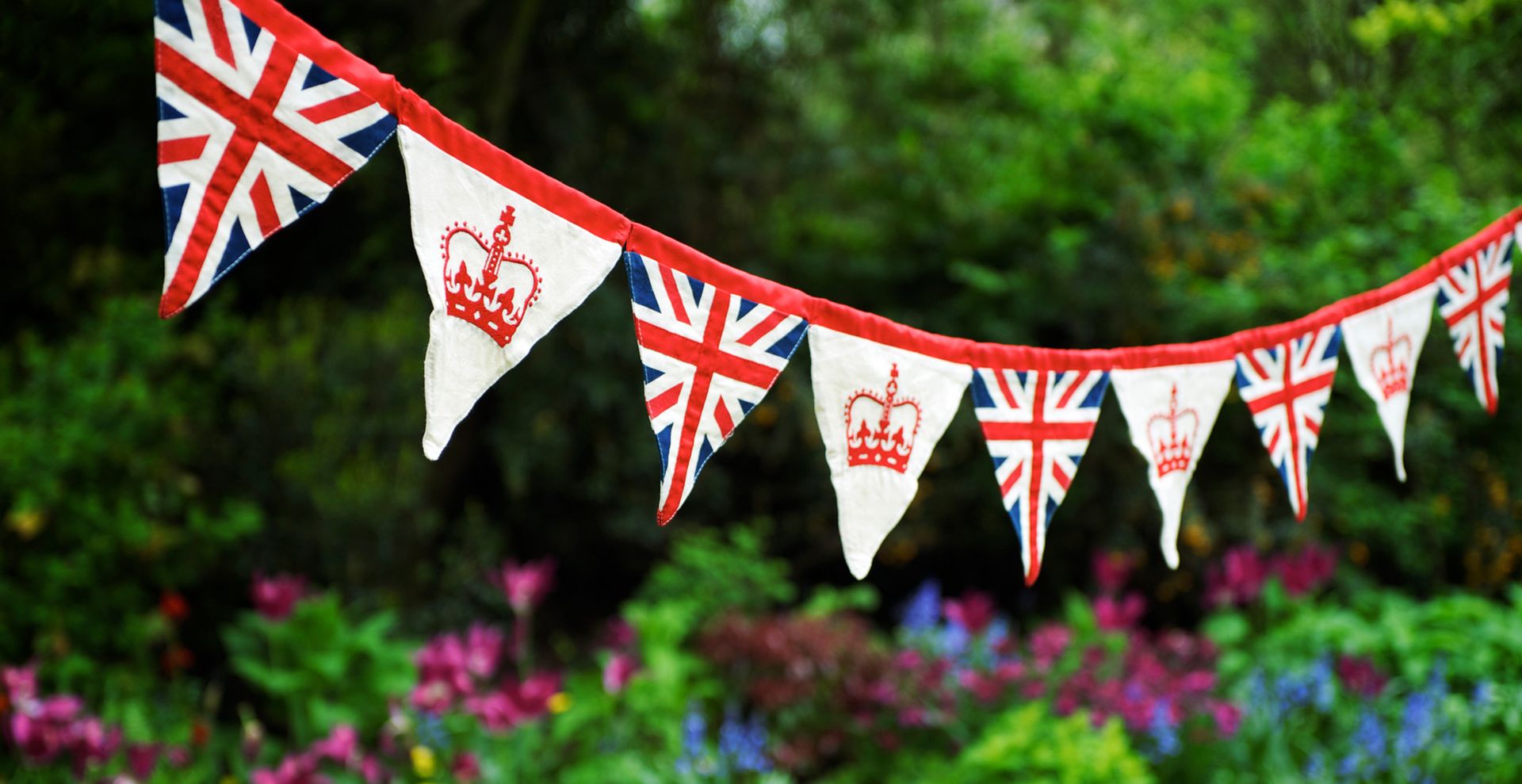 Nothing completes a right royal celebration than a strip of bunting. Hanging bunting is the quintessentially British practice for all manner of garden soirees because it instantly makes the area feel dressed and thoughtfully styled – even though it's one of the simplest decorative touches you can add.
Simply tie either end of a string of bunting across a porch, around tree stumps in the yard, or around the sides of a gazebo – basically, anywhere you have vertical support you can fasten bunting securely.
Vintage Coronation God Save the King Crown Bunting
$9.13/£6.99 |We love the simple elegance of this vintage-inspired made by Heart2HeartByHelen. The handmade double-sided design is printed on 300gsm silk cardstock across 8 flags all attached by a length of ribbon
Toyland Union Jack King Charles III Coronation Souvenir Bunting
$15.99/£13.10 | This bunting is decorated with an inscription date of his majesty the King's Coronation making it the ideal souvenir to keep as a keepsake from the memorable day. The bunting measures 12ft (3.6 metre) with the flags measuring 8" x 5" (20cm x 12.7cm)
Coronation Bunting by Styled to Sparkle
$27.58/£23 | Add a touch of glitz to the decorating scheme by way of this coronation bunting that features a sparkly gold flag dispersed among the traditional red, white, and blue. You can order a bespoke length, starting from one meter – which features 8 flags.
5. Lay the table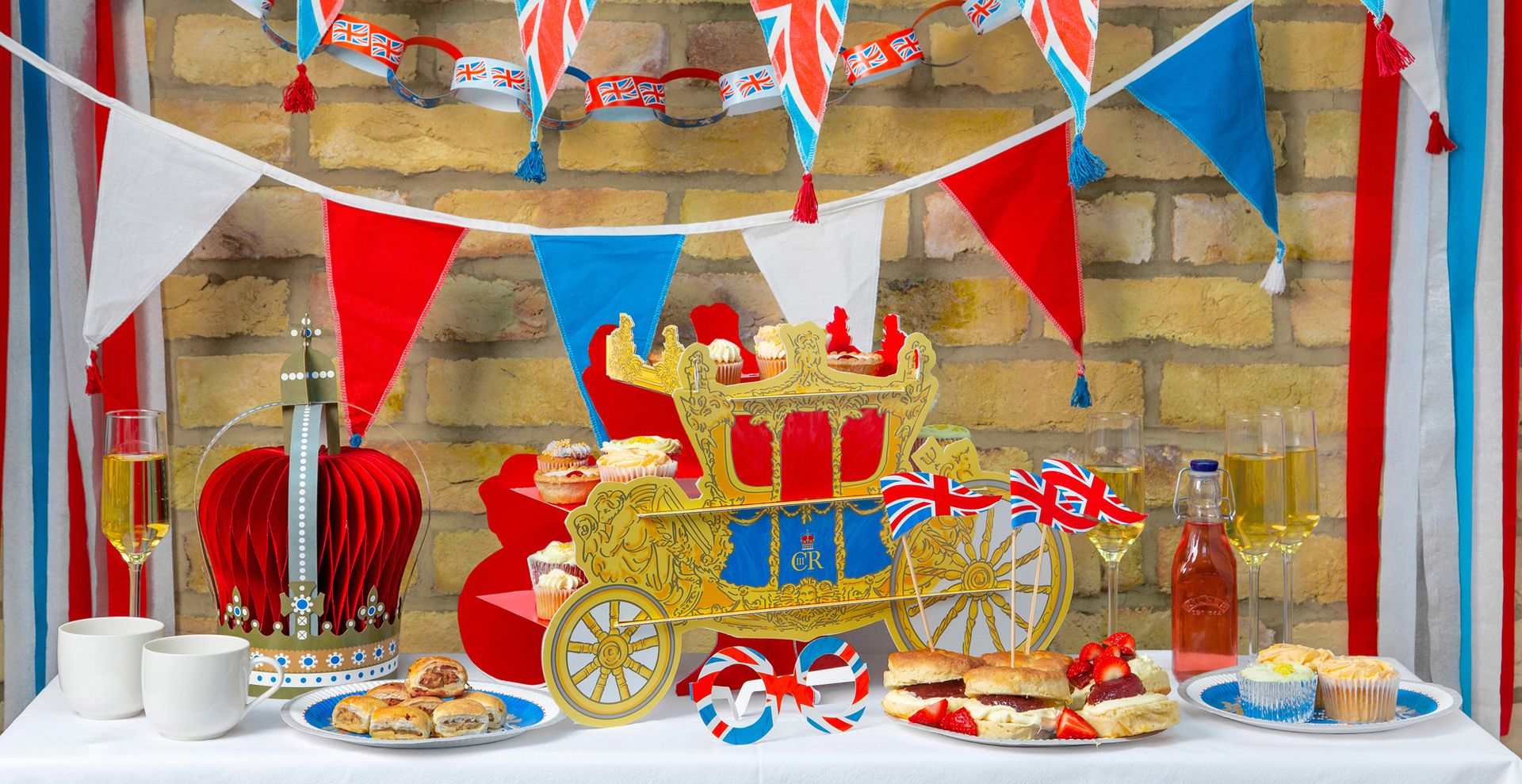 In addition to your best King Charles coronation mugs and tea cups to toast the historic event consider the rest of the table to ensure it's well-dressed. From a show-stopping carriage cake stand centerpiece to commemorative plates and napkin sets, there's a coronation decoration to cover all bases.
Talking Tables Royal Carriage Coronation Cake Stand
$37.30/£29.99 | Elevate your cake baking skills with this show–stopping cake stand. The fun cardboard creation is made of 3 tears all set within the shape of a carriage fit for a king – it's sure to be a real talking point for guests.
Royal Coronation Honeycomb Crown Centrepiece
$29.92/£24.95 | every food and drinks staging table needs a centrepiece for a special occasion and what could be better for the coronation than a crown to take centre stage? Talking Tables' honeycomb design measures a modest 27cm in height – so not to overpower the rest of the table settings.
King Charles Coronation Party Decorations Set
$17.40/£8.99 | Save your best crockery and serve up in style on coronation-themed serving ware. This complete set comprises Union Jack decorative paper plates, cups, and napkins. The tableware party set features a total of 65 pieces – more than enough to meet the tableware needs of up to 16 guests.
6. Set up a DIY photo booth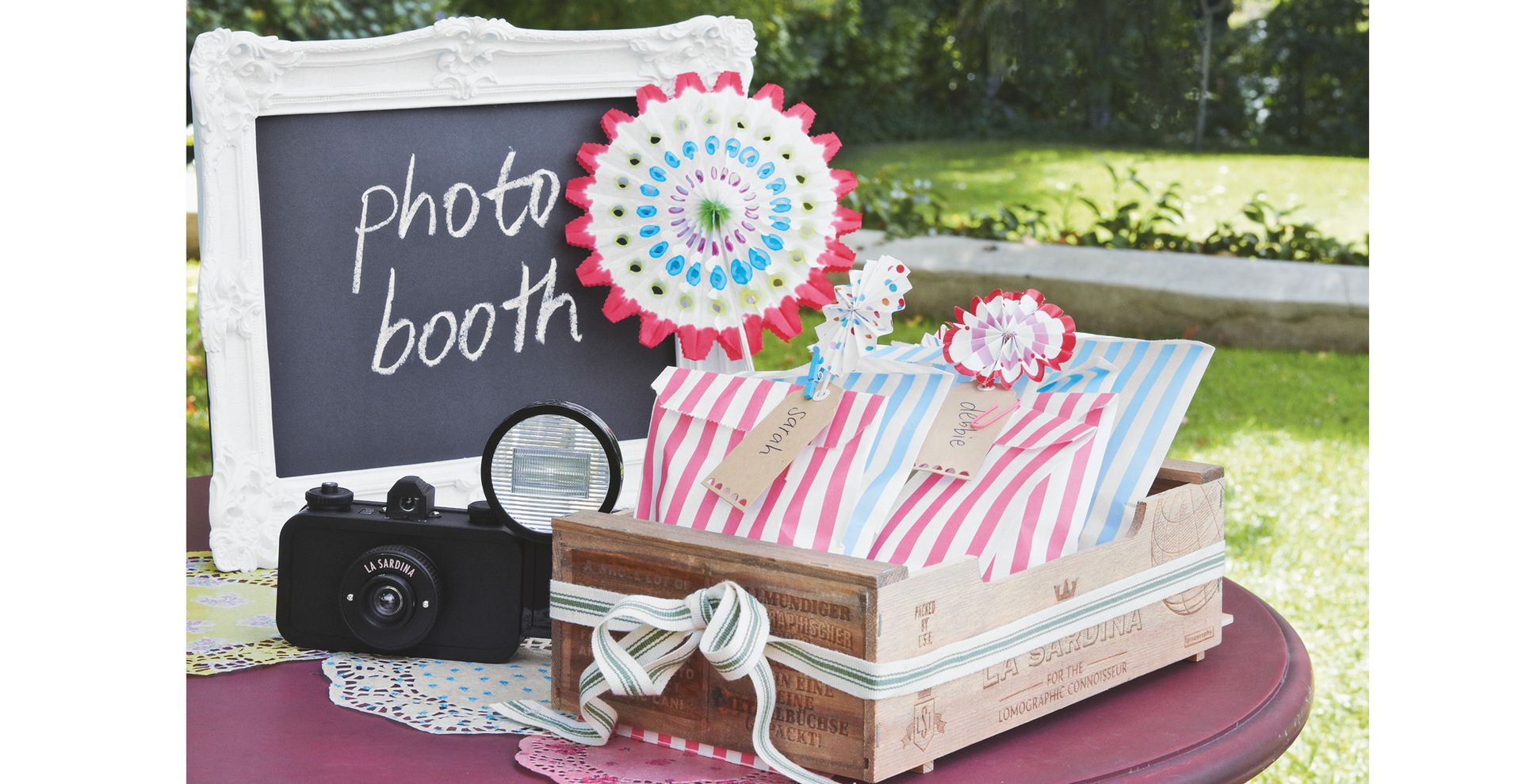 Did the party even happen if you didn't capture fun photos on the day? What better way to encourage folks to have fun with snaps than a makeshift photo booth – which can be merely a table with props and fancy dress items to encourage more photo opportunities.
From a life sized Kind Charles cutout to photobomb every captures to novelty glasses to entice the more shy party goers to step in front of the camera.
$3.92/£3 | A simple prop on a stick is enough to hold up and engage with the and games. The pack of 10 props consists 2 of each a set of glasses, bow tie, top hat, crown and moustache decorated in Union Jacks
King Charles Cut Out Coronation Decoration
$59.99/£49.14 | Who better to take a snap alongside on the big day than his royal highness King Charles III himself to commemorate the occasion? The lifesized cardboard cutout may seem odd now but on the day guests will be queuing to take a snap to remember.
7. Add ambient lighting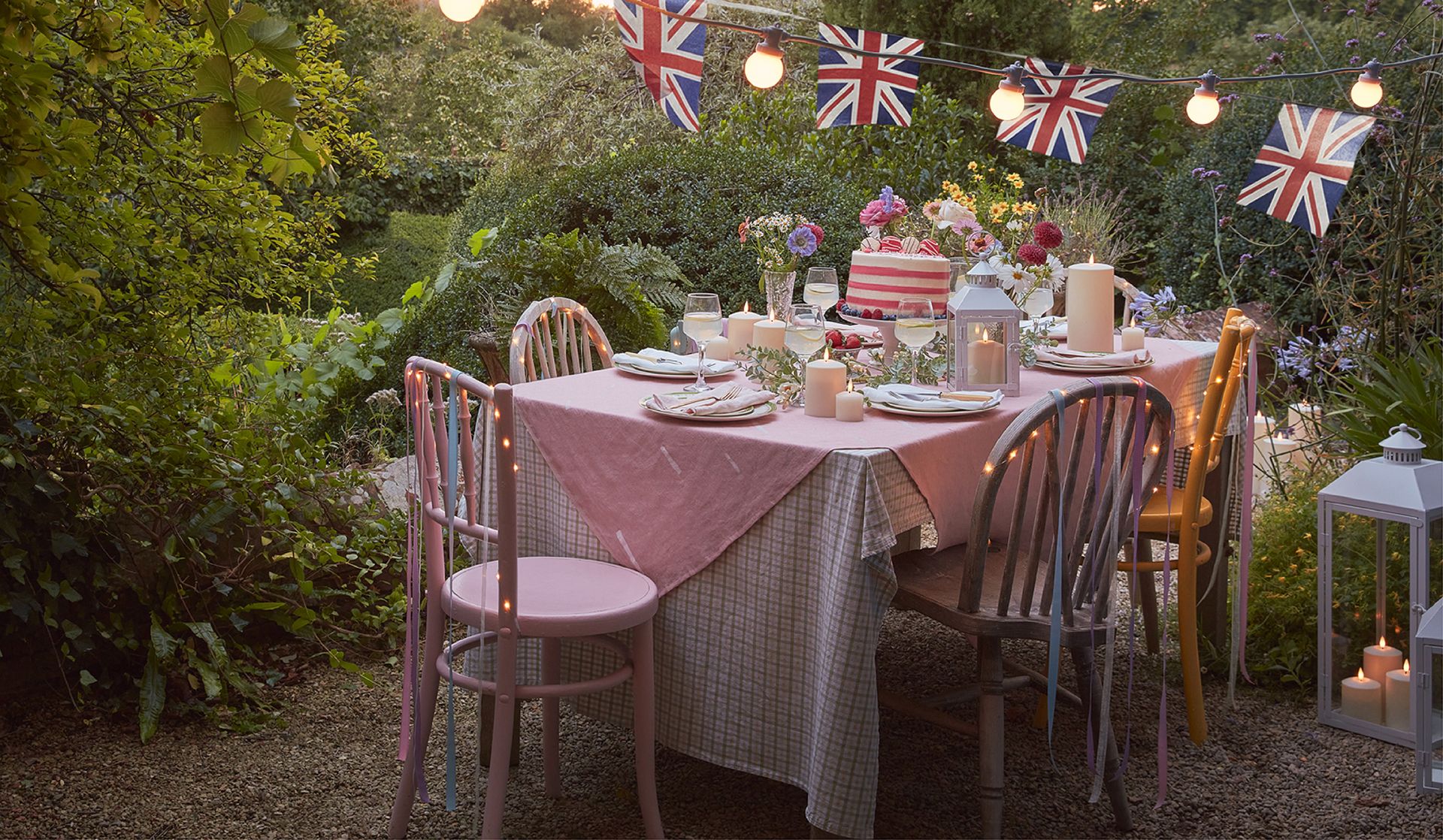 Lighting plays an integral part in setting the scene for celebrations, even during the day in this case. It's easy to incorporate lighting into patriotic soirees by embracing the main colors – in this case red, white, and blue.
From on-trend carnival-style festoon lighting to adorn the porch or hang high in the trees, to colored flameless candles to dress tables there's a fun lighting solution for all tastes. Best of all these are not just coronation decorations, these star buys can be refused for future patriotic parties.
20 Red, White & Blue Globe Outdoor LED String Lights
$34.99/£24.99 | Set the scene with patriotic festoon lights. The popular outdoor light design features red and blue bulbs to add a splash of color to your party. The 20-light LED set features 15.5ft of lightweight white cable and an extra handy 10ft lead cable to the battery box.
King Charles Coronation, Red, White and Blue flower fairy light garland
$45.29/£34.65 | These unique flower fairy lights offer a pretty take on a Union Jack print. Draped over and archway to along the table as an imaginative runner these simple red, white and blue lights are sure to add a royal highlight.
TruGlow Patriotic Red, White & Blue Wax Pillar Flameless Candles
$35.99/£29.99 | Add color and ambiance safely with these best flameless candles. The LED candles add a dash of red, white, and blue without the need for an open flame – ideal for family gatherings with little ones.
8. Style your seating arrangements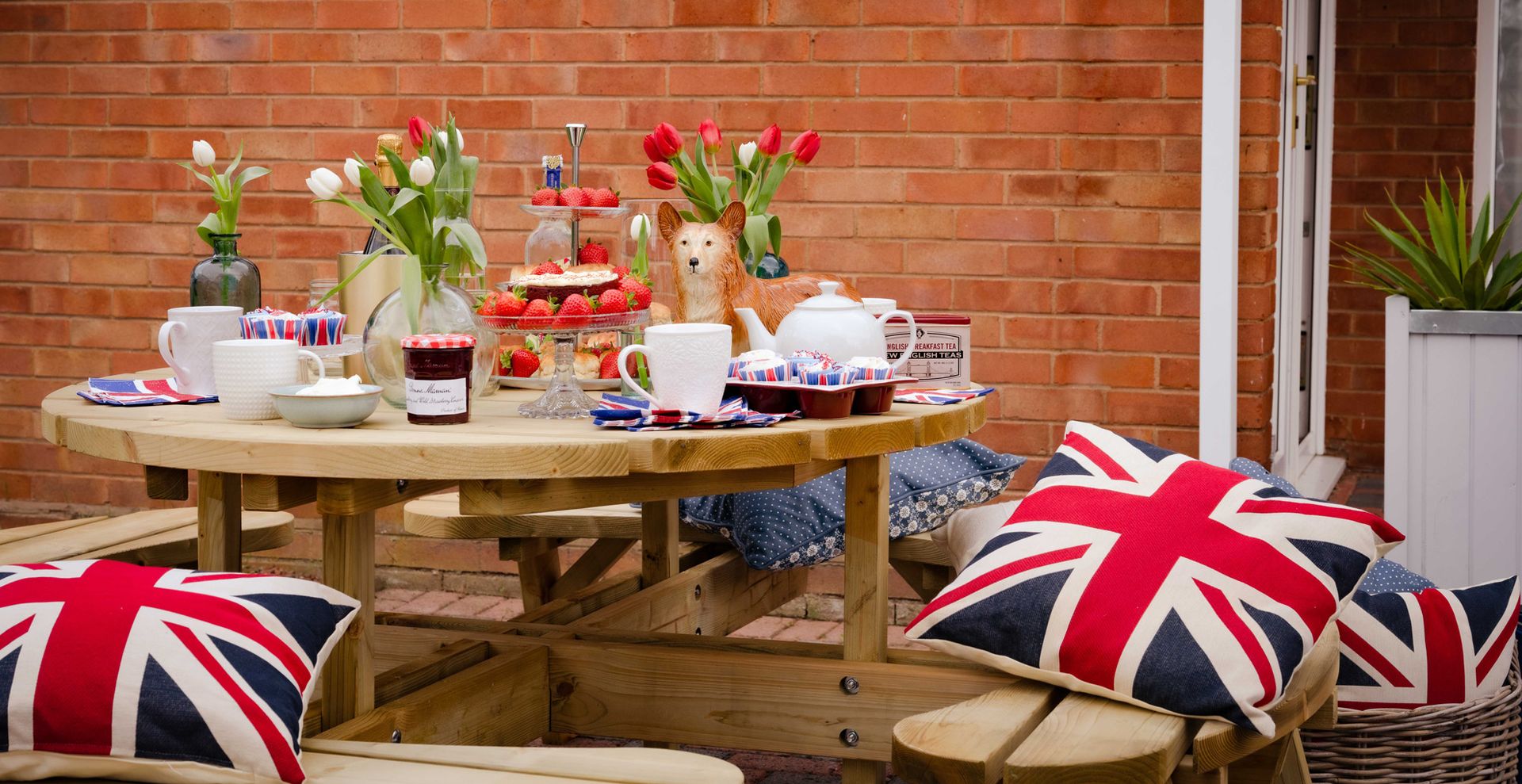 Whether a garden party or a street celebration, one thing is for sure you'll need plenty of seating. And while grabbing any indoor chair from all rooms available is a great solution for providing a place to sit it can result in a mishmash of uncoordinated chairs that feel less party-ready and more yard sale.
Fear not, a simple cushion can be all that's needed to signify to all that these chairs are dressed to enhance the coronation garden party theme while also adding some extra comfort.
King Charles III Coronation Cushion
$49.69/£40 | This charming Cath Kidston design is one to treasure to remember the monumental occasion. The classic Kidston design features a hand-painted portrait of the new king, surrounded by regal motifs, printed onto a soft cotton with linen with a small oxford border.
$185/£149 | Jan Constantine is a much-loved British textiles artist who creates luxury hand embroidered furnishings to treasure. And treasure is exactly what you'd do with this keepsake felted cushion "destined to become an heirloom of the future."
King Charles III Coronation Natural Cushion Cover
$18.29/£13.99 | Makeover one of your existing scatter cushions with this statement coronation remberence cushion cover. The design features an emblem designed by Sir Jony Ive, created with the flora of the four nations of the United Kingdom – a souvenir to celebrate the Coronation of King Charles III on 6th May 2023
9. Display festive flowers
Displaying flowers is an easy way to welcome added finesse to any celebration. From small jars of posies to larger arrangements with colorful blooms, never underestimate the impact flowers can hold when styling an event – even for coronation decorations and decor ideas.
We've found colorful flower arrangements to dress tables and statement wreaths to add a decorative touch to doors and walls too.
Kings Coronation Dried Flower Bouquet Gift
$34.78/£29 | Display dried flowers dyed in the colors befitting to the celebration. This bouquet by The Dane is ideal for the day and all festive parties beyond, ideal for creating mini posies for napkins or bouquets for vases dotted along the tables
Kings Coronation Dried Flower Wreath
$27.58/£23 |As wreaths become more commonplace in decorating any celebrations it feels only right to welcome one to your front door to elevate your party decor. Zoe's Blooms have created the perfect coronation decoration in this beautiful design.
Handmade Paper Flowers for Coronation Street Parties
$8.50/£6.50 | We love the charming use of a Union Jack print in a more creative way. The cute flowers are handcrafted by Millies Creative Gifts using toughened paper and florist wire to make them durable enough to be used for garden parties – just don't let them get ruined if there's a sudden downpour.
Tamara is a highly experienced homes and interiors journalist, with a career spanning 19 years. Now the Lifestyle Editor of womanandhome.com, she has spent the last 16 years working with the style teams at Country Homes & Interiors and Ideal Home, and it's with these award-winning interiors teams that she gained a wealth of knowledge and honed her skills and passion for shopping, styling and writing about every aspect of lifestyle and interiors.
With a keen eye for the latest interior trends, there's not a lot she doesn't know about home decor – whether it's what colour we should be painting our living rooms next season, or if the latest 'must-have' buys are actually worth investing in.
A true homes and interiors expert, Tamara has served as an ambassador for leading interior brands on multiple occasions, including appearing on Matalan's The Show and presenting at top interiors trend events such as the Autumn Fair and Spring Fair.