Gymnast Nia Dennis embodies 'Black excellence' in incredible routine
Nia Dennis is celebrated for her astonishing new gymnastics routine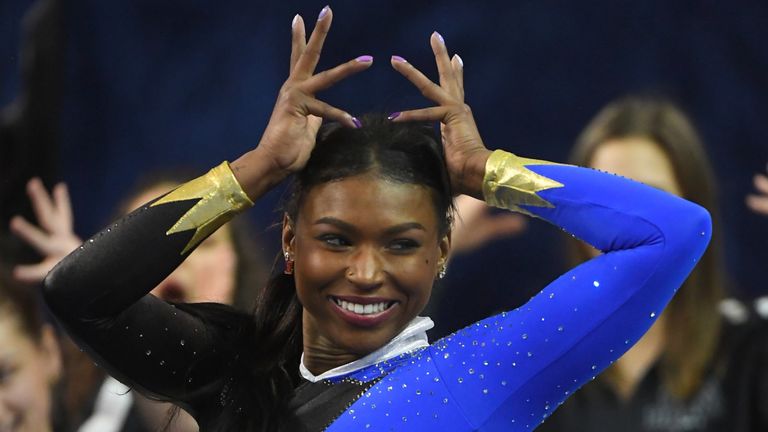 (Image credit: Jayne Kamin-Oncea / Getty Images)
NCAA Gymnast Nia Dennis delights fans as she dances and backflips to iconic hits in a gymnastics routine that has gone viral.
Fans have gone wild for Nia Dennis' most recent gymnastics routine that fans are hailing as "unforgettable."
Nia Dennis, a senior at UCLA, shot to fame in February 2020r with her routine to Beyonce's "Crazy in Love" also went viral. She scored a 9.975 out of 10.0 and appeared on Ellen to discuss her success.
Now Nia has gone viral again as she danced to a mash-up of songs, including Kendrick Lamar's "Humble" and Missy Elliot's "Pass That Dutch."
Read more from Woman & Home:
• Best sewing machine
• Best air purifiers
• Best eReaders
This is what #blackexcellence looks like. @DennisNia does it again! 🔥📹 @Pac12Network pic.twitter.com/2vxgyTvUCGJanuary 24, 2021
See more
Nia honored her culture with a compilation of music from various Black artists that included Soulja Boy, Megan thee Stallion, Beyoncé, and Tupac Shakur.
The gymnast earned a near-perfect 9.95 for this fantastic floor routine that UCLA Gymnastics described as "representing the culture."
Nia told the Los Angeles Daily News that this routine reflected her identity and who she is as a person.
"This routine definitely reflects everything that I am today as a woman and, of course, I had to incorporate a lot of parts of my culture," she said.
Missy Elliot took to Twitter to commend Nia's moves, she simply wrote "snappin" to which Nia replied, "THANK YOU."
Simone Biles, the award-winning Olympic gymnast, retweeted Nia's performance and said, "...do the damn thing girl. Fire this was so fun to watch! keep killing it!" To which Nia replied, " thank you girl."
In addition, gymnastics fans are giving her rave reviews. One fan wrote on Twitter, "Love the routine, and all the confidence it projects. You're a star (and a heck of a role model), @DennisNia! The world needs a whole lot more of that #blackexcellence."
Another fan celebrated the united front from all of her teammates who danced along to her performance, "Killed it! Loved seeing her teammates and coaches getting involved too! Outstanding"
However, there were some negative commenters who took to Twitter to share their racially charged comments.
One commenter appeared to miss the point of the culturally charged routine altogether as he commented, "Why does it have to be "black excellence"? Why can't it just be excellence?"
Fortunately, these commenters were quickly corrected. One fan replied: "To the ppl saying 'what if we had white excellence' I'm here to tell you it's already the standard in American society. White excellence does not have to fight to be seen. it is already expected that everyone will conform to it. You are not being oppressed by black excellence."