9 sustainable furniture brands to shop for eco-friendly pieces in 2023
Go green and fill your home with pieces from sustainable furniture brands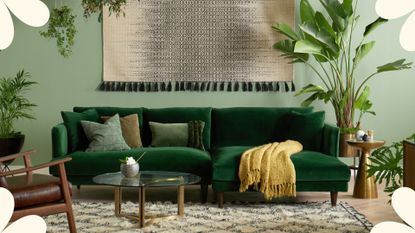 (Image credit: Future)
Revamp your space this spring with eco-friendly home pieces from the best sustainable furniture brands in the US.
Whether you're looking for ways to celebrate Earth Day or you're trying to make eco-conscious swaps, shopping sustainably is a great way to cut down on waste, reduce animal harm, and create a healthier and cleaner environment. And one of many ways you can shop sustainably is by investing in eco-friendly furniture.
From sofas made of recycled plastic bottles to sustainably sourced wooden coffee tables, we've compiled a list of the best sustainable furniture brands to shop today. All the brands we picked either use ethically sourced and recycled materials or go above and beyond by instilling sustainable delivery and ultimately reducing their carbon footprint. Crucially, they all do this without sacrificing on style - we also genuinely love the pieces from these brands.
We know it can be hard to find where to buy nice furniture online, so we reached out to interior designers to share their go-to brands when shopping for sustainable furniture and asked them for the most earth-friendly materials to look for in furniture.
Best sustainable furniture brands to shop in 2023
Why you can trust Woman & Home Our expert reviewers spend hours testing and comparing products and services so you can choose the best for you. Find out more about how we test.
Need a quick run-down on the best sustainable furniture brands? These are the best eco-friendly home brands at a glance. Otherwise, keep reading to learn more about each brand and our favorite pieces from each label.
1. Burrow
Burrow is home to sustainable modular furniture, allowing you to customize and create your perfect space with functional pieces. You'll find their sofas to be made with upcycled materials and FSC-certified wooden frames, as well as leather pieces that are ethically sourced.
Consider this brand if... you're looking for modern and functional sustainable furniture that's easy to build, durable, and long-lasting.
Avoid this brand if... you're not a fan of upright furniture and prefer deep, cushiony sofas. If you return anything, you'll also have to pay a return fee of 10% to 20% of the product's price, which will be a downside for some.
Burrow Carta Coffee Table
RRP: $499 | Figuring out how to organize a small space? Consider investing in multi-functional furniture, such as this Burrow solid ash coffee table. This table features three removable trays that can be used as a laptop and food tray. And if you're short on storage space, underneath the removable trays are built-in storage compartments to hold your books, remotes, and small trinkets.
Block Nomad Sofa Sectional
RRP: $2,090 | Burrow prides itself on being a brand that makes easy-to-move furniture that's simple to build. The Nomad Sofa Sectional is customizable and allows you to attach the movable chaise to your seat of choice. It's also sustainable with its upcycled fabric material and Baltic Birch wooden frame. And don't worry about accidental spills: this sofa's olefin fabric is 100% stain resistant.
Vesper Wood & Leather Lounge Chair
RRP: $995 | A gorgeous chair that'll accent any sofa. The Vesper Wood and Leather Lounge Chair is made of 100% leather cowhide and plywood shell. It comes in beautiful camel brown and black slate color. This mid-century modern chair is the perfect lounging piece to sit back in while diving into a summer read.
2. Inside Weather
Inside Weather produces sustainable made-to-order furniture right in California. With sofas made from over 2,000 recycled plastic water bottles, FSC-certified wood that's ethically sourced, and nontoxic fabrics, this is a brand that really puts its money where its mouth is when it comes to sustainability. The modern home brand also provides carbon-neutral shipping with eco-compression technology, customized packaging, and fuel-efficient pickups. And the icing on the cake, Inside Weather partners with the National Forest Foundation, so with every purchase made, one tree is planted.
Consider this brand if... you love customizable, high-end sustainable furniture. Inside Weather also offer a 365-day home trial if you want to try your new pieces out before committing - which is a big bonus.
Avoid this brand if... you're on a budget or don't like having a lot of options to choose from.
RRP: From $448 | A sustainable armchair that's built to give you the ultimate lounging experience. The Latte Ada chair features a plush seat cushion and kiln-dried, solid ash wooden arms finished with an eco-solvent. Whether you prefer your cushions to be velvet, felt, loom, or weave, Inside Weather allows you to fully customize this chair to your liking.
Modular Bondi 2-Seater Sofa
RRP: From $2,000 | If you like your sofa on the soft and cozy side, lounging on Inside Weather's modular two-seater sofa will feel like you're sinking into a cloud. Its plush oversized cushions and pillows are made of recycled water bottles and are available in classic plush or a memory foam blend.
3. Joybird
Joybird is a mid-century modern furniture brand with a wide selection of handcrafted, quality furniture that, according to the brand, is meant to last a lifetime. Behind the furniture are artisans in Mexico who work in a safe environment while receiving great benefits. From its Greenguard Gold Certified status to the brand's use of fabrics made from recycled water bottles, Joybird's environmental initiatives are impressive.
The brand also partners with FloorFound, allowing customers to shop discounted second-hand Joybird furniture. And whether you're shopping new or second-hand, in partnership with One Tree Planted, each purchase helps support reforestation and restoration programs.
Consider this brand if... mid-century modern is your vibe or if you're on the hunt for gorgeous second-hand furniture. Joybird also offers a lifetime limited warranty to all of its manufactured products, such as sofas, chairs, ottomans, and more furniture pieces.
Avoid this brand if... you prefer bolder furniture pieces. The brand also charges for returned shipping costs and a 10% restocking fee, which can be costly if you're not 100% sure about the product.
RRP: From $2,861 | Sit back and relax on Joybird's Lewis sectional. If you're looking for an ultra-deep, cushiony sofa to sink into, this is the one. Made with extra layers of recycled fibers for extra cushion and support, you'll be surprised to know the fibers are made from water bottles. And because this is made from a spill-proof fabric, it's the perfect sofa for pet owners or those with kids.
RRP: $679 | Joybird's wooden dining tables are sustainably sourced and handcrafted in the US. And this modern dining table is the perfect addition to a rustic and sleek living space. The table has a gorgeous oak veneer top that's met with unique black, angled metal legs.
4. West Elm
West Elm is known for its high-end, mid-century modern furniture and according to the brand, they're the only home retailer on Barron's 100 Most Sustainable US Companies list since 2018. A few of the brand's sustainability initiatives include collaborating with artisans for handcrafted pieces, expanding low-impact materials, reducing waste, sustainably sourcing organic cotton for bedding and bath towels and sourcing FSC-certified wood. By the end of 2023, the home brand and its partner, Arbor Day Foundation, plan to plant six million trees, which customers can make happen with every indoor wooden furniture purchase.
Consider this brand if... you love having a wide range of items to shop from and are looking for high-quality, modern furniture that's sustainably sourced and built to last.
Avoid this brand if... mid-century modern isn't your cup of tea. The brand doesn't offer any warranties as standard, but allows its customers to purchase an Allstate protection plan.
Ainsley Faux Fur Lounge Chair
RRP: $419.99 | This faux fur bean bag-like lounge chair is the perfect 18th birthday gift. When they're not in bed, they'll love sinking into this soft and cozy West Elm chair. But if you're way out of your teen years, don't worry. This is very much appropriate for any age.
Alden Bar & Counter Stools
RRP: From $181.15 | How gorgeous are these bar and counter stools? These stools make for a sweet accent kitchen piece. The seat is made from sustainably sourced mango wood that beautifully complements its raw steel legs. And if you're shopping for the best Mother's Day gifts, surprise your mom with a gift for the home. These bar stools will surely make her smile.
Palma Outdoor Round Bistro Table
RRP: $449.10 | West Elm is one of the best outdoor furniture brands known for its high-end patio pieces, such as this gorgeous handwoven faux rattan bistro table. We love the table's unique glass top and rustproof aluminum black frame. It's the perfect outdoor table to sit and chat with your friends over a glass of wine.
5. Kardiel
Kardiel is a family-owned luxury furniture company that produces hand-made contemporary and modern furniture by designers using sustainable materials. From coffee tables made with internal wood from fast tree growings such as ash and birch to cushions that meet fire regulations with no added VOC chemicals, Kardiel is doing its part by having a low carbon footprint. Along with using earth-friendly materials, the brand also uses SmartWay freight partners to ship their products, a decision they claim has saved $33.4 billion in fuel costs since 2004. The company has also partnered with One Tree Planted to support forest fire reforestation efforts in Northeast Oregon. With every purchase made, one tree is planted.
Consider this brand if... contemporary and modern furniture is your style. Kardiel also offers a competitive 365-day trial and lifetime warranty.
Avoid this brand if... you're looking for affordable, one-of-a-kind furniture options. The brand also charges a 15% restocking fee for items returned after 16 days.
Milano Mocha Spectre 81" Leather Sofa
RRP: $2,772 | Leather sofas are timeless and classic, and this Kardiel modern leather sofa is one that will be in your living room for years to come. This couch is made with durable, top-grain full aniline leather that's dyed with natural oils and waxes.
RRP: $897 | Kardiel makes classic yet modern pieces that'll look great in any home. And if you're someone who lives in an apartment or a tight space, we definitely recommend adding this natural oak dining table to your cart. Add a centerpiece or placemats for added decoration and a pop of color.
Blanc Boucle Swagger 20" Fabric Stool
RRP: $327 |Boucle is one of the most desirable sofa trends in 2023. And this boucle fabric stool is a Kardiel favorite. You can use it as a footstool, a cute coffee table, or an ottoman. It's the perfect decor piece for any living room or bedroom. And the best part is that it's made without added VOC chemicals.
6. Sabai
Sabai is a female-owned sustainable, earth-friendly furniture brand that produces luxury home pieces in North Carolina. From sustainable pillows made from recycled water bottles to upcycled and recycled sofas, Sabai is a great brand to turn to if you're trying to make more sustainable living choices. CEO and Co-founder of Sabai Design, Phantila Phataraprasit, says they created the first repairable furniture program of its kind - Repair Don't Replace.
"You can continue to breathe new life into your Sabai pieces by repairing single parts," Phataraprasit told w&h. "By decreasing the lifecycle of your furniture, you decrease your waste and save resources and emissions that go into new pieces."
Consider this brand if... you're looking for affordable yet luxury sustainable furniture and want to fill your home with secondhand pieces at a discounted price.
Avoid this brand if... you're the kind of person who needs an array of options. Sabai also charges a 10% return and processing fee, though this is lower than some others on this list.
RRP: $745 | The perfect chair to curl up in for an afternoon summer nap. Sabai's gorgeous essential chair is sustainably built with recycled and upcycled fabrics and an FSC-certified wooden frame. This chair comes in five neutral and subdued colors, with a velvet or poly fabric option
RRP: $495 | This coffee table suits any living room color scheme and will complement any style couch, thanks to its neutral and earth-tone leg colors. The table features a carbon ash wooden top from Baltimore and a recycled steel base. If your style is minimal with an urban feel, this is the coffee table for you.
The Essential Corner Sectional (5-Seat)
RRP: $2,695 | Sustainably designed the same as the Essential Chair, this L-shaped corner sectional will become the ultimate lounge sofa for you and your four guests. With five-star ratings raving about how comfortable and perfect this sectional is, this is a strong investment piece.
---
7. Medley
Medley is an eco-friendly furniture brand co-founded by brothers Travis Nagle and Ryan Shultz. The brand's mission is to shift the way furniture is made by using clean, eco materials that are locally made with quality and comfort. All of Medley's furniture is handcrafted in California using FSC-certified wood, natural Dunloop latex and CertiPUR-US-certified poly foam for filing, OEKO-TEX standard 100 wool sourced from farmers, and natural fibers such as breathable cotton, jute, and burlap.
Consider this brand if... you're looking for modern and affordable furniture that comes with many warranty options. Medley offers a lifetime warranty on furniture frames and wood products, a 20-year warranty on mattresses, a 10-year warranty on cushion cores, and a 5-year warranty on fabrics against manufacturing defects.
Avoid this brand if... you don't have time to wait weeks or even months to receive your order. Any furniture ordered with a non-stocked fabric is subject to a 20% restocking fee if canceled, changed or returned, too.
RRP: $4,731 | Turn your living room into your personal oasis by adding the cozy Bluemen Chaise Sectional. Prefer the chaise on the right side instead? No worries. Medley allows you to customize the sectional to your liking. The sectional's layout, material, color, and depth of the cushions are up to you.
RRP: $2,995 | A gorgeous wooden media center that will naturally draw eyes to its sleek FTC-certified maple or walnut wood. The Max Media Center features four push-out doors and two open shelves to store your books or small trinkets. This wooden furniture piece is the perfect base to sit your TV on.
Nein Bed in Natural Latex + Wool
RRP: From $3,612 | From twin-sized to a Cali-king, Medley doesn't discriminate when it comes to bed sizes. Consider adding the Nein bed to your shopping cart if a platform bed is on your bedroom wishlist. This upholstered bed is wrapped in wool and filled with natural Dunlop latex.
8. The Citizenry
The Citizenry is a sustainable furniture brand that partners with local artisans country by country and sells a small batch of the artists' handcrafted creations exclusively on its website. As the first home retailer to have all of its products made with a fair trade process, its artists are what truly makes the brand. The Citenzry also invests 10% of its proceeds back into artisan communities. From Japan to Mexico to Indonesia to Morocco to your home, you can fill your living space with handmade FTC-certified wooden chairs and ethically sourced leather ottomans made straight from the hands of artisans. The combination of all-natural and organic materials and small-batch craft techniques guarantees lower carbon emissions and waste.
Consider this brand if... you want one-of-a-kind furniture pieces handcrafted from artisans around the world.
Avoid this brand if... you don't have time to wait weeks or months for made-to-order items. The brand also charges a $65 return fee for oversized items.
RRP: $1,399 | Named after the San Rafael workshop in Mexico City, this beautiful and one-of-a-kind chair is made of ethically sourced leather in a rich caramel color, which comes from the chair being vegetable-tanned and sun-dried. This chair will be the topic of conversation whenever guests are over. For a completed look, consider adding the matching stool. You can sit back and kick your feet up.
RRP: $1,399 | This sustainable and multi-functional bench can be a stylish piece to add to your entryway or at the foot of your bed. And if you don't want to use it for extra seating, it makes the perfect coffee table. The woven bench's palm center is hand-braided, and its Tzalem wood is handcrafted by artisans in Mexico. The dark wood color is one of the key living room trends for 2023, so this bench is sustainable and on-trend.
Hinoki Wood Standing Rack
RPP: $399 | The Hinoki Wood Standing Rack is a gorgeous bathroom piece that will look beautiful in any Japandi-style bathroom. Made from the Okawa Hinoki Workshop in Japan, this minimal rack is the perfect shower and bath side accent piece to hold your decorative towels on or dry your bathroom laundry.
9. Goodee
Goodee: is a curated marketplace founded by twin brothers Byron and Dexter Peart, and it partners with many artisans and small brands that produce sustainable home and lifestyle products. The brand's in-house sustainability team vets the suppliers and approves every transparently sourced and ethically made item. Each brand partner also reports their materials, supply chain, and ecological impact back to Goodee. Goodee takes pride in having 100% of its products made from sustainable fabrics and having one of the lowest return rates in the industry at 5%, allowing them to manage its shipping emissions and create a low carbon footprint. With over 64 brands, you'll find furniture made of recycled and natural materials and a handful of carbon-neutral pieces.
Consider this brand if... you want to shop a wide variety of furniture styles from different sustainable brands. You'll find anything from Japandi styles to mid-century.
Avoid this brand if... you're on a budget. The brand has a slim 14-day return policy on furniture purchases and does not allow returns on customized and made-to-order items.
RRP: $550 |Add some eco-friendly pieces to your kiddo's room with this speckled two-piece chair and table set. The set is from Europe brand ecoBirdy, which creates children's furniture pieces from recycled plastic toys. This table set will become your kid's new favorite play spot.
Shelf Library Natural Single Section
RRP: $1,626 | Created by the brand Frama, this functional shelf piece is made out of natural oiled oak and stainless steel brackets. Whether you want to use it to showcase your aesthetically pleasing dishes or houseplants, it's a lovely decor piece that'll look great on any wall.
RRP: $825 | This unique color block pouf is made by the brand Nanimarquina, known for its one-of-a-kind rugs and Architect and designer Marcos Catalán. The pouf is hand spun and made from 100% Afghan wool. Adding this pouf to your living space supports community engagement, gender advocacy, marginalized communities, water conservancy, poverty reduction, and more causes that Nanimarquina supports.
What type of furniture is most sustainable?
Although many furniture brands are environmentally friendly, using sustainable materials and having a low carbon footprint, what type of furniture is the most sustainable? Founder and principal of Maydan Architects Mary Maydan tells woman&home that furniture made of recycled materials are always a good choice. "Recyclable materials or fully sustainable and natural materials, such as hemp, linen, and bamboo is definitely a step in the right direction."
Founder and creative director of Pure Design Inc: Design, Build, & Shoppe Ami McKay says the best sustainable furniture choices are often from recycled and upcycled items. "Look for old-world, vintage pieces that are often non-toxic," Mckay says. "And if you plan to reupholster an item, consider using natural latex for your cushions." Regarding the most sustainable materials, Mckay recommends handmade natural wood, natural textiles, wool, linen, cotton, and silk. Citenzry and Joybird are furniture brands Mckay personally recommends because of their sustainably sourced wood and ethical production.
Teresa Olson, the owner of Olson House, advises investing in good quality secondhand pieces. Ideally, try to find out the manufacturer and materials to ensure you are buying a quality piece that will last for a long time. Olson adds that if you aren't able to know the manufacturer of the secondhand items, it's hard to know what it's made of. This is where brands like Joybird and Sabai shine because you know where their secondhand furniture pieces are from.
What are the most sustainable sofa companies?
Burrow, Sabai, and Inside Weather are known for their sustainable sofas. Inside Weather offers plush sofas made from recycled plastic water bottles, while Sabai's sofas are gorgeous and sustainably built with recycled and up-cycled fabrics with an FSC-certified wooden frame. And if you need some persuading, Olson says she's personally a fan of Burrow's sofa.
Sabai also takes it a step further with its buyback program, Sabai Revive. Instead of tossing your furniture to the curb, the brand eliminates waste by allowing customers to trade in their old Sabai sofa or buy one secondhand from the site.
Kenedee Fowler is a shopping writer based in the United States. She joined woman&home in September 2022, and ever since has been sharing her expertise with the brand to help readers source gifts for any occasion and on any budget, reviews products so you don't have to, and scout out the best deals and products to give you the best value for your money. Before joining woman&home, Kenedee was a home editorial fellow for Insider Reviews, where she wrote in-depth reviews and articles across the home vertical.

Kenedee is a recent graduate from the number one journalism school in the US, the University of Missouri - Columbia, where she gained hands-on experience as a multimedia journalist at mid-Missouri's local news station.