How to clean a toaster inside and out in five easy steps
Follow our easy guide to ensure your toaster is clean, crumb-free, and hygienic for everyday use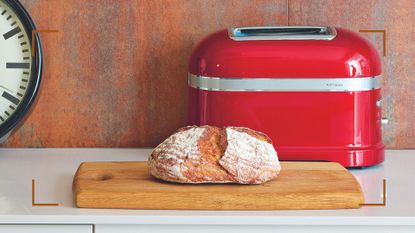 (Image credit: Future)
Knowing how to clean a toaster will not only keep the small kitchen appliance running smoothly, it will mean tidier kitchen countertops and tastier crunch-worthy toast.
Mastering how to clean a toaster efficiently will make the regular task of cleaning your kitchen easier, leaving less mess on your clean organised kitchen countertops on a daily basis for starters. Also, regular maintenance ensures a better standard of food hygiene for each use.
But often the toaster is one of those kitchen tools we take for granted – most of the time forgetting it's even there and therefore failing to add it to our chores list as frequently as cleaning your microwave, cleaning an oven, or descaling a kettle.
Yet cleaning a toaster is one of the most straightforward yet essential tasks, so be sure to add it next time you're compiling your kitchen cleaning checklist. Follow our simple five-step guide to get the job done in no time.
How to clean a toaster
Whether you own the sought-after Sowden Toaster from HAY or the iconic Dualit classic stainless steel toaster, a reliable toaster should be on your ultimate kitchen essentials list.
Nearly every toaster has either a digital control panel or handles that are touched each time it's used and so germs and bacteria from fingers are left behind on a frequent basis.
And what about what's happening inside the machine where bread is grilled? If the small appliance is not cleaned regularly, a build-up of bread crumbs at the bottom will burn a little more every time the toaster is switched on, creating a nasty charred smell and possibly much worse – a safety hazard.
When it comes to knowing how to clean a toaster, the type you own will determine the cleaning method. We will mainly focus on two and four-slice pop-up toasters, however, safety should be the priority whichever style or brand you own.
To ensure a thoroughly clean toaster every time you will need:
Washing up bowl
Warm water
Two clean sponges or microfiber cloths
Pasty brush
Baking soda (optional)
Stainless steel cleaner (optional)
1. Switch off and unplug the toaster
When electricity is involved, it's important to cut any current flow to the device to ensure a safe cleaning environment – as with cleaning a coffee maker or cleaning a TV.
Home economist at Dualit, Pauline Enigboke, says "Before you clean your toaster, make sure it is switched off and unplugged. If you have just been using your toaster, leave it to cool down before starting."
NEVER insert anything into a toaster other than bread when it is plugged in especially metal, such as a butter knife, as this can lead to an electric shock fire. Much like why you should put foil in a microwave.
2. Locate and empty the crumb tray
A toaster's biggest bugbear is crumbs. So first, check to see if your toaster model has a removable tray in the bottom that collects falling bread debris – most modern designs do have this design feature. If so, empty the tray.
Next, move the toaster to a bin or hold over a sink with waste disposal. Turn the toaster upside down and gently shake out the crumbs left behind in the toast slots.
Place the toaster back on a countertop and then use a clean dry pastry brush to dust away any morsels left behind.
3. Concentrate on the toaster interior
With the tray still removed, place the toaster on its side and focus a few minutes on the inside of the machine.
Use a dry silicone pastry brush to sweep out any lodged crumbs from the grills.
"A top tip is to use a clean, damp jay cloth wrapped around a pastry brush to create a thin cleaning wand with no sharp edges to damage anything. This is ideal for cleaning inside the toaster slots," explains Pauline.
Do not put your hands inside the slots or risk injuring your fingers and damaging the delicate interior components.
4. Clean the toaster exterior
Using the kitchen sink or a washing-up bowl, make up a cleaning solution of warm water and dish soap.
With a clean sponge or clean microfibre cloth (squeezed of any excess solution) gently wipe around the outside of the toaster, including the button and slot top.
Soak, wipe and dry the crumb tray with the remaining cleaning solution.
"If there is build up on the top of the toaster around the slots (often can look 'burnt') this can be cleaned with a small amount of baking soda and a cloth. Lie the toaster on its side to avoid baking soda falling within the slots, then wipe off and dry afterward," advises Lyndsey McHugh, Senior Product Manager for Breakfast at Russell Hobbs.
5. Finish with a final wipe
Go over the toaster one final time with a clean, dry microfiber cloth to ensure it is dry of any water droplets. Then leave the toaster unplugged for at least an hour to ensure the internal components have fully air-dried.
Replace the dry crumb tray and then plug the toaster back in to cook up that next healthy breakfast recipe.
If you are lucky enough to own a stainless steel toaster knowing how to clean stainless steel will create a professional finish that truly shines.
How to clean a toaster oven
A toaster oven is an alternative toasting appliance with more capabilities than a conventional pop-up toaster. As well as toasting bread, bagels, and waffles it has the hybrid function of grilling cheese toasties and cooking small batches.
To clean a toaster oven follow the same steps as above to remove crumbs and then safely wipe down the small kitchen appliance regularly to maintain a level of hygiene.
---
FAQ
Can I submerge my toaster in water?
NEVER submerge a toaster in water or run water into the grill slots and around the exterior. It will damage the machine and make it a danger to use. A damp cloth, as suggested above, is the most amount of water you ever need to apply when cleaning a toaster.
The Electrical Safety Foundation (ESF) states "Do not use electrical appliances that have been wet. Water can damage the motors in electrical appliances".
How often should I clean a toaster?
Check for lodged toast debris after every use and empty the tray every few days, the same advice for how often you should clean an oven – tending to essential maintenance after every use.
Nicki Rodriguez, aka the Essex House Dolly, partnered with AEG to recommend that if you're using your toaster daily then you should be cleaning it weekly.
"Since toasters aren't sealed appliances, they become full of crumbs, dust, and bacteria. Not cleaning the inside of your toaster can even become a potential fire hazard, as a big enough build-up of crumbs can burn and potentially cause a fire", Nicki explains.
How do you clean burnt bits out of a toaster?
Cleaning burnt bits out of a toaster is the common reason for cleaning this kitchen staple. "First make sure you unplug your toaster and tug on the crumb tray," says Nick Small, small appliances expert at AO.com. "This is at the base of the toaster and should be easy to pull out. Once separated from the toaster you can empty this into the bin every couple of weeks to avoid a build-up developing in the base."
"Give the tray a good clean with a dry cloth and use a cocktail stick to get into the corners and remove any burnt bits from your toaster. Alternatively, you can use a toothbrush but avoid using scouring pads as these can damage the non-stick coating."
To remove any burnt crumbs if your toaster doesn't have a removable tray start again by unplugging the appliance and allowing it to completely cool if it has recently been used. Simply shake the toaster upside down over a bin to allow any burnt remnants to fall free into the bin below.
Is there a brush to clean inside of toaster?
Yes, there are numerous brushes to aid in cleaning inside a toaster as a handy cleaning hack. It's important to stress that you should really only use brushes that have been specifically designed for this purpose, such as the Vikan 556452 Detail Brush Set, £5.08 for 2, at Amazon, because they have been developed without any elements that can pose a threat to the mechanics of a working appliance. The brush you clean the inside of a toaster with is one without any metal or dangerous elements, they will primarily be silicone or another similar soft material.
Is it worth cleaning a toaster?
It is always worth cleaning a toaster to keep it hygienic. As a place of food preparation, it's key to keep your toaster clean, the same why cleaning an oven is so important. "By cleaning your toaster regularly, you remove any leftover crumbs capable of spoiling a perfectly good breakfast," says Nick. "Any food residue clinging to the appliance can spoil your morning toast by adding a burnt taste, so be sure to clean your toaster often.
Sign up to our free daily email for the latest royal and entertainment news, interesting opinion, expert advice on styling and beauty trends, and no-nonsense guides to the health and wellness questions you want answered.
Rachel Homer has been in the interiors publishing industry for over 15 years. Starting as a Style Assistant on Inspirations Magazine, she has since worked for some of the UK's leading interiors magazines and websites. After starting a family, she moved from being a content editor at Ideal Home to be a digital freelancer and hasn't looked back.