11 common mistakes to avoid when buying second hand furniture
Interior experts reveal how to avoid making the most common mistakes when buying second hand furniture – having made them themselves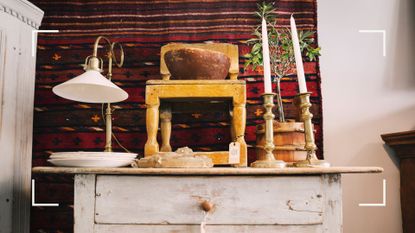 (Image credit: Getty Images)
Buying furniture secondhand is economic, environmentally friendly, and a great way of buying unique and special pieces for your home that you won't see anywhere else. However, it's all too easy to make mistakes when buying second hand furniture – as experts will tell you.
Nowadays, you can buy second hand furniture online via thrift stores, in local auctions, or on websites such as Narchie, eBay, and Facebook Marketplace, so there are lots of choices available to make your home look expensive on a budget. But it's easy enough to make interior design mistakes, you have to be extra careful when decorating your home if you plan to buy your furniture secondhand because there's often no return.
You need to remember that this furniture has already had a life before coming to you and therefore careful thought, research, and examination needs to go into every purchase as a consequence. Here leading experts share their insights to ensure no mistakes are made, so you get your money's worth with every pre-loved piece you purchase.
11 Common mistakes when buying second hand furniture – and how to avoid them
Whether it's buying on impulse, buying furniture the wrong size, not inspecting it for damage and infestations, or not working out how you'll get it home, we asked some leading interior and furniture experts about the common mistakes when buying second hand furniture that everybody makes (themselves included) and, most importantly, how best to avoid them.
1. Not doing a proper inspection
Probably the most common mistake people make when buying second hand furniture is not carrying out a proper inspection. Whether it's looking for mold, infestations, damage, or suitability, having a thorough inspection of the furniture you are planning to buy is the number one tip all our experts suggested.
Second hand furniture is just that and doesn't need to come up to the same standards as furniture bought new so always bear this in mind and spend time checking the piece over.
"Make sure all the parts and pieces of the furniture are present. Drawer pulls and hardware, castors and wheels, and pieces of trim can be difficult to match and hard to replace in older furniture," says Elinor Mason, founder of reclaimed furniture emporium Vintage Adirondack. "Look for cracks, broken or missing supports, and signs of previous repairs. Water damage, stains, and burn marks can be difficult or impossible to remove."

If you are buying online, don't be afraid of asking the seller some questions about the piece. Reputable sellers will have the answers and be more than willing to fill in any gaps. "Be wary of sellers with poor feedback or a lack of communication," warns Artem Kropovinsky, interior designer and founder of Arsight. "If in doubt, it is best to be cautious and refrain from purchasing."
2. Being a perfectionist
Second hand furniture has normally enjoyed a well-used life before it's come to you, and this needs to be taken into account. The same applies when using the best apps to buy and sell clothes online, you need to have realistic expectations.
"You can't have the same standard as you would for new furniture," says Stella Guan, furniture designer at Bezier Home. "Make sure to do your due diligence and ask plenty of questions beforehand, but don't expect flawless pieces because wear and tears are normal for anything that has been pre-used."
Harriet Pringle, the founder of Narchie, says that, while you need to inspect second-hand pieces carefully, you should use a different mindset. "Shop with an open mind and ignore minor imperfections. Focus on the overall construction and craftsmanship of the item, rather than the small blemishes or scuff marks like shallow scratches or chipped paint, as these can easily be fixed."
3. Not measuring up
Another common mistake that people make when buying second hand furniture is not checking it fits in the intended space before they buy it. "I've done this once or twice and believe me, it's a shame in the end," says lifestyle blogger Chantelle Hartman Malarky. "Going through the trouble of picking up a bulking piece and not having it work out in the space is a huge disappointment."
"Measure your space including ceiling height. It's hard to judge the size of something when it's in the wild," says Elinor. "Something that looks perfectly normal in someone's yard or a big barn can appear huge when you get it into your apartment."
Failing to measure up beforehand is also a common kitchen design mistake too, it seems poor planning leads to disappointment – definitely something to avoid.
4. Underestimating repair costs
Second hand furniture often comes with a certain degree of wear and tear but, if you think it needs some substantial work done, get repair quotes before you buy.
Stella reveals one of the most common mistakes she's seen people make is "not doing research about repair costs and possibilities before buying, and thinking that it's easy and cheap to fix up furniture".
Often, they get a nasty surprise when the quote for the work comes in. "Sometimes buyers are surprised to learn that repair costs are even more expensive than the furniture itself," she adds.
5. Buying furniture that's unsuitable for upcycling
If you're planning on giving a piece of furniture a makeover, perhaps inspired by the latest IKEA Billy bookcase hacks, double and triple-check that the piece is suitable and has the potential to become what you want it to be.
"Make sure you're dealing with solid wood before thinking you can strip it down and re-stain," says Chantelle. Before rushing out to buy the latest interior paint color trend be aware: "If you are painting over, it shouldn't be a problem but be aware peeling might accrue in the long run."
"Look for fractures, chips, or other damages to wood or fabric," adds Artem. "Ensure the item is stable and does not shake or produce noise."
6. Not checking for infestations
Some second hand furniture, while lovely to look at, might come with a few unwanted guests. Chantelle warns against "not checking for infestations and thinking 'It'll go away with a spray or two'. Do your research, it might look like they aren't alive anymore but they hibernate."
Chantelle suggests examining pieces carefully. "If you see any holes and dust droppings, it may not be worth it. Common bugs for wood are powder post beetles. It's not worth the hassle."
It's harder when you are buying online but furniture designer Jerri Hobdy reveals: "I always lift cushions and check to make sure there are no signs of bugs, mice or heavy soiling or particulates of any kind. Good dealers will take care of thoroughly cleaning vintage upholstery. You can of course always ask if the piece is able to be steam sanitized."
7. Buying on impulse
It's easy to fall into the trap of falling in love with a stunning piece of vintage furniture but, while this is fine once in a while, don't let it become a habit.
"Make sure there's a purpose to the piece," advises Chantelle. "Buying to buy and save for 'potential' projects could lead to items sitting for years untouched." And nothing ruins a carefully decluttered home more than 'overrun projects' strewn around.
Elinor agrees and suggests: "Know what you need and make a list. It's easy to get caught up in the excitement of an incredible deal when you're out thrifting." Good advice for organizing your life in general we'd say.
8. Failing to detect odors
If you want to keep your house smelling good the experts advise making use of all your senses when buying pre-loved furniture. If you're viewing furniture in 'real life' as opposed to buying online, don't be tempted to buy it if it smells – it's often really difficult to get rid of and may make the rest of the room smell too.
Chantelle particularly warns against pet odor. "Trust me, I've tried using wood-based furniture with pet odor. It doesn't go away. Do a sniff test to make sure there's no obvious odor before purchasing."
9. Thinking it's easy to resell common designs
If you are planning to resell your second hand furniture at a later date (hopefully for a profit but, at the very least, to break even), then it's crucial you do your research and choose your furniture carefully.
"For buyers with resale value in mind, it's important to understand that famous designer pieces and unique designs will often sell faster and with higher prices than styles that are more common," says Stella.
10. Buying upholstery online
While you may get a bargain, buying upholstered furniture online, can be especially problematic. "Upholstery can be really tough to buy online. Portraying fabric colors accurately can be quite hard, and it may be a bit more challenging to see fading or detect odors," says Jerri.
What's more, it's impossible to check that furniture such as sofas and chairs are actually comfortable. "It is always nice to sit in upholstered pieces as well, so I recommend shopping for those in-store as much as possible."
Stella flags another watch-out to be aware of when it comes to buying upholstered pieces via websites. "Upholstered furniture needs to be cleaned thoroughly before being brought into your home because you never know how many bacteria there are on the current material."
Unless you specifically ask the seller to do this, it's often hard to know whether this has happened until the piece comes through your door by which time you'll need to work out how to clean the upholstery yourself.
11. Forgetting about how to get it home
Whether it's online or in a store, you need to think about how you're going to get larger pieces of furniture home – and how much this will cost. Because unlike when looking for where to buy the nicest furniture online new, shipping is not automatically available when buying second hand furniture.
"If you don't have a truck or a van, it may be difficult", says Elinor. "If it won't fit through the door, up the stairs, or down the hallway, you've got a problem, not a solution."
If you're buying online, you may need to engage a courier if you can't pick it up yourself. "Don't forget that large pieces can cost a fortune to ship. If the online dealer doesn't offer free shipping, ask for a shipping quote before committing to the purchase," advises Elinor.
Charlotte Duck is an award-winning journalist who writes who regularly writes for Tatler, the Evening Standard, Yahoo Finance, and Virgin Money. She loves anything to do with property and has written about everything from homes with their own helicopter pad to transforming a room on a £99 budget.