The best sustainable Christmas decorations for an eco-friendly festive season
Enjoy an eco-friendly festive season with these sustainable Christmas decorations this year.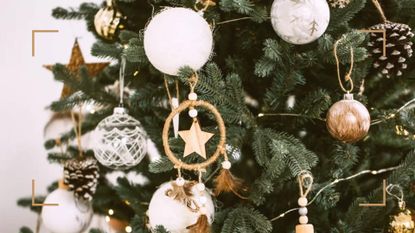 (Image credit: Future/Getty Images)
Deck the halls the eco-friendly way this year with the best sustainable Christmas decorations for 2021.
While the shops may have been displaying the Christmas decorations as early as the August Bank Holiday Weekend, consider investing in some pieces that you don't feel the need to repurchase every year. We all want to do our bit to help the planet, and by switching out your plastic baubles and tinsel for lovingly handmade Christmas tree decorations, garlands, Christmas tree skirts, Christmas wreaths, and more, you can create a winter wonderland that's a little kinder on the environment.
Below, our favorite sustainable Christmas decorations that are going to help you enjoy a guilt-free holiday season in style.

Best sustainable Christmas decorations
1. Sue Ryder Handmade Dachshund
Specifications
RRP: £6.99 (UK only)
Material : Felt
Biodegradable, plastic, and glue-free, this super cute dachshund tree ornament from national healthcare charity, Sue Ryder, is a charming addition to any Christmas tree. 100% of profits go towards supporting the charity's palliative, neurological, and bereavement care.
2. Silver Mushroom Nkuku Ekiti Bauble Garland
Specifications
RRP: £40.05 (UK only)
Material: Glass and jute
Reasons to buy
+
Made from recycled glass and natural jute
Made from recycled glass and natural jute, this gorgeous garland will add a beautiful festive touch to any fireplace. These elegant baubles add a touch of sophistication to Christmas decorating.
3. Glasshouse Naughty and Nice Soy Candle
Specifications
RRP: $55/£40
Material : Soy wax
Reasons to buy
+
Festive scent
+
Vegan-friendly
Fan-favorite fragrance company, Glasshouse makes some of the best scented candles from all-natural ingredients. This Naughty and Nice candle is made from vegan-friendly soy wax and is presented in a beautiful glass jar that will serve as an elegant vase long after the sweet candy cane-scented candle has been burned down.
4. Woodland Wonders Foliage Bouquet
Specifications
RRP: £26.99 (UK only)
Flowers : Red hypericum berries, spruce, conifer, Latvian pine, and a touch of cinnamon.
Reasons to buy
+
Festive scent
+
Lasts two weeks
Bring the outdoors in with some festive foliage. This seasonal bouquet will last around two weeks and features red hypericum berries, spruce, conifer, Latvian pine, and a touch of cinnamon.
5. Zodiac Star Linen Napkins, Set Of 4
Specifications
RRP: $198/£200.99
Material: Linen
Reasons to buy
+
Hand-embroidered
+
Cosmic theme
Celebrity-favorite jewelry brand The Last Line has expanded into the homeware space with a selection of playful designs to take your tablescape to the next level. The Zodiac Star Linen Napkins are hand-embroidered and will add a touch of shimmer to your Christmas dinner parties—and beyond!
6. Vintage Playing Cards Noel Vintage Christmas Bunting
Specifications
RRP: $26/£20
Material : Card
Reasons to buy
+
Made from upcycled vintage playing cards
+
Vintage look
Add a vintage flair to your home this Christmas with this bunting inspired by yesteryear. Handmade with genuine 1930s vintage playing cards to spell out 'NOEL', this bunting is a fun and unique way to spread the festive cheer.
7. Drinks by Post Personalized Christmas Crackers
Specifications
RRP: £18 each/£100 for six (UK only)
Material : Card and various contents
Reasons to buy
+
100% recyclable
+
Plastic free
Long gone are the days of Christmas crackers with another tape measure and dad joke—there are plenty of luxury Christmas crackers options out there. These personalized crackers are 100% recyclable and 100% plastic-free, with no compromise on sophistication or snap when pulling. Uniquely tailored to you, each cracker is designed with hand-written calligraphy on the front. Inside, you'll find a pre-mixed double measure cocktail, mocktail, or hot chocolate, along with an acorn so after you've enjoyed your cocktail, you can grow your own tree in the empty glass bottle.
Can you buy sustainable Christmas decorations?
Wondering where to get your hands on the best sustainable Christmas decorations? A good place to start is sites like Etsy (opens in new tab) and Amazon Handmade (opens in new tab) that offer unique and handmade items from small businesses and independent sellers across the globe.
Additionally, sourcing out sustainable and eco-friendly Christmas decorations from charity shops and thrift shops will add to the magic of the festive season. Not only will you be adorning your home with special, pre-loved items, you'll also be donating to a good cause.
Hayley Comber-Berry, Director at Treemendous Change, has seen an increase in people taking steps towards living a more eco-friendly life. "I work closely on the ground with individuals and businesses who are looking to offset their carbon footprint. This year, I have found a lot of people are planning to reuse/recycle for their Christmas decorations," she tells woman&home. "here's been a huge rise in DIY recycle tutorials, particularly on TikTok. From origami stars made out of old books to reusing cardboard to create bunting and decorations. A lot of people are also going foraging this year to make their own wreaths and centerpieces."
Fabric and craft brand, JOANN (opens in new tab), is committed to ethical sourcing. Chief Marketing Officer, Rob Will, notes, "We source products from all over the world and one of the most important things that we can do is actually make sure that they are being produced in the best possible way. In terms of how the factory workers are treated, the wages that they're paid, and most importantly the sustainability of the factories that we do business with. We hold our factories to the very highest standards, very similar to retailers that are much, much larger than ourselves. And that's because we believe very deeply that we want our products to come from a very good place because we know they're going to go to a great place whenever they get here in the US."
If you're trying to make more sustainable choices, you could also take a look at our guide on the best sustainable Christmas gifts and sustainable clothing brands.
After watching 13 Going on 30 one too many times, Emma decided that she wanted to be a journalist and studied Multimedia Journalism at the University of Salford. She started her career as a fashion copywriter before delving into the world of digital journalism and her published work can be found in the likes of woman&home, Cosmopolitan, Metro, i-D and Apartment Therapy. Emma writes about interior design, travel, film and television, celebrities, and internet culture.