Neom Black Friday: Save up to 30% on diffusers, Wellbeing Pods and candles this week
The Neom Black Friday sale has arrived. Here's how you can save on the brand's bestselling diffusers, Wellbeing Pods, candles and more this week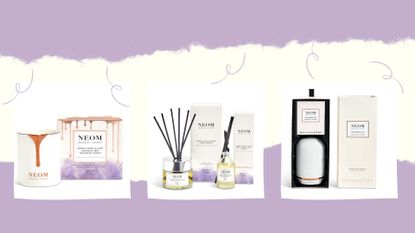 (Image credit: Neom)
If you're looking for the best Neom Black Friday deals this weekend, you're in luck. Officially Black Friday is over but most of the very best savings are still live across the website and stockists in both the US and UK, offering you the chance to find major discounts across the bestselling range of diffusers, Wellbeing Pods, candles, pillow mists, and so much more.
Purveyors of some of the best scented candles and essential oil diffusers in the world, Neom's website in the US (opens in new tab) currently has up to 25% off selected lines if you use the code GOGOGO at checkout. While in the UK, the best Neom Black Friday deals can be found at stockists of the brand, where there's up to 30% off popular products, including the wonderful Neom reed diffusers.
Whether you're looking to find the best Christmas gifts for her or the perfect self-care investment for yourself ahead of the new year, we've rounded up the best Neom Black Friday deals still available in the sales.
Where to find the best Neom Black Friday deals in the UK
Best Neom Black Friday deals available in the UK
Where to find the best Neom Black Friday deals in the US
Best Neom Black Friday deals in the US
How long will the Neom Black Friday sale last?
Most of the Neom Black Friday deals are still live - but they won't be forever. The brand has confirmed that the deals on the website will end on Sunday 27 November, so if you're looking to shop the very best of Neom this winter, there's really no better time than now.
Tucked away in the terms and conditions, you'll also notice that there are actually several more Black Friday savings than advertised by the brand on the homepage. For example, you can receive a FREE reed diffuser with the code MAGIC at checkout or a FREE 1-wick candle with code YESPLEASE at checkout if you spend over $60/£40. Once you enter the code, you'll be able to pick your free gift.
Will there be a Neom Cyber Monday sale?
Unfortunately not. Neom have confirmed on the website that savings will be ending on Sunday 27 November - the day before Cyber Monday. While stockists may continue to offer discounts past the weekend, you won't be finding any on the official Neom website.
This leaves shoppers with only the weekend left to score amazing savings on diffusers, Wellbeing Pods, candles, mists, body lotions, washes, and so much more.
What are the best products to buy in the Neom Black Friday sale?
With Neom's Black Friday sale finally here, there are a range of incredible products on sale. I recommend the Neom Magnesium Body Butter (opens in new tab), now 30% off at Amazon in the UK. As a long-time user of the product, I really can attest to its magic in helping to lull you off to a peaceful sleep. The benefits of magnesium have also been scientifically proven to help you drift off and sleep for longer - plus the infusions of lavender, basil, chamomile, and jasmine, help your room smell amazing.
I'd also suggest trying the Happiness range at Neom (opens in new tab) if you're new to the brand or looking to shop for a loved one - and you're not sure what to buy them. I love the 3-wick Happiness candle, with its scents of mimosa, neoli, and spicy lemon. While you might think of this as a summery scent, it's so warming and homely, you'll find it brings a smile to your face whatever the weather. There's also a free gift with every £40 spend in the UK retailer's sale.
And finally, you can't go amiss with a Neom Wellbeing Pod (opens in new tab). Featuring heavily in both the UK and US Neom Black Friday sales, these aesthetically-pleasing pods come in a range of sizes and colors - from a Mini Pod, designed to nestle into a corner, to a Luxe Pod, which is sure to be a standout feature in your living room.
Is NEOM a luxury brand?
Yes, Neom is one of the best luxury home and wellbeing brands at the moment. They're best known for their pleasing range of diffusers (both reed and the Wellbeing Pods), candles, pillow mists, foaming washes, and other wellness must-haves, which come in a range of scents categorized by feeling.
As well as shopping on the retailer's own site, you can buy Neom's products from a range of other luxury retailers around the world, including Liberty London, Selfridges, John Lewis, and Fenwick.
Are the Neom diffusers worth it?
Neom's reed diffusers might be on the higher end of the price spectrum but they're certainly worth the price. Firstly, they're made with only 100% pure essential oils, often incorporating over 10 different scents into the mix to create unique blends that elicit calm, happiness, more energy, or relaxation.
Secondly, they last for 12 weeks - and in my experience, often a few weeks more than this. This means you'll have over 4 months of constant use from just one reed diffuser, as it emits its scent across your bedroom, living room, or bathroom throughout the day.
And thirdly, once you've invested in one Neom reed diffuser, you can pick up refills for a cheaper price than rebuying the original product. For example, currently in the Neom Black Friday sale, you'll find refills of the essential blends for 20% on Amazon UK (opens in new tab). In the US, the retailer themselves (opens in new tab) are selling refills on all scents for just $29.
What's more, if you spend $60/£40, you can get a reed diffuser for FREE by entering the code MAGIC at checkout. Once you've done this, the site will present a range of diffusers for you to choose from at no extra cost.