Shelf Help – The virtual wellbeing book club you need to know about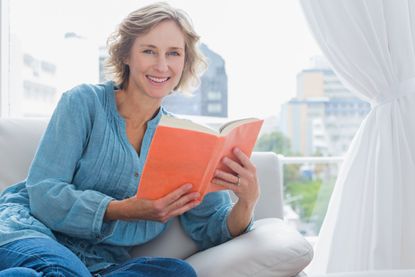 With the increasing focus on health and wellbeing, many are turning to a growing list of self-help titles to seek advice on anything from relationships to stress management.
From classics such as Susan Jeffers Feel the Fear and Do It Anyway to more recent titles including Gabrielle Bernstein's The Universe Has Your Back, whether you're facing a career (opens in new tab) conundrum or want to channel your inner meditator, there's bound to a personal development book that ticks the boxes for you.
And if you love the idea of sharing insights gained from these tomes, then the Shelf Help Club could be just what you're looking for.
Shelf Help – The mission behind it
Founded by journalist Toni Jones, this virtual wellbeing book club suggests a different title with a focus on self-help and self-development each month, and readers can then connect via Facebook and Instagram or at one of the real-life book clubs (opens in new tab) (held on the last Monday of the month).
On the driving force behind Shelf Help Toni told Woman & Home, "The mission of Shelf Help is to make self-help more accessible and to connect people to inspiring books, ideas and experts that will help them look at themselves in different and more positive ways.
"And then to connect those people to each other. Because the name is actually a bit of a con and 'self' help is MUCH more powerful when we do it together.
"At its simplest Shelf Help exists because I want people to like themselves more. Because I believe - from my own experience and also from everything I am reading and learning - that improved self-worth and self-esteem are the key to making EVERY part of our lives, and the world, better."
The current book for June is The Mind Monster Solution: How to overcome self-sabotage and reclaim your life by Hazel Gale, past titles have included the following:
The Urban Monk by Perdam Sherdai
Notes on a Nervous Planet by Matt Haig
The Kindness Method Sharoo Izadi
The Anxiety Solution Chloe Bretheridge
MORE:The personal story behind Lorriane Kelly's new self-help book 'Shine': I''ve struggled with the menopause'
On the success of the Shelf Help Club Toni added, "Shelf Help seems to have struck a chord with people who are looking to make some positive change in their life but might need a little nudge and support from friends feeling the same. And there are LOTS of us :) What started as a local book club is turning into a global community and brand as people all over the world join our mission to celebrate self-help and themselves.
"Thanks to our brilliant local volunteer hosts we now have book clubs in America, Canada and Australia, as well as 10+ - and counting - in the UK, we have thousands of digital fans working though a new book each month with us online (this month's book is The Mind Monster Solution by Hazel Gale) and we are appearing at festivals and events as well as curating our own day retreats and workshops.
"The next stage is to continue to grow and support the network and create a platform to share content and recommendations for personal development events, experts and escapes, as endorsed by our own brilliant community (a Trip Advisor for self-help!."
To join the club go to www.shelfhelp.club or @shelfhelp.club (Instagram)
Toni will be hosting a live Shelf Help book club at the Monte-Carlo's first ever two-day wellness festival — In Your Element Wellness Festival (6th & 7th July 2019) — next month.
Miriam worked for woman&home for over five years and previously worked on the women's lifestyle magazines Woman and Woman's Own.