The rise of the one-to-one wellness class: meet the women leading and taking them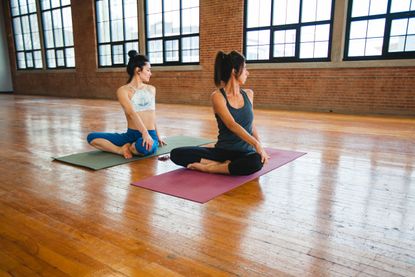 (Image credit: Getty)
Wellbeing practices including meditation, yoga and more are now firm fixtures in many people's weekly routines as we work towards achieving balance on both the inside and out.
And while group classes have been the mainstay of these sessions in the past, a number of practitioners are also offering dedicated one-to-one sessions to offer their clients a more personalised experience.
In a report from professional services firm Deloitte (opens in new tab) it's argued that we are moving from an age of mass production to mass personalisation, with 8 per cent of consumers (based on a survey of 1,560 adults across the UK) already purchasing a customised product or service in the field of health and wellness, while a higher 34 per cent were already aware that this kind of service was available in the above sector.
Recent figures cited on statistics platform Statistica (opens in new tab) also revealed spend on wellness and fitness in the UK is expected to rise from a figure of £10.3 billion in 2015 to £12.4 billion 2020, as Brits invest more of their money in their health and personal development. And no doubt a chunk of this will be dedicated to a wealth of wellness classes.
The one to one wellness class
Below we talk to two practitioners offering one-to-one sessions and reveal the impact it has had on their work.
Kim Murray, 35, is the founder of Happy Heads (opens in new tab). A meditation teacher and Emotional Freedom Technique Practitioner, she works from her home in Dalston, London
I founded Happy Heads nearly three years ago and I tailor all my sessions to the exact needs of my client. Prior to doing this, I worked in marketing and events for nearly 13 years.
As well as a being a trained meditation teacher I'm also an Emotional Freedom Technique (EFT) practitioner, which is also known as Tapping. EFT is a powerful way to help release negative thoughts and tension held in your body – rebalancing your nervous system like a non-invasive form of acupuncture. It's also part neuro-linguistic programming which is using your voice to help rewire your brain. It's incredible at helping your brain get to the core route of a problem, taking the negative emotional charge away from it, enabling you to be the best version of yourself – they're the perfect partners!
I teach adults but also specialise in children and families so I have a very wide demographic. At the moment my most common clients are adults struggling with stress (opens in new tab), anxiety and burn out – sadly so common in the digital, switched-on world that we now live in.
Private sessions with clients are actually the core part of my business and the first thing I offered when I started Happy Heads. Running retreats, teaching in companies and group workshops came very soon after but nothing beats having a private session because you are working on your very own personal needs.
There is nothing more important than your mental health (opens in new tab) and private sessions give you invaluable space to nurture your own, personal wellbeing.
The approach used in a one-to-one session vs group sessions is definitely different because you are connecting with one individual energy and you are able to tune in to their exact needs. For a private session – which lasts around 1.5 hours – I always send out some pre-questions first so that I can tailor the session to whatever they want to work on - the tools and techniques will be bespoke to them.
Tapping helps to quickly identify where a negative belief may have come from and enables you to process the memory and take the negative charge away from it – emotionally releasing you from its ties. For this reason it is much more effective doing one-to-one sessions as you're working on client's specific memories.
One-to-one sessions are such a powerful and effective way to transform your wellbeing, I would really encourage everyone to have one. No matter what your age or gender – nothing beats working on your own, individual self-care. As humans we are all unique and you need to find the tools and techniques that work for you – private sessions empower you with exactly that.
I always have such wonderful feedback from my private sessions because you are dedicating the session to helping nurture and support that person's specific mental health needs and current challenge in life.
Faith King, 37, a yoga teacher and mum-of-two, first started working with Kim two years ago
I suffer from anxiety and turned to Kim for a 1:1 session to help me with this. I've continued to have regular sessions ever since – focused on (EFT) – normally around every three months.
I chose one-to-one sessions as I find it a safe space to truly let go and open up. I also like the way that they're tailored and focus on your own individual needs.
Before I started my sessions with Kim all my self-care was focused on physical health, nutrition and diet. I now have a regular focus and practice to support my mental health.
The tools from Kim have supported me to manage my anxiety on a daily basis. I feel confident using some of the EFT techniques on my own and she has also given me more breathing; visualisation and meditation techniques that I use regularly, but also share with my own clients and family.
The sessions have helped me understand some of my own patterns due to childhood experiences. Kim helped me release memories, fears and anxieties that I had buried down deep since my early teenage years and helped me recall old memories that I needed to release.
I had never heard of EFT before but it has been an amazing tool and technique for me. All my sessions with Kim have been different and focused on different areas. For example, I had a mediation (opens in new tab) and visualisation session before my exams.
Kim is extremely professional with sending you pre questions before to support her preparing for your session and she also follows each session up with information on techniques we used. This supported me to use these techniques in every day life and I often refer my own clients to Kim.
Kate Ellis (opens in new tab), 46, is a 500hr senior registered Yoga teacher holds an advanced diploma in Embodied Relational Therapy (a form of Body Psychotherapy), she works in both Brighton and London
I started teaching yoga 20 years ago as an adjunct to my practice in Thai Yoga massage. I spent my 20's travelling back and forth from Asia studying Thai massage, yoga (opens in new tab) and meditation. I trained many people to become yoga teachers for 10 years at triyoga in London and also on the yoga therapy training run by Yogacampus.
I started out teaching one-to-one as most people do when they're practicing teaching but for me this always felt more useful than teaching a class. Feeling strongly about this, I committed to having one-to-one sessions for myself with a teacher. We worked together for ten years! I always valued how much more I was getting from this set up and it helped me to recognise how frustrated I sometimes became in classes. We often forget that yoga asana was originally taught one-to-one.
This inspired me to set up my own specialist training for yoga teachers to learn the art of teaching one-to-one because it requires a different skill set for working on the individual level.
In group classes the benefit of being able to enjoy the social aspect, joining in and doing something together in undoubtedly high, but regular clients continuously report that they wouldn't go back to classes because they know they wouldn't get to the same depth of feeling or understanding which they get from working one-to-one.
One-to-ones are so important at the moment because we have become addicted to fast, fix-it approaches and real lasting structural change comes over a slow period of time. One-to one work provides an amazing opportunity for both practitioner and teacher to get in touch with themselves. I'm a firm believer that if we evaluate ourselves and say 'I'm not good enough' then taking a quick fix approach affirms that position and change is often only temporary because we've bypassed the essence of knowing ourselves. If we pay attention to ourselves and take time to unpack that then we often begin to shift.
The approach I use in one one-to-one sessions is different. In classes I have to keep generalising, whereas in a one-to-one I continuously engage with the individual who's needs are varied and are changing all the time. It's a live process. It also means that I take a non-linear person centred approach. For example, if the client can't feel into an area in order to engage it we're not under any time pressure and we can work to let that experience complete itself.
I work with all age ranges and abilities and commonly I have had more male clients seeking one-to-ones as yoga classes are dominated by women! I also have people with more complex issues who simply need more attention. I work with people in stressful jobs who get benefit from the relaxation that comes with yoga practice but I also teach in a way that helps people to also feel the resilience, strength and integration of their physical structure. This has numerous impacts on their psychological health.
I would like to see more yoga teachers trained specifically to teach in this way. I currently offer the only specialist training (opens in new tab) in this field in the UK.
Alice*, 38, a GP initially started working with Kate in 2015
My husband found Kate via a Google search as we decided that we both wanted to try some yoga after I had my 1st son and we wanted to do it from home (it was hard to fit this in with work and having a child).
We started doing it together initially in May 2015, but as work got busier for my husband he stopped doing it and I have continued it on my own. We first started taking the classes as a way of helping to control stress and foster relaxation after having our 1st son but since then it has become a lot more for me.
Kate is great, we always start the sessions discussing whether I've had any pains or problems in my body over the last week. Then, depending on what I say, we'll focus on the that particular area.
Having a one-on-one teacher is hugely different. When I was at university I used to go to yoga classes that were rammed full of people and to be honest I didn't understand what I was supposed to be doing and I couldn't get to grips the moves and poses so gave up in the end.
Kate has helped me understand what is going in my body and enabled me to understand that what is going on mentally is reflected straight back to the body and vice versa. After a yoga session I literally instantly feel refreshed and energised and my body feels more relaxed. I also feel that I could almost take on another day of 'stuff' although it's 8:30 in the evening!
MORE:Meet the therapist and life coach who've taken their sessions outdoors (opens in new tab)
The relationship with how your body is and that how it feeds into you mentally and vice versa is enormous. It is all about the "fascia"….!! The connections that builds up in your muscles and around your bones – that clogs up your body and generally winds you down physically and mentally. Stretching and removing this is the best feeling.
I am now very aware of slight changes in my body and I can respond to them quickly and so I consider myself very lucky that, although I have 2 kids and a busy job, my body is able to bounce back from things very quickly.
Working with Kate – who is an amazing instructor and someone I feel lucky to have in my life – has changed my life massively, as you can tell from the above. I think it's actually better me doing it on my own and not with my husband (don't tell him that!). It is definitely my hour in the week that is just mine and I can indulge in making my body feel better and 'me' feel better. I now use little bits and some techniques in the week when I feel that everything is getting too much or if I am having aches and pains as well.
I think that everything started to click properly for me around 12 - 18 months ago. Kate says herself that she looks at how my body is now and it is hugely different to before. It is amazingly empowering and I look forward to it every week.
*Name changed
Miriam worked for woman&home for over five years and previously worked on the women's lifestyle magazines Woman and Woman's Own.