Research reveals amazing impact yoga can have on mental and physical wellbeing in over 60s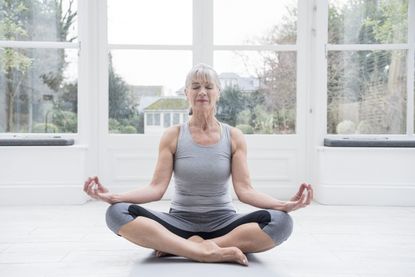 (Image credit: Getty)
Feeling stiff? You're not alone. The ancient practice of yoga has now become the cornerstone of many people's wellness routines. Which is little wonder considering its range of benefits include relaxation, pain relief and even lowering anxiety levels.
But that's not all. Now, new analysis by the University of Edinburgh (opens in new tab) has revealed the staggering effect that yoga can have. It found, without doubt, thatyoga improves mental and physical health in the over 60s. Could this mean that all you need to feel better is one of the best yoga mats (opens in new tab) and some time to relax?
Published in the International Journal of Behavioural Nutrition and Physical Activity (opens in new tab), researchers conducted a review of 22 studies that looked at the impact of yoga on mental and physical wellbeing. The focus was on participants over 60 years and above.The yoga programmes varied in duration from 30 to 90 minutes, and in length from one month to seven months.The statistical findings of the 22 studies looked at how yoga compared to other activities. These included chair aerobics and walking (opens in new tab), as well as doing no activity.
Overall they found that, compared to doing no activity, practising yoga had helped to improve the following:
And, when compared to other activities, yoga helped to improve the following:
Lower body strength
Lower body flexibility
Depression
Why yogaimproves mental and physical health in the over 60s
So, just why does yoga make such a difference (opens in new tab) to those in their 60s and above?"A large proportion of older adults are inactive,"says Divya Sivaramakrishnan, from the University's Physical Activity for Health Research Centre (opens in new tab). "This means they don't meet the balance and muscle strengthening recommendations set by government and international health organisations. Based on this study, we can conclude that yoga has great potential to improve important physical and psychological outcomes in older adults."
MORE:How to get into yoga – whatever your age or size (opens in new tab)
And, the fact that yoga is often a slow and steady exercise is one of the main reasons it can make all the difference."Yoga is a gentle activity that can be modified to suit those with age-related conditions and diseases," addsDivya.
https://vimeo.com/303242634
More funding for the future
It was also revealed that a £1.4 million study (opens in new tab) will recruit almost 600 adults aged 65 and above who have multi-morbidity from 12 different UK locations. The study will last four years. This will focus on the effect that The British Wheel of Yoga's Gentle Years Yoga (opens in new tab) 12-week programme can have on overall quality of life when compared to a control group.
The University of York's Trials Unit is co-ordinating the clinical trial with Northumbria University's Department of Sport, Exercise and Rehabilitation (opens in new tab).
"Yoga brings wide-ranging benefits," says Associate Professor Garry Tew, from Northumbria's Department of Sport, Exercise and Rehabilitation. "This includes an increase in strength, flexibility, balance and quality of life. Plus, reductions in stress, anxiety and depression.
"In older adults specifically, there is promising evidence that yoga can improve physical function and quality of life. But more work is needed to understand the effectiveness and cost effectiveness of yoga in older people with multi-morbidity."
Continuing, he added: "We are also measuring participants' use of healthcare resources. This will allow us to establish the cost-effectiveness of the yoga programme. If these results are positive, they will provide evidence for healthcare commissioners to fund yoga within the NHS."
Miriam worked for woman&home for over five years and previously worked on the women's lifestyle magazines Woman and Woman's Own.