The most inspiring events to attend on World Mental Health Day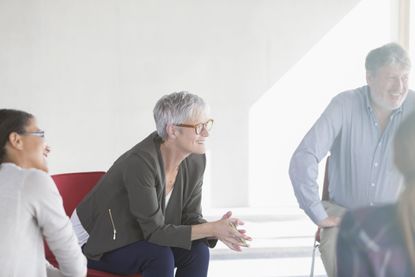 (Image credit: Getty)
World Mental Health Day (WMHD) is a day dedicated to global mental health awareness and education.
Taking place each year on October 10th, the World Federation for Mental Health (WFMH) has announced that 2019's key theme will be centred on 'suicide prevention'.
On the decision, and highlighting figures from the WHO, which reveal that more than 800,000 people die by suicide annually, Dr. Alberto Trimboli President of the WFMH said, "The object of making suicide prevention the theme of World Mental Health Day in 2019 is to attract the attention of governments so that the issue might be given priority in public health agendas around the world.
"Getting people to talk about a subject that tends to be taboo and about which many hold mistaken and prejudiced ideas will help the community to learn about the risk factors so that they can identify and learn to address them."
World Mental Health Day 2019 events
There are a number of events taking place across the UK to mark WMHD designed to act as safe spaces in which to open up conversations about mental health, whilst offering a myriad of support services, workshops and more, including those below:
Guided Meditation, Kettle's Yard
When: October 10th
Where: Cambridge
How much?: Free, booking required
Kettle's Yard is the University of Cambridge's modern and contemporary art gallery. During this session you'll join Artists in Residence, Wright & Vandame, for a free guided meditation inspired by Kettle's Yard collection.
Mental Wealth Festival 2019
When: October 8th - October 17th
Where: Various prominent venues across London
How much?: Prices vary, from free upwards
Now in its fifth year, the Mental Wealth Festival is produced Adult Education centre City Lit in partnership with social enterprise Beyond Words, which supports people with learning disabilities and autism to find work. Designed to coincide with WMHD, this year's focus is on 'tribe' (wealth, relationships, family, friendship and the importance of community and support network). The festival features lectures and workshops exploring this theme taking place over different venues in the capital including the British Museum and The National Gallery.
BEDLAM Arts and Mental Health Festival
When: October 1st - October 12th
Where: Various venues across Birmingham
How much?: Prices vary from free, upwards
The fourth edition of the BEDLAM Arts and Mental Health Festival, aims to raise awareness of mental health and wellbeing through the arts, including spoken word, dance, participation, theatre, film and visual art. Highlights include the world premiere of The Thing (October 4th and 5th), addressing suicide in young men, presented by Birmingham Repertory Theatre and Olivier Award nominated Les Enfants Terribles. And on WMHD itself (October 9th and 10th) Birmingham's Geese Theatre Company presents Playing The Game, exploring the history of mothers in prison over the last century based on a series of recent drama workshops with residents and staff at HMP Peterborough.
World Mental Health Day Drop In Event, West Wales Action for Mental Health
When: October 10th
Where: Carmarthen
How much?: Free
Taking place between 10.30 am – 3pm The Quay Centre, Quayside, Carmarthen (Blue building), will feature stalls, speakers and workshops and more celebrating the work of the mental health community and voluntary sector in West Wales in 2019.
More:Books on prescription: the free mental health service you need to know about
World Mental Health Day 2019 event, Shipley Art Gallery
When: October 10th
Where: Gateshead
How much?: Free
Around 30 organisational mental health information stalls will be dotted around this iconic gallery on WMHD, with the goal of helping to raise mental health awareness. Also on offer during this drop-in session (11am - 3pm) is the following:
Live Acoustic Music
Free coffee and tea
Keynote speakers
Raffle (prizes)
Mindfulness sessions
Tea by The Thames for World Mental Health Day
When: October 10th
Where: Hammersmith, London
How much?: Free
Hammersmith & Fulham Mind and Mind in Ealing and Hounslow are hosting an afternoon (4pm - 6pm) at the Re:Centre by the River Thames. Learn more about the work of leading mental health charity Mind, connect with people and simply take time away to relax from the hustle and bustle of everyday life.
Miriam worked for woman&home for over five years and previously worked on the women's lifestyle magazines Woman and Woman's Own.