Books on prescription: the free mental health service you need to know about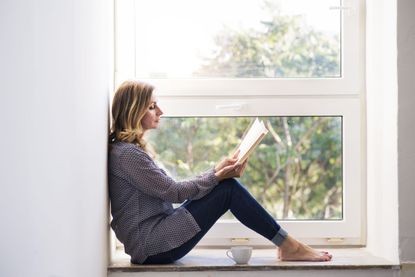 Few things are more comforting in this fast-paced, 'always on' world than being transported into the world a good book.
A recent survey in association with Gransnet (opens in new tab), the UK's biggest social media site for older people, and publisher HQ (HarperCollins), questioned women over 40 about their reading habits and revealed that:
95 per cent say they read fiction for enjoyment
87 per cent say it's to relax
Almost 59 per cent say it's to escape the pressures of everyday life
And one service that has tapped into the benefits of our favourite page-turners has been designed specifically to support people through many aspects of their health and wellbeing.
The Reading Well (opens in new tab) Books on Prescription service includes curated reading lists of books chosen by health experts and people living with the conditions covered.
On its website, it states, "There is a huge evidence base around the value of reading to support health and wellbeing, as well as the value of libraries as a non-stigmatised space that is both welcoming and empowering for people with mental health problems.'
There are currently four reading lists available:
Reading Well for mental health
Reading Well for dementia (opens in new tab)
Reading Well for young people
Reading Well for long term conditions
The books can be recommended to you by a health professional or you can simply head to your local library with the list in hand and take the book of your choice on loan.
The service is supported by several leading bodies including NHS England – through its Improving Access to Psychological Therapies Programme (IAPT) – British Association for Counselling and Psychotherapy and Mental Health First Aid (opens in new tab) England (MHFA).
Reading Well also offers several lists of Mood Boosting books delivered by The Reading Agency, working with public libraries, NHS trusts and colleges throughout the UK.
MORE:Shelf Help – The virtual wellbeing book club you need to know about
The uplifting titles include novels, poetry and non-fiction and all books are recommended by reading groups and readers. Lists include those:
Chosen by readers
Chosen by young people
Chosen by reading groups
Chosen by people affected by cancer
Chosen by older people
Chosen by young people
To date the Reading Well programme has reached over 931,000 users, and the service is evaluated on an annual basis to ensure that it 'continues to deliver positive outcomes', with Health professionals, library staff and users questioned about their experiences.
Would you turn to the books on prescription service for your health and wellbeing needs?
Miriam worked for woman&home for over five years and previously worked on the women's lifestyle magazines Woman and Woman's Own.