Meet the therapist and life coach who've taken their sessions outdoors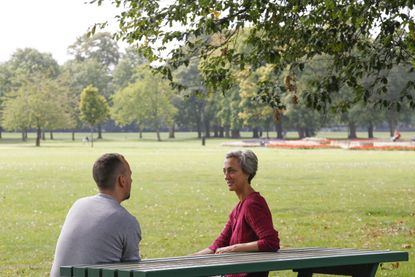 (Image credit: Karen Liebenguth)
The restorative benefits of the great outdoors on mind, body and soul are currently one of the hottest topics of conversation in world of wellbeing.
From the calming effects of forest bathing to the energising effects of wild swimming, taking our pursuit of happiness outside the confines of our own four walls seemingly accelerates our path to all round zen.
And one group of people who are taking the link between nature and its ability to nurture, not only our senses, but our emotions are an increasing group of forward-thinking therapists and coaches.
Rather than hosting sessions from the traditional therapist's/coach's couch, they're taking their clients to local green spaces to gently guide them to work through their issues, harnessing the ability that fresh air, clear skies and a cacophony and trees and plants can have on making us feel centred and providing the right conditions for open conversations.
In a University of Brighton thesis entitled Taking therapy outside – a narrative enquiry into counselling and psychotherapy in outdoor natural spaces (opens in new tab), the above idea is explored further. It states, 'A central process in therapy is the relationship between inside and outside, what is going on in the client's outside world and relationships, and how this links to their interior psychological world.
'This process becomes more magnified in taking therapy into the outdoors, whereupon the outside becomes the space within which the inside is understood.'
A 2015 American research study entitled Experiences of therapists who integrate walk and talk into their professional practice (opens in new tab), which questioned 18 such therapists, reached a similar conclusion, saying:
'Participants perceived that walking and talking can help shift 'stuckness' in clients and facilitate psychological processing.
'In addition, practitioners indicated that walking side by side can promote a collaborative way of working.'
Below we talk to a therapist and coach who have taken their sessions outdoors and reveal the impact it has had on their work.
Karen Liebenguth, 51, founder of Green Space Coaching and Mindfulness (opens in new tab), is a mindfulness trainer and life coach working in East London's Victoria Park and other green spaces in the capital
I set up my business in 2008, and had a consultation room for the first year, but felt that things weren't quite right.
Then after taking a long walk, I had a light-bulb moment. I had grown up surrounded by nature — I even had a horse when I was younger— and remembered how different I felt after I'd spent time in the great outdoors. Taking time out to roam the countryside had also continued to have a restorative and calming effect on me in the present day, and it's often where I got the germ of new ideas for my business and blog.
I wanted to share these benefits with my clients so spoke to my own coach about taking my session's outdoors. After doing a few trial sessions, and receiving positive feedback, I then decided to run outdoor sessions, alongside running some via video chat or phone.
Clients have told me that they find it easier, and less intimidating, to walk and talk alongside me, rather than opposite me, as they would be in consultation room.
'Ease' is the word that comes to mind when it comes to the key difference between indoor and outdoor sessions. With the space of nature around them, it literally gives clients more figurative space to open up about their feelings. The fact that they need to focus on the mechanics of walking and their body constantly moving, gives them more space inside to think. Being outside is very conducive for having a different way of thinking and giving us a broader perspective on things.
I also feel that things unfold differently outside, and that the change process is a little faster. And beyond the coaching, it's great that walking (opens in new tab) is also beneficial for our overall health and wellbeing (opens in new tab).
I work hard to ensure that people feel safe when I coach them outside. I always walk across the grass, not on the path, so we create a safe space that is confidential and private.
Clients who come to me are generally professional people in their 30s – 50s, who on the surface feel like their life is going ok, but deep down they feel a lack of direction. Stress and anxiety are also a top issue, as are key life changes such as divorce and redundancy.
Outdoor coaching may not be for everyone — it's important to highlight that change can take place during indoor sessions too — so I offer a free discovery coaching session so that would-be clients can have experience of my work and feel secure in what I'm doing. I really want them to know that they can bring whatever they want to bring to the outdoor sessions.
I also want to give people a real experience of the process, before they commit to coaching — it's a real investment and dedication oneself and one's life.
But for those where it is the right fit, what I see can happen with outdoor coaching is miraculous, people really begin to take the necessary steps to change and transform their lives.
Ruth Rodgers, 38, the owner of theCanvas Cafe (opens in new tab) in London, worked with Karen weekly for six months
I was feeling like I was moving too quickly in my body and brain, and I heard about Karen's work. I opened the Canvas Café – a vegan café and creative venue – four-and-a-half years ago and felt like all the responsibility was on my shoulders.
Doing outdoor coaching in Victoria Park with Karen was amazing. She emphasised the importance of walking slowly – gently challenging me on why I was walking so quickly – which I felt was a metaphor for the pace I could be taking with my life. London's busyness had seeped into my system, which had inevitably meant that I'd sped up.
Karen also talks a lot about pause, and taking the time you need to respond to life and whatever comes at you, and says nothing needs to be answered immediately — which was really valuable for me, as someone who was juggling a lot and feeling pressure to deliver. And what better surrounding to induce reflection than the great outdoors?
During our sessions I realised how little I was thinking about myself in the process of setting up my business. Since the sessions I've tried really hard to remember that I'm very important in this journey and if I don't look after myself, it will all crumble.
The thing that has the biggest power is that I can do it again, again. And by that I mean, that whenever I'm in a green space, I'm reminded of the time I spent with Karen and all I learnt. It feels like Karen's given me a great gift.
Update - tried and tested by me: Having always loved the restorative power of nature - I can often be found wandering around my local National Trust Park with a hot chocolate in hand - I was excited try Karen's full day coaching programme. I chose Hyde Park as the location where Karen and I would try to get to grips with some of the issues I had outlined in my pre-coaching day assessment form. This was partly because I hadn't been to the park for a number of years and as a result this would provide a 'fresh' backdrop for the emotional journey I was about to embark on, and because there was something about the mix of urban and green spaces that I familiarised and felt comfortable with.
As we started our walk Karen gave a rough outline of what the day would look like, emphasising that it was all about taking things at my pace; if I wanted a coffee break I could flag it, if I needed to take a 15-minute sojourn alone so I could process any insights I'd had, that was fine too. Luckily my naturally slow walking pace was just the ticket for a day of contemplation. Throughout the day Karen asked gentle probing questions designed to challenge some of my fixed ways thinking about certain areas in my life, often referencing what I had outlined in my form. We tended to walk off the beaten track onto grassy areas so I felt reassured that my life's story wasn't being 'judged' by anyone else.
But surprisingly my first 'aha' moment came in a spot where there was a lot more people traffic - at a cute in-park cafe where we stopped for our first latte of the day. And yes there were tears. Although I wasn't expecting it - in all honesty I didn't really know whether I'd get anything out of the day - it was kind of welcome. I'd seen something I was grappling with from an entirely new perspective, and everything I'd been holding in, without realising it, had bubbled up to the surface.
Being surrounding by trees, bodies of water and Karen's positive and reassuring energy meant that I felt 'held' and safe enough to have many more moments - though the above was my singular moment of crying - like this throughout the day. It was also lovely to have a few lighter points in the day such as lunch were we could just share a bit about each others' lives, turning the magnifying glass away from 'my stuff' for just a moment. The beauty of the all day format is that it gave Karen the chance to see the real me. I may have been able to keep up a pretence for an hour or two, but I 'dropped into' the realest version of myself as the day went on.
And as we made our final hot drink pit stop of the day it really was amazing to see how far I'd come in such a short space of time. I also loved working with Karen to identify the three actionable steps I was going to take moving forward, and the fact that she was going to be sending accountability nudges to keep me on track. Ultimately, I would describe the experience as a powerful life review that inspired me to be braver and will, I'm sure, help kick-start my life's new direction.
A Full Day of Coachingincluding lunch, tea/coffee/ snacks in one of London's Green Spaces of your choice followed by fortnightly accountability texts/emails and a 90-minute follow-up session after three months is £990.
Eve Menezes Cunningham, 43, who runs Self Care Coaching (opens in new tab), is an online self care coach, therapist and supervisor, and offers outdoor therapy and coaching sessions along Ireland's Wild Atlantic Way
Most of my practice is online but before I moved from the UK to Ireland and gave up my high street premises, as well as seeing some of my Essex based clients in other indoor locations, I began to offer outdoor work.
I love nature and find it incredibly healing and inspiring. Nature offers all sorts of metaphors around cycles, resilience, balance, boundaries and so on. Most of my outdoor therapy, coaching and supervision sessions have been in the woods and a mixture of walking and seated. While all my work is collaborative, outdoor therapy and coaching means the client or supervisee is better able to choose the literal direction of our sessions in terms of which ways/how fast to walk (or where to sit).
Outdoor therapy — sometimes called wild therapy — can be a literal breath of fresh air. It's wonderful for some clients when they feel stuck in a rut. Nature helps us see past our worries and concerns. It helps inspire and heal us.
Walking while talking can also be wonderful as a way of burning off stress hormones and helping clients feel better able to talk. Walking or simply being outdoors can be also really helpful in terms of encouraging people to connect with all their senses and open up to life's miracles.
Trust is also essential in any therapeutic relationship and some people feel safer in the great outdoors than they ever would in a counselling room. Also, of course, while many therapy rooms feature healing images of nature, there's nothing like the real thing — trees, mountains, the sea, bird song, creatures, plants — all can provide distraction, but also portals into new avenues for exploration.
My clients are men and women ranging in age 18 all the way through to the late 70s, and they come to me with issues including stress, anxiety, trauma, sleep (opens in new tab) issues and just generally wanting more purpose, meaning and joy in the lives.
MORE:Spending time in this picturesque UK region could save the NHS £700,000 a year (opens in new tab)
I wouldn't offer outdoor therapy for every client or situation as it wouldn't be appropriate (just as I can't take on everyone who gets in touch about online therapy as both have their limitations) but it can be very freeing.
When it comes to the key difference between indoor and outdoor therapy, the word that keeps springing to mind is freedom. Also, uncertainty. We can't control who else might be out and about, the weather and a whole host of things. I've worked in indoor spaces where we haven't been able to control external noise so it's one of those things wherever you're working but, of course, outdoor therapy is still emerging. I talk to clients and supervisees in advance about how we might move into small talk if we see anyone (e.g. dog walkers) approach — it's impossible to control the outdoor environment.
Risk assessments are essential in advance of sessions, trialling out walking routes to see how long they take and anything that might prove problematic and also to scope out potential benches and landmarks.
There's much more research and acceptance around outdoor therapy sessions now than when I first thought of offering walk by water coaching sessions.
Living, and being inspired, by Ireland's beautiful Wild Atlantic Way, has only propelled me to build on my use of outdoor therapy and coaching, and I'm excited to develop my ideas and expand this unique, and life-changing aspect of my work.
Miriam worked for woman&home for over five years and previously worked on the women's lifestyle magazines Woman and Woman's Own.