Spending time in this picturesque UK region could save the NHS £700,000 a year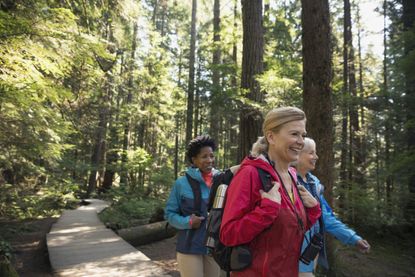 Spending time in the great outdoors - or 'nature therapy' - is now being seen as one of the ways we can boost our overall health.
It's no wonder then that the Japanese tradition of 'forest bathing' —spending time in a forest to ease stress levels and restore inner balance — has now been adopted around the world.
A recent UK gov.uk study, entitled Monitor of Engagement with the Natural Environmen (opens in new tab)t, also shone light on the beneficial outcomes of what has also been described as 'nature therapy'.
Questioning 20,000 people it found that those individuals who spent more than two hours a week in green spaces such as parks and woodlands reported consistently higher levels of health and wellbeing.
MORE:If you can't walk AND do this at the same time your dementia risk could be higher, says researcher
And another survey that seems to support this idea, hones in on one region of the UK in particular.
NEF Consultants were commissioned to carry out a study of the economic, social and environmental impacts of the Clwydian Range and Dee Valley area of outstanding natural beauty (AONB) in Wales, which attracts scores of visitors annually.
The six key visitors sites in the AONB – Chirk aqueduct and viaduct, Loggerheads Country Park, Moel Famau Country Park, Panorama, near Llangollen, Pontcysyllte aqueduct and Trevor Basin, and the Horseshoe Falls (pictured)and Llantysilio Green — collectively generated £24.1 million in direct expenditure from visitors last year. A staggering 92 per cent of those surveyed agreed that living near or in the AONB was good for community life and aided people in relaxing.
Of the estimated yearly 1.3 million annual visitors the vast majority come to the AONB for "non-commercialised activities" and for walking, with a daily expenditure estimate at £13.34.
With 86 per cent of those questioned revealing that they had done some walking during their visit, the consultants were able to put a monetary value on the derived health benefits of visiting the area.
"Like other forms of exercise, walking has a number of important health benefits, including the risk of cardiovascular disease (CVD) and type-2 diabetes," says the report.
MORE:Get back to nature with these 10 brilliant British countryside escapes
"By estimating the extent to which these two categories of risk are reduced, and using the typical cost of treating such health conditions, it is possible to put an approximate monetary value on the health benefits associated with walking while visiting the AONB."
Continuing it goes on to assert that the experience of being in the AONB is actually saving the NHS hundreds of thousands a year. Concluding the report states, "Our analysis suggests that during their time in the AONB most people's physical activity amounts to the equivalent of one week of exercise, according to government guidelines.
"Therefore, we can estimated that visits to the AONB could lead to £733,000 in reduced health expenditure per year, made up of approximately £23,000 from reduced incidence of CVD and £708,000 from reduced incidence of type-2 diabetes."
Miriam worked for woman&home for over five years and previously worked on the women's lifestyle magazines Woman and Woman's Own.