Lululemon The Reversible Mat 3mm VS Meglio Premium Yoga Mat 7mm: which is the best yoga mat for most women?
Time to get your flex on!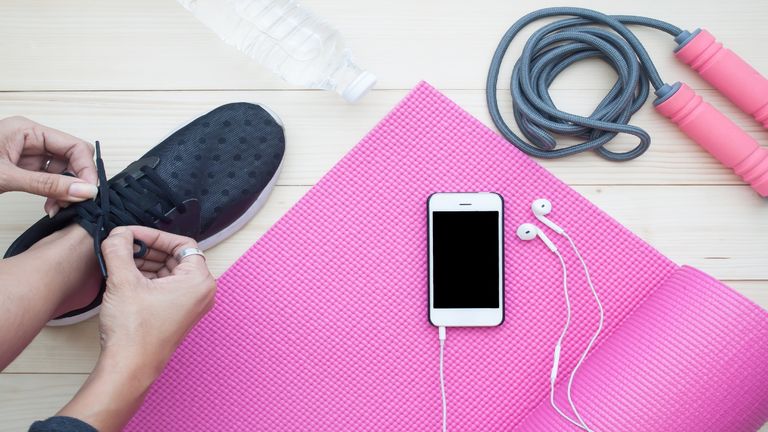 (Image credit: Getty Images / Supreeya Chantalao / EyeEm)
Want to invest in a yoga mat, but not sure which one to pick out of these top brands? You've come to the right place!
Looking for one of the best yoga mats available to buy now? Both the Lululemon The Reversible Mat 3mm and Meglio Premium Yoga Mat 7mm have plenty to offer in terms of grip, stability, comfort and versatility. Confused about how to pick the right yoga mat for you? It can be tricky. But, don't worry. Here, we break it down for you.
These brands are both well known in the yogi world, but have very different price points and features. The Lululemon The Reversible Mat 3mm is durable and non-slip, even when soaking wet. It's made from polyurethane and rubber, which helps absorb sweat, making you feel more comfortable the harder you exercise. In contrast, the Meglio Premium Yoga Mat 7mm is around a third of the price, but more than double the thickness. This means it's ideal for comfort and reducing impact on joints. Made with TPE material, it's ultra light, non-toxic, eco-friendly yet durable.
In this Lululemon The Reversible Mat 3mm vs Meglio Premium Yoga Mat 7mm guide, we'll look at the positives and negatives of both yoga mats to help you make the best choice for you.
Quick comparison
Price: Lululemon The Reversible Mat 3mm: £48 VS Meglio Premium Yoga Mat 7mm: £19.94
Material: Lululemon The Reversible Mat 3mm: Polyurethane and rubber VS Meglio Premium Yoga Mat 7mm: TPE material
Weight: Lululemon The Reversible Mat 3mm: 1.76kg VS Meglio Premium Yoga Mat 7mm: 800g
What's special about the Lululemon The Reversible Mat 3mm?
What the Lululemon The Reversible Mat 3mm lacks in thickness, it really makes up for in sturdiness and non-slip technology. Great for Hot Yoga or anything that makes you sweat, this mat is a mix of polyurethane and rubber, which means it simply won't budge on the floor and the grip is excellent. In fact, even with water splashed all over it, hands and feet can still stay firmly in place. This means you'll feel safe and secure, especially in a position such as downward dog, when focus can be easily lost when feet and hands become "bunched up" in the mat or simply slip off.
READ MORE:Working from home?Discover how to get great posture
What's more, the mat is reversible, meaning you can use either side, depending on whether you want a layer that really helps with sweat-wicking or if you prefer a textured feel on hands and feet.
Another great feature of the Lululemon The Reversible Mat 3mm is that it's sleek and relatively light to carry. It's just 1.76kg, which is impressive for this type of rubber mat. If you know the Lululemon brand, then you'll instantly recognise its one curved corner. This stylish touch makes up for the fact that it's only available in black.
What's special about the Meglio Premium Yoga Mat 7mm
If you're looking for one of thebest thick yoga mats,then this one is definitely worth investing in – not that you'll have to splash out that much. In fact, this bargain buy is such great value that it even comes with a free carry strap. But that's not all. This mat is the ideal combination of being both super squidgy and sturdy, making it the perfect pick for anyone who wants their joints to feel protected when exercising.
Often with thicker mats, you'll have slightly less connection with the floor, which means you may wobble around when doing standing or balancing poses. But that's not the case with this yoga mat. This is because although it is foamy, it's quite a dense, firm type of foam, so you don't bounce around and can stay in control.
And while the price means it may not be super stylish (it's available in dark red with a light diamond-style design on one side), it's practical and unisex. This extra thickness really makes it good for beginners and the comfort it provides can be the boost you need to keep going when you're feeling tired. Plus, it's really good for when you want to lie down, relax and meditate, as you'll feel calm and comfortable instantly.
What is the main difference between them?
While cost is a big difference between these yoga mats, it won't be the first thing you notice, as they are both exceptionally high quality. The main thing that differentiates the Lululemon The Reversible Mat 3mm and Meglio Premium Yoga Mat 7mm is how they feel when you use them – this is due to the material and thickness. The Lululemon pick is super smooth – it feels slightly cool against skin (although is great for insulation, so you won't feel cold) – but one downside of this material is that it does have an artificial smell at first, which, thankfully, does fade over time. In contrast, the Meglio has a slightly rougher feel when you pick it up, although it's still comfortable to use.
READ MORE:How to get into yoga, what your fitness and ability
The difference in texture and material means that while the Meglio won't budge on carpet, it does move a fraction on wooden flooring. It has deep texture marks on the underside of the mat, but just can't compete with the rubber bottom of the Lululemon. Hands and feet won't slip when using the Meglio, unless you get the mat wet. Therefore, it's better for more gentle workouts and stretching.
Should I buy the Lululemon The Reversible Mat 3mm or Meglio Premium Yoga Mat 7mm?
Both are great buys and are very easy to roll up quickly after use. They are both durable, so will last for a long time before you need to replace them. So, to make the decision about which yoga mat to buy, you have to know what you'll mainly be using the yoga mat for. If the answer is Hot Yoga or high-impact moves, then Lululemon is, hands down, the pick for you. This is because it really holds firm to the floor and your hands and feet won't slip, either.
READ MORE: Discover how to choose the best yoga mats for kids
If you feel you want to protect joints and need extra cushioning, the Meglio should be your preference. This is especially important if you want to practise lots of headstands and other balancing poses, which can impact joints.
The final question you need to ask is where you are going to use it. Carrying about a yoga mat (even a light one) can get heavy. The Meglio Premium Yoga Mat 7mm is only 800g and comes with a free carry strap, so it's definitely the pick if you are on the move a lot.
Faye M Smith is an award-winning journalist with over 15 years experience in the magazine industry. Her continued work in the area of natural health won her the coveted title of theHealth Food Manufacturers' Association (HFMA) Journalist of the Year Award 2021.
Currently Acting Health Editor across several brands including woman&home, Woman and Woman's Own, Faye specialises in writing about mental health, the menopause, and sex and relationships. In fact, having previously been the go-to sex columnist for Now magazine, there isn't much she won't discuss when it comes to women's health. This makes her the best person to review must-buy sex toys, describe how to have a mind-blowing orgasm or explain how to navigate sex in the shower without it ending in a medical emergency.
While not anti-gym, Faye's fitness routine is more focussed on finding inner balance rather than burning excess calories. An advocate of mindfulness, she loves power breathing, yoga and plenty of walking in nearby woodlands rather than a sweaty HIIT class. Follow her @fayetuned